RPattz/KStew want you to watch 1 more time!
Tomorrow, I go and watch Twilight for the SIXTH time with Nikki. Go watch too!!! After all, Twilight WAS supposed to be released December 12. Today though...

[FIVE] 5th time to watch Twilight
To de-stress myself from the crazy day that I had, Lee and I headed to Trinoma (on a school night!) to watch Twilight. Lee's not a fan at all, but she was super game and actually ended up enjoying it! This makes me very happy.

Though I told her she could bash it if she didn't like it, it's much easier for me that Lee actually really liked it! She was reacting to the smallest details that only fans noticed and was just really appreciative of it.

And on the fifth time, I did notice some 'new' things, like how Bella has a penchant for leaving her bag in places. How adorable Mike Newton actually is. And how Jacob has really rosy cheeks! Or maybe that's just because everyone else is so pale.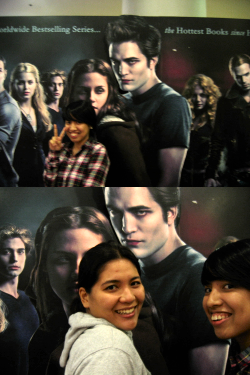 Things that just don't get old the 5th time around...
Rob and Kristen's chemistry. Lee actually asked me if I was crying while watching the hospital scene. Yes, I was sort of tearing up.

The bed/kiss scene. Lee was pretty worked up too. And she's not a fan, I repeat. Plus, she loved the cuddling in bed after, as did I.

The prom scene. I just can't get over how intense their looks were for each other. If Rob/Kristen didn't fall for each other even just a little bit in that scene, I don't know anymore.

Anything with Charlie. Lee would look at me with an 'aww' expression anytime Charlie did ANYTHING. Billy Burke is precious.

Sandy made me realize that Victoria is actually really really pretty and it would have been cool if Rachelle was Rosalie and Nikki was Victoria instead. Just saying...

Did I mention that I do not tire of Rob Pattinson at all? Not yet? Okay, well there. I'm still not sick of him.

[FOUR] 4 liters of water i drank today
Yes, I actually drank FOUR freaking liters today. Ever since internship started, I'd been drinking a ton of water, even if I'm stuck in a really cold room. I guess I needed an excuse to go to the bathroom and skip work a bit. I usually take in 2-3 refills of my jug meaning 1.8L, but today I went nuts and just hit the 4L mark. Sure, I practically live on the toilet, but I feel better (or so I'm telling myself). This water taking better give me some good results.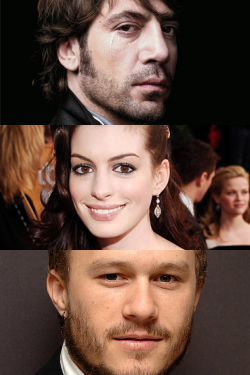 [THREE] 3 of my favorite actors nominated for Golden Globes!!!
Anne Hathaway got nominated for Best Actress in a Drama for Rachel Getting Married while Javier Bardem nabbed a nom for Best Actor in a Comedy for Vicky Cristina Barcelona

Then of course Heath Ledger took a posthumous nom for Best Supporting Actor for The Dark Knight. I have a strong feeling for Heath Ledger. I do really hope he wins this one. I wonder who'll accept the award for him though in case he does win.

I'm trying to stay positive for Anne, but she's nominated alongside Angelina Jolie, Meryl Streep, Kristin Scott Thomas AND Kate Winslet. I haven't watched Rachel Getting Married but she's supposed to be pretty good in it. I don't know if it was good enough to beat all her co-nominees though. But hey, a girl can dream right?

[TWO] 2 remaining hours of internship I finished
Yes! I am DONE! Evaluated and all that jazz. I loved how I didn't even need to write on my fingers to count the hours. I just went in at 9 and left at 11. The feeling is beautiful. I have never felt so happy and relieved to be done with something. As I climbed up 10 flights of stairs to the HR department to submit my requirements, I swear my smile reached my ears!!!
T-Minus 30 hours
Photos taken by me and Sandy
Plus a great thing is that I get to pick up my certificate of finishing it tomorrow, when I thought I couldn't. The only downside, I'm actually going to miss going to GMA (not the hours though!). Sandy's still there and I'm going to miss fortune-telling with her.

And I never did see Marian Rivera. Although thanks to due to Marky Cielo dying, a bunch of GMA stars were milling around. I saw Wendell Ramos, Wilma Doesnt and Paolo Contis. Oh and Manny Pacquiao dropped by, but I was stuck in the office and couldn't go down to join the masses of employees wanting an autograph.

[ONE] 1 more day of Spanish 10
Falta una dia para el examen en espanol!!! No se estudiar para el examen, pero Lee-Ann dice que estudiar por repasar los vocabularios y conjugacion de los verbos. Estoy nerviosa, pero estoy optimista porque dependo en "El Secreto."

Okay, I should really get to studying. I don't want to regret screwing this exam up cause I stayed up watching Chuck and Pushing Daisies instead of studying. And no, I haven't watched them. I will tomorrow after my exam. I promise.