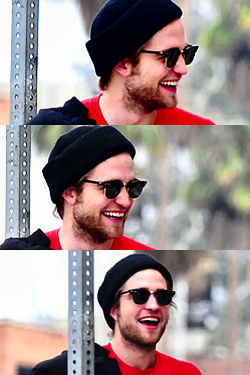 Tagged by
mellowdee
The rules are that for 8 days you have to post something that made you happy that day. So I'm not exactly following the rules. But it's still 8 things, just not 8 consecutive days. That still counts, right?

[1]Rob Actually Smiling
So it took Camilla Belle to make Rob break out into a grin that big, I'm not picky. And just to clarify, Camilla dated Rob's friend, Tom Sturridge (so my Rob/Kristen ship is safe). But really, this totally perked my day up. Not because he's out with Camilla (who is also very gorgeous) but because he's actually smiling!

So the paparazzi sort of ruin the moment for them, but I find it precious that he's this happy when not being screamed at by rabid fans or having a thousand flashbulbs going off in his face. Oh and he's wearing new clothes too!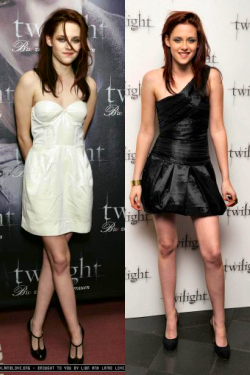 [2] Kristen looking so fab and seeming a little happier than usual
I am so in love with this girl, it's not funny. If things don't work out with Rob I decide to play for the other team and she breaks up with her boyfriend and Nikki Reed, I'm so swooping in. Plus, seeing her at the European press tour for Twilight just makes me all giddy inside.

She's been working the short dress thing recently, despite the extremely cold weather. And who wouldn't? With legs like that, I wouldn't wear pants anymore. But Kristen's got more class/a brain to remember wearing bottoms (*cough*Lindsay*cough*) despite how short they are.

Whatever she's in, she's looking really good in this Twilight press tour. I wonder what she'll be in next/how big her smile can go.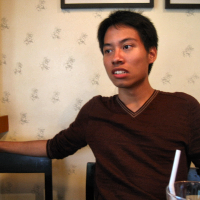 [3] PB Coming Home
Seriously. After a year of not seeing my brother, PB finally finally came home!!! And on Paola's birthday at that. What a gift for our little monkey! It was a good thing I didn't have to go to internship on the day he arrived, that way I was able to pick him up at the airport.

Thank god for the 32 hours left at GMA, because then I get to spend more time with him (apart from thesis work of course), but really who says I can't include him in that? That is if he's willing to a) act, b) act or c) act. I wish.



[4] Permanent Account
Last year, the permanent account sale came around and I was actually seriously considering buying one. But it was in the middle of the year and there were no special occassions coming up/I was broke. But this year, it's smack near Christmas season and well my birthday sort of comes early next year, so I didn't feel too too guilty about asking for one.

I even volunteered to help pay for it, because this time around, I actually have some money, but my parents are waaaaaay too generous/nice/loving/sweet (insert other positive adjectives here) to me. So really, I better be blogging 'till I'm 28 because only then will I break even for what I paid for my parents Christmas/birthday gift-ed me with.

Hello 195 userpics! Oh and I didn't even know I had like $2 worth of coupons, that I spent to get the payment down a little. And I donated $25 of the payment to charity, or that's what LiveJournal says. So friends list, better stay on LJ for 7 more years because it won't be the same without you guys here!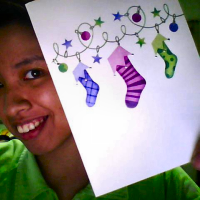 [5] 17 Days Left to Christmas
And I got my first holiday card from
maraudersaffair!!! Linsey you are too kind to me and you totally made my week.

What's even better is supposedly, some of my cards have already reached their recipients! Does this mean the Philippine postal system is getting better? I'm used to friends saying they got their cards in time for Valentines, thus the surprise in knowing it made it to them BEFORE Christmas. Hello progress.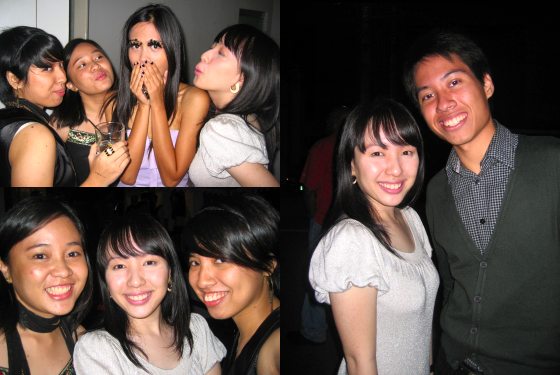 [6] Anna's Party at Fiamma
For some reason, I just didn't feel like I fit in at all. I love Anna to bits, thus my appearance at her party, but I guess I'm just not a club/bar person. Or maybe it was because I wasn't feeling my prettiest that night (I felt overdressed -- though PB says better over than under). Or maybe because I don't drink (and couldn't even if I wanted to, though I don't really, cause I was going to drive a lot of people home).

And yet in spite of all those hang-ups, I actually did have fun with Ana, Sophie and PB. Then Claire, Sam, Caloy and Joseph came by and things got even better! So really I may not be a party person, but it was a fun night filled with Jacob Black sightings by the bathroom and naked girls dancing (or so it looked). Happy Birthday Anna! Thanks for being such a wonderful friend also a great motivator/thesis partner. I promise to do my work. ♥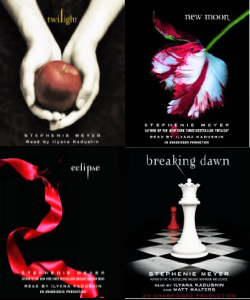 [7] Twilight audiobooks
Yes, I have the books, but sometimes, I'm lazy. So listening to some girl read the book is pretty damn convenient. Although it would be better if it was Kristen's voice or Rob's voice reading it to me. Calling on the Twilight cast! Why don't you guys go read the book and record it! That would make shitloads of money! I'd lap that up, for sure.

I'm already in New Moon. Went to sleep with Twilight and will try to sneak my iPod into internship (although I'm too afraid to bring it and 'break the rules').

Unlike Wayfarer-wearing Edward, I'm no rule breaker. So I guess I'll listen some other time.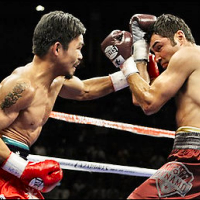 [8] Manny Pacquiao Winning
I'm not a boxing fan. In fact, I can't stand watching it. I just feel terrible for the fighters. But that doesn't mean I wasn't rooting for him in his match against De La Hoya. In fact, I felt really nervous for him. You just can't be too sure about these.

Lucky for us, Manny came out the champion and a bazillion dollars richer too. I felt bad for De La Hoya naturally after the event, he looked pretty bloody, but I was so happy that Manny won. Filipino pride!!!