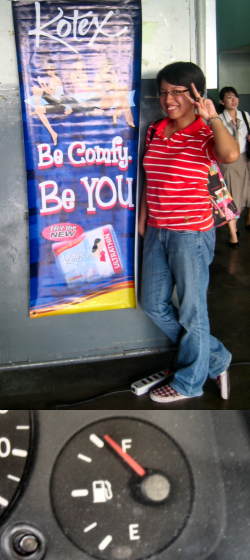 No, I'm not talking about Miley's song (but I do like it). I guess, this is just a random list of seven things that I thought off or enjoyed today. Okay, I'm explaining too much once again.

Campus Ambush
Anna and I gave our first ever live-feed for Max at San Sebastian College and well, that really felt like an ambush. I only got the call from Teta this morning asking us if we were available in the afternoon. Actually, we weren't. But we were willing to ditch Comm 110 (considering we weren't really supposed to have class) and well, best decision ever. So we were nervous to bits and the other radio station sent an actual DJ and not just trainees (like us), but it wasn't soooo bad.

I tried my best to sound as happy and perky as I could without blubbering too much. The hardest part was getting in touch with the station and pacing myself, but I guess we didn't do too bad. I'm glad our boss wasn't the DJ on board though, that would have been much much more nerve-wracking.

Free Full Tank of Gas
And because I drove all the way to San Sebastian College in Manila, the station reimbursed me (and more) by giving me an entire full tank of gas! I was soooooo seriously overjoyed. I was thisclose to tears, but tried keeping it cool. I don't think I have EVER in my entire driving life, seen the gas gauge's needle go all the way to FULL!!! I'm always 'hanging by a moment' as Anna so eloquently put it. I'm so not touching that car now. I want the gas to last forever!!!

No Classes (sort-off)
Because we're supposed to be revising our thesis for 199, we didn't have actual class, which meant I was able to attend the PHA's conference for campus journalists for awareness on heart ailments. Now I'm not a campus journalist nor was I able to finish the entire conference, but it was a nice little roadtrip to Unilab along Shaw Blvd (where there used to be large tarps of John Lloyd Cruz for Biogesic -- I say used to be, because today as I hoped to have a photo with one of them, they were gone!) where we got free food and just a nice break from UP.

Boardwork Training
Our boss thinks we're ready to touch the freaking console at the booth. And I'm terribly scared. It's called training for a reason, but I guess screwing up in front of the boss is something I don't want to get used to (especially since I love talking when the mic is on -- and i'm not supposed to be talking -- or missing his cue etc). So boardwork should be a challenge for sure.

Creative Shot
What creative shot, more like it?! Last week I had my formal shots for graduation and tomorrow I have my creative shot. I'm still clueless as to what I want to do, but I sort of have a sort of idea. I hope I can pull it off and that the make-up artist and the photographer can carry through on what the hell I finally decide on tomorrow. I was a puppet master in high school. I wonder what I'll be tomorrow.

Betty La Fea
I've watched every episode so far and though I cringe a lot of the time, seeing Armando (aka John Lloyd Cruz) five days a week is a fabulous. I officially hate Marcella (Megan Young) as she is able to touch/kiss/be within five feet of Armando. I find Betty more annoying than endearing which is not good (I think Bea Alonso's acting is a little too much), but seeing the pretty set and the pretty Armando is enough to keep me happy. I wonder how long my love for John Lloyd can keep me hooked on the show.

Minute Maid Pulpy Orange
I cannot get enough of that orange-y goodness! If it weren't so expensive, I would be drinking this, like it flowed in our oceans! I'm serious. I don't know how I ever lived without it, because now, I don't know what ELSE to drink? Everytime I drive home from Max, I see that HUGE ASS billboard on Katipunan and wow, I'm thirsty for more. Who do I have to marry so I can get a LIFETIME supply of this?!?! Hello to any of the Coca-Cola Brand Managers there??? I'm so willing to strike some sort of deal...