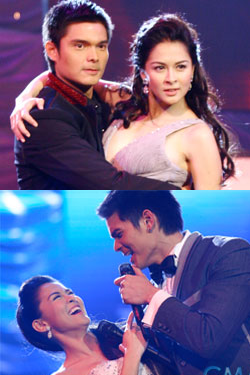 That's right. Give me tickets to ANYTHING, and I'll watch it. It doesn't hurt when I actually like what's playing or what's showing.

That's why when Ate Let said she had an extra ticket for Dingdong Dantes and Marian Rivera's birthday special, I was so there.

I was pretty much hooked on Marimar during its run. And though I'm not Dyesebel's biggest fan, I do love seeing Marian and Dingdong (especially Dingdong -- since his T.G.I.S. days) together.

So along with my yaya's nieces and Pamy (who arrived exactly on time), we sat through almost two hours of GMA-type variety shows.

The show was free, so I wasn't really expecting much and well... I guess I don't really have a right to complain. It wasn't that it was bad. I just felt it could have been a bit better.


First off, it was obviously staged for a TV broadcast -- so there wasn't good continuity onstage. There were times when either a filler star would sing or the stage would just blackout. I guess it would have been nice if it were still fluid live because all those people at Araneta came to watch so it could have been smoother.


Anyway, the starting was a bit off, because instead of starting with both Dingdong and Marian, they start with three virtual unknowns in a song number. Lucky Dingdong and Marian's entrance made up for it. The stairs in the middle of the stage parted and out comes a silver convertible! Dingdong is driving and Marian's sitting shotgun -- both dressed to the nines. Pretty cool. Everyone was yelling their asses off.


As it was a free concert, Dingdong and Marian's slew of endorsements had special screen time. In other words, every performance was sponsored by a product. Dingdong had the cellphone service provider, the cellphone itself while Marian had the toothpaste and shampoo one. It was funny because at times it was very very contrived. More on this later.


I'm glad they didn't force either Marian or Dingdong to sing the entire time because it's not really their forte. But surprisingly when they did open their mouths, their voices were actually not that bad. I wasn't cringing too much -- except when Dingdong broke into a slowed down version of Umbrella. Come on guys, is there NO OTHER song to sing?


Speaking of Dingdong -- yes, he's very cute. In fact, he was recently voted as one of E!'s World's Sexiest, but brother can't dance to save his life. He can do the boyband type dancing, but ballroom? Step away from the dance floor. I felt bad because there were a lot of 'sexy' dancing with him and Marian and it was Marian leading him. Still, they look so good together, I forgive him.


And since we're in the topic of sexy dancing, I have to say that Marian's FHM-sponsored dance number (or as I like to call it) was well... surprising. It was a good concept in theory (dancing on mattresses in a nightie), but I felt like Araneta wasn't the crowd for it. I'm no prude (I say this a lot now) but the Big Dome was filled with kids and she was seducing the camera in a nightie. Nicely produced though, just a little out of place.


There were a ton of fillers, but Jay-R was my favorite. He sang a pretty good rendition of Love Won't Make Me Wait as an accompaniment to Marian's sexy dance. It's too bad the audio in the venue was terrible. I don't know if it was just our nosebleed seats, but I could barely hear anything. Not good.


However, I did like her Shampoo-sponsored number because for me, it was the most aesthetically pleasing performance. Marian was in pink and all her male dancers were in all white and the choreography looked well rehearsed and her costume changes (ONSTAGE at that) were flawless. It was really nice.


Dingdong's best performance would probably be the Cellphone Service Provider one as it was very tied in with the theme of the product. He was a dancing janitor/construction worker/whatever and was pretty effective though I doubt any blue-collared worker has looked that good while welding.


Curiously, after Marian's dad gives his birthday message, Marian starts sobbing like crazy and you'd think she'd seek solace in the arms of her loveteam, but no, she sort of turns to Alfred Vargas (aka as my NEIGHBOR!!!) Haller?!! Woman, you're breaking the illusion. Finally, she came to her senses and realized she was supposed to be acting all lovey with Dingdong. This just goes to show that obviously this is just work for them.


Though things got a little dragging when they were thanking a gazillion people, the show was pretty good all in all. Except for the bad camera handling and the un-released balloons, there weren't too many glitches. Plus, the pyrotechnics were pretty good. Nothing like Beijing, but for a live show, it was pretty good.

Again, as Pamy and I said, it was just fun to watch this free show. How many times in my life will I even get to watch local birthday celebrations of artistas right? Definitely a fun way to spend my Wednesday night.