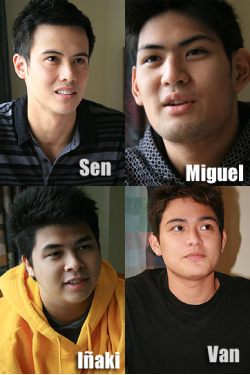 I had enough talent to join Pinoy Dream Academy. Who knew I would be watching this show and totally abhorring Philippine Pinoy Idol!


Miguel (from PI) stops hanging around his girlfriend! Okay, so I may not be the bastion of objectiveness, but I feel like she's only there to give him a love team angle. Don't forget that "one rotten egg will rot the rest!"


Sen, the cutie, would have more of a major role. I feel like he doesn't have enough screen time/story line. This guy needs more exposure.


Inaki wouldn't be so problematic over this and that. I know this is built on drama, but dude, let's enjoy this thing. Don't stress my dear.


I could land on the Forbes Celebrity 100 list at least once in my life. I might as well 'dream big' right? I mean, I don't need to topple Oprah off the top of the list, but I so wouldn't mind being there... even in the low 90s.


I had Tiger Woods concentration. This guy won his 14th Master by a small margin, but he did nevertheless. Despite being challenged by Rocco Mediate, he kept his cool and gave some fabulous swings and putts. I need Tiger's concentration especially now when things are so messed up. Tiger, give me some of your mojo!


Miley Cyrus would STOP taking pictures with her camera. Or at least stop posting them online ready to be leaked to the crazy public, dying to stain her image. I wish I could take pictures of myself canoodling with cuties too, but that's not happening. So just take care, Miley, okay? Let's not go Britney here.


it would only rain when I'm walking under an umbrella with Chace Crawford. To say I miss Gossip Girl like crazy would be an understatement. I don't know how I'm going to survive the show's hiatus. It was my weekly happy thought. Thus, I must content myself with sightings of the cast instead.


I could ride on the back of Obama's bike. And he's in jeans too!!! I so don't think his fashion choice was that terrible? It's normal, that's for sure. You can't exactly wear a suit and bike. At least he was wearing a helmet. Way to go, Barack! He may not be a fashion model, but he's a role model fo' sho.

I wish you and I could really be friends and not just when it's convenient for you.
I wish I didn't overanalyze everything and just enjoy things as they are.
I wish I had the pride to not wait in vain for 7 plus hours.
I wish this doesn't just happen on weekends.
I wish you'd take me seriously.
I wish I were older.
I wish.