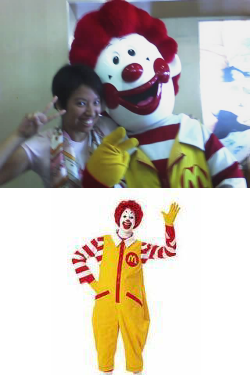 If I had to really choose fast food between Jollibee or McDonalds, I'd have to say I was a McDonalds kid. Even when we were younger, my parents would always bring us to the McDonalds across Commonwealth Avenue on Friday nights and we'd spend hours there eating and playing and playing some more.

Because we already celebrated Fathers Day last night, we had lunch at McDonalds after mass. A party was going on for Hera Althea. It was her first birthday and she was having a "Disney Princess" themed birthday. There were balloons, games and whatnot. But what shocked me most was the mascots!!! WHERE THE HELL WAS RONALD MCDONALD?!?!

That mascot sure as hell looked like McDo but he wasn't a PERSON dressed as Ronald. He was a mascot-mascot. Not the scary clown, but a furry McDo lookalike. Why wasn't he the person with the painted white face and big ass shoes?

Still, as I watched him dance with the kids and interact with them for those few precious minutes, I realized that even McDonalds needed to evolve. It would have been awkward if this standard "mascot" from my childhood never grew up. Heck, I grew up and I sure don't look like my former self.

And he's less scary. He looked really approachable and non-clown-ish which usually scares off children. Plus, I guess the person inside the suit doesn't have to worry too much about smiling, because he's hidden behind that mask. Unlike the former McDonalds, he had to keep that plastered smile on. And they needed to be a certain height, because as I remember McDonalds was quite a tall man.

This made me reminisce over the old school McDonalds parties that I went to. I really enjoyed those things. It would be around 3 hours long, but it felt like forever!!!! I would join all the party games and be really competitive during "Bring Me." I'd eat the spaghetti in intervals of joining all the games. The puppet show was always a bit boring, but I practically memorized the lines already.

This party still had the usual games, but it felt different. It was so much cleaner. So much more systematic. I felt like it wasn't as personal anymore. The tarpaulin of the birthday girl had replaced the hand-cut letters to form her name. The balloons weren't taped to the wall -- there were actual balloon holders mounted on the walls. It felt so clean and aesthetic, as compared to the messy, spaghetti stained faces I remember during my rounds at these parties. Not only had the McDonalds mascot changed, even their parties were different.

So I guess in the end, despite my initial shock over the changed mascot, it was inevitable that he would change (just like everything else). I'm going to miss the scariness of the old McDonald though, but I have to say, this McDonalds was so less scary that I was able to snag a photo with him minus the tears of fear from the kids around me. Everyone just wanted to have a picture with him. And I can't blame them.

In a few years, I'm sure McDonalds will get another revamp. Maybe when I'm attending my friend's children's birthday parties I'll be surprised yet again with another version of the mascot. But for now, I'll reminisce about the freakishness of the old mascot. That was the McDo I knew.