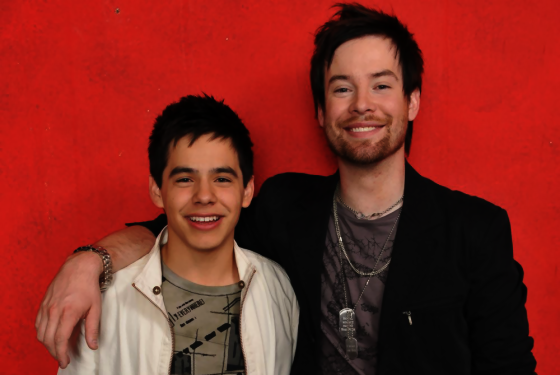 7.51 And I'm awake early enough for live blogging. Pamy and I look like shit. My hair is still pouffy and I'm still in my pajamas. I'm ready to rumble.

7:59 And the sponsors start showing. I'm so sick of seeing American Home Appliances and Xenical advertisements. But hey, they make this come to life. So I'll deal with it.

8:00 I love how the camera dollied around the two of them. I could feel Ryan somewhere there. Lurking. And the entire NOKIA theatre just waiting for the lights to come on. Wow. The Davids looks spiffy in their all white get-ups. Are all finals dressed in all white?!?!

8:02 97.5 Million smashed the voting record by over 23 Million. 56% vs 44% Hmmm... which David could it be? Pamy is still believing that the 56 is Archie. Hey, you gotta the Secret it!!!!

8:03 Kansas City is going wild!!! And look is Mikalah from season 5!!!! but wait its Matt Rogers in Utah and there are a bazillion people too!!!! AR-CHU-LE-TA!!!

8:05 The Top 12!!! In all white!!!! With the SYTYCD cast!!!! They're so adorable!!!! All I see is Syesha's leg!!!! Jason so adorable. OMG!!! Amanda's resurrected!!!! Pamy is NOT loving Archie's camsiachino (undershirt) look

8:06 so Michael still can't dance, but he's so freaking adorable singing "Get Ready" Oh Michael, I have missed you so!!!!

8:07 Our first commercial break. I wonder how many of these we'll be having.
Pamy: Ok lang. It was blah. Not so (impressed) much. I liked Idol Gives Back's Please Don't Stop the Music better.
Patty: I think they made up for it with their all white outfits. Oh wait. They were also wearing all white at the Idol gives back.
Pamy: Why the hell isn't Archie wearing a suit?!?
Patty: I guess cause they wanted to make him look like a kid
Pamy: I don't care
Patty: I have to say though, Cookie looks mighty fine!!! Now that's a white suit.
8:09 More musical numbers!!! Cookie in a leather jacket. Kill me now. Look, it's Archie too!!! In a grey motorcycle jacket. They're singing "Hero" by Chad Kroeger. I love their blending!!! Let's just have a tie.

8:11 Everytime Ryan comes out, I feel like they're going to announce who's going to win. Of course not.

8:12 Guru Pitka? Really? Cross promotion of course. I swear, this is how they're going to fill the 2 hours. Lots of cross promotions. Archie likes the weird sitar videos. So he plays Sitar Hero. Damn. This is going to last long.

8:14 What's up with Guru Pitka and hair? LOTS OF PRESSURE!!! 56vs44. Seriously. This is crazy. Watch Guru Pitka shave Cookie's facial hair!!!!

8:16 OMG. He's there LIVE. Wheee. NOT. HE loves Simon even more. And he TOTALLY predicted who would win!!!! OMG! His name will be David. We officially wasted 5 minutes on that. I would have loved to see Ryan fall off that carpet.

8:17 Syesha's singing "Waiting For You" by I'm not sure? Pamy: Ganda ni Syesha (Syesha's so pretty!) Right on girl. She's singing with Seal!!! Heidi watch out!!! Syesha's out on the prowl!!!

8:20 And we're down to our second advertisement. Bring these on. Waste more time
Pamy: I don't know the song (that they sang). Syesha looked good. Sang well. I guess like the way she was the whole season. She was good. But I Don't care.
Patty: And that's the reason she ain't standing there at the finale.
Pamy: Exactly. Do you know that song? Is that a new song? an old song?
Patty: I don't know.
8:29 I miss Jason's Hallelujah. The Ford video and now they're doing a bunch of Donna Summers songs. Why did I miss it? School hoopla. Seriously. WTF. Anyway, the women are all in red -- presumably to look like "Hot Stuff" as Donna Summer said. Ramiele's looking a little taller. Drinking milk over the summer?

8:35 Look! More Donna Summer! With Syesha. Oh wait. another ad.
Patty: Sorry for the momentary lapse in live blogging. Real life seriously gets in the way of fangirling
Pamy: That's terrible. What happened. I heard it (what you did), what happened?
Patty: It's not clear.
END OF REAL LIFE RANT -- BACK TO IDOL
8:39 A duet for my favorite Love Team!!! Michael Johns and Carly Smithson!!!! "The Letter" by Joe Cocker!!! So Sexy in black. But wait, they're both married!!! This can't be. Carly looks visibly thinner. Omg. The ones we thought would be the final 2. The pimped ones and now they're proving why they were pimped. So freaking talented.

8:42 These two know how to put on a show. I can't keep my eyes off them. I can barely type. I want them to get it on. RIGHT NOW. Oh wait. TV-G. A kiss on the cheek is all I get?!?! Pamy: Best performance of the night, so far!!!

8:43 Jimmy Kimmel does a recap of the entire season? Wait, what? Rickey is gonna be pissed at the Sanjaya valet joke!!! So he's picking on everyone including Chris Sligh. This is hilarious!!! Rosemary and Satan Cowell?!?! His parents!!!

8:44 The Simon Cowell insult video!!! I must have get that into my iPod!!! Like Right now. Why didn't Jimmy say anything about Randy?!?!

8:45 It's the top 6 guys! Starting off with Michael Johns! Love it. David H!
sometimescrazy is in heaven!!! Jason!!!! I love you!!! Pamy: Ang guwapo ni Jason (He's so handsome!) Then there's Chikezie!!! Randy stole your suit. THE DAVIDS!!! They're like apparitions from heaven!!!

8:46 HEAVEN!?!?! This is an Elliott-Archie and now Cookie rehash. Running out of cleared songs? Wow, Archie is the cutest plush toy ever. Cookie is the hottest though. The males are in all black!!! Look! It's Bryan Adams!!!! AND OMG! He's still so freaking hot!!!!! I'm so remembering "When You're Gone" with Mel C!!! How old is this guy?!?! He's so freaking hot!!!

8:48 Wiki Check: Bryan Adams is 48 and doesn't look a day older than 20. I mean seriously. He looks so handsome. The boys all in black jamming together look really really good. They didn't need those short red dresses to make me think "HOT STUFF!!!"

8:49 Wiki Check 2: Simon Cowell is ALSO 48 and he looks waaaay older than Bryan. Good people get good things, Simon. Joke. Look! It's Bo Bice!!!!

8:50 And another advertisement.
Pamy: Well I enjoyed that more than the girls performances.
Patty: I know! They didn't need those red dresses at all
Pamy: Well I hope we didn't have to see little red dresses on the boys to make us think they're hot
8:53 It's Jordin!!! At Disney!!! She's reduced to an endorser of the park. Joke.

8:55 Wow. ZZ Top looks kinda scary. I just don't believe him singing about a sharp dressed man with all that facial hair. COOKIE on the other hand, is one sharp dressed man. I wish he would have worn a suit though. To live up to the sharp dressed man theme.

8:57 OMG! Was that Blake Lewis brandishing his fists at the camera?!?! I wonder who Archie will duet with to make this thing even.

8:58 Kansas City!!! And the people are just crazy. The music teacher is there on stage with Mikalah! And she feels good. He gave her flowers!!! So sweet

8:59 OMG! Brooke with one third of Crosby, Stills and Nash!!! How folk-y!!! I love it. It's her niche. Brooke looks like she's going to explode from all that happiness Pamy: A believable performance.... So believable she's barefoot!!!

9:01 I'm glad that Brooke didn't repeat or stop midway. Thank god for Mr. Nash. We all know what kind of album this chick is making. In fairness, I'm liking it. How apt. The former nanny talks about children.

9:02 And another ad
Pamy: That was good... good... good.
Patty: It's like your speechless
Pamy: I'm just so anxious for the results. But they did good
PAMY IS IN HER PRE-CONVULSIONS STAGE. I'M GONNA NEED A GURNEY TO KEEP THIS WOMAN DOWN
9:06 Jonas Brothers!!!! I want Archie to sing with them!!! He's practically their age!!!! COME ON!!!! Show those brothers who the real plush toy is!!!!

9:07 Pamy is a cougar on the loose!!! Now she's after Nick Jonas!!! He's younger than Archie my dear!!! Why isn't Archie out there with them?!?!

9:09 Oh no. It's the "worst of the worst" tape. I wonder how long this is going to take. Seriously. And they had to put this in. I feel terrible for them.

9:11 Oh my god. Reynaldo Lapuz. Filipino pride much? He gets the REUBEN STUDDARD treatment!!! The huge logo to cover him up!!! OMG. He gets an entire college marching band thing. Big production for this. Nice. This is crazy? Why am I finding this excruciating?

9:13 And now Paula and Randy are onstage. This is cheesefest at its worst. Wow, they actually dedicated two entire minutes to it. Thank god for the ad.
Pamy: Let me recover from that
Patty: I wonder how Ramiele feels. We're (Filipinos) are now reduced to a side joke. But hey, I'm not going to bitch about it. I'm not going to turn this into something political or whatever because I'm sure that Reynaldo was just glad to be there
Pamy: It was really cheesy. Everyone's saying they would bring him back for the finale and they gave him a full band treatment pa.
Daddy: Paola couldn't watch it. She left the room!
9:18 One Republic!!! One season late. You should have been there with Blake!!!! Pamy: Bring out the Davids!!!

9:19 It's Archie!!! Watch Blake salivate as Archie gets to duet with One Republic!!!! This song is soooo Archie. I'm glad he got to duet with them. Not his usual, but hey very familiar.

9:20 Watch Dadchuleta clap his ass off. Save it dude. You're son's gonna get the confetti soon. Or not. So we're back to Salt Lake City, Utah. And the people are just sardines there. His grandpa isn't even at the Nokia Theater? He's there with the masses! He's proud of his son (Dadchuleta -- really?!?) Pamy: Miss Universe ba ito?! (Complete with translator!) I want a Grandfather Idol indeed!!!!

9:23 Jordin sings "One Step at a Time." Wow that's a golden dress. Somehow I'm still not a fan. Now if she brought out Chris Brown and stepped off the stage and then Chris Brown sings "With You" with Archie I would be happy. But oh wait, it's still just Jordin. Pamy: wait! what happened to her voice? Patty: It's obviously back.

9:25 Watch Blake seethe from his seat. Yes dude, you lost to this. I'm sorry. You're still my Idol for season 6. Don't cry, babe. Or rather, don't heckle her from your seat!!! See this is what happens to me when Jordinieta comes out. I become very very hostile.

9:26And we're back with another commercial break
Pamy:My gosh. *speechless* I don't care, I really don't care. I just can't care enough anymore. If I dont' like you and you come out on screen, I don't care.
Patty: What do you care about?
Pamy: David Archuleta. I want David Archuleta to win.
Patty: Why'd I even ask?
9:30 Unseen footage from auditions from 1972?! OMG!!! ROBERT DOWNEY JR!!! Jack Black and Ben Stiller!!! So cute.

9:32 They can make Robert Downey Jr do anything and I will buy it. Oh wait, I haven't seen Iron Man yet. Seriously. The biggest loser on earth. They're so cute!!!! Jack Black's got the moves. Somehow, I thought this would last only 2 minutes. I was wrong. They're going to milk this for all it's worth. Daddy: This is the best performance ever

9:33 and it's down to Ben Stiller. My dad really buys this thing. We all know who the audience is for this kind of thing. I have to admit this is pretty good. Just a little long. But hey, they have 27 minutes left til coronation so yeah.

9:34 Carrie Underwood's singing "Last Name." Daddy: The best performance! Pamy: Ang ganda ng suot niya! What an Idol naman. She comes out here and makes me think she deserves it! Wow. What a diva. This is all coming from Pamy who HATED Carrie in Season 4

9:35 In fairness, I agree. This woman is going to surpass Kelly Clarkson (if she hasn't already). Why did you break up with Chace Crawford?!?! You and Man Bangs would have made really cute Baby Bangs!!!

9:38 And another ad break. We've got 22 minutes left til they announce anything
Paola: It's Ashley Tisdale! The performance was ok naman
Pamy: Obviously not a Carrie Underwood fan
Patty: Paola sounds really bored
Paola: Sorta. Waiting for who's going to win
Pamy: Chace Crawford (and Carrie)! What the hell!?!?
Patty: Wouldn't they have been so hot?
Pamy: Yeah!
9:42 And we're down to 18 minutes till they announce anything. The Top Twelve for *the last time* before the results. OMG. Kristy Lee Cook Wants to touch your body!!!! "Faith!" Fab song! I'm in heaven. The girls are in top form. I can't wait for the boys to come out. WOw Amanda's such a downer. Brooke looks happy!!! this is a rare moment.

9:44 Why aren't the boys singing the same song!!! But they're in suits!!!! KIll me now!!! Michael's singing "Father Figure" David H IS SO FREAKING HANDSOME!!!! Chikezie is one smooth chocolate bear. Jason!!!! Why do you kill me each and every time!!!! Rickey is in Ace Young Heaven!!! BRING OUT GEORGE MICHAEL I CAN FEEL IT!!! That last line from Cookie!!!! Kill me now.

9:45 Freedom!!! Where are the supermodels?!?! There you go, Pamy. There's your Archie "solo" part. AND THEN MY COOKIE!!!! Seriously. This guy was born to look fucking hot in a suit. David H and Kristy Lee Cook!!! For some reason they look really good. Jason! Brooke!!! Syesha!!! I'm so jealous of ANYONE who's going to watch the summer tour!!!

9:47 Still NO George Michael?!?! WHY!?!?!?

9:48 I GET MY WISH!!!! Not. And Paula is up on her feet!!! Obviously this woman is from this generation!!! He's singing a ballad!?!? I want him and Luke Menard (let's pray for him y'all) to sing "Wake Me Up Before You GO!!!!" What a downer though.

9:49 Wait, it's "Praying for Time" Bring out Carrie!!! Now that would be a killer duet!!! Praying for Luke. Seriously guys, I feel bad for the guy. He's so pretty. He'll fight this!

9:50 I can feel one more advertisement coming before they finally announce which David wins. It's down to 10 minutes, y'all. I can feel Pamy enjoying this along with Paula. My little sister Paola: That's how George Michael looks?!? Pamy: Galing!!! Bring out the Idols!!!

9:52 Wow. Simon stood up for this. Big event. Getting Simon off his ass. Love the accent!!!

9:53 and the last ad break. Or so I hope.
Pamy: At least they saved that performance for the last part. Love the GM medley. And I wish he and Carrie would duet. It was GM's moment. Good! Love the song
Paola: Okay naman. Again.
Patty: Still bored?
Paola: No... *says a bunch of gibberish*
9:55 And I'm surprisingly really calm. I don't know why. I guess I'm sort of resigned to whatever happens. Whichever David wins, I'll be good.

9:57 And we're back with three minutes left. Seriously. They better not break for another ad. Just announce it, y'all. They're both in suits looking mighty fine.
Randy: Great great season 7. You guys brought it down to the wire. One of the strongest years ever. You're both winners. Both
Paula: I'm honored and proud to be sitting here. It's anything but a finale. It's the beginning. It's the things that we lose that reminds us how truly special we are as people
Simon: I wanna congratulate both of you last night. I went back home to watch it. In fact, David I will take this opportunity to apologize cause I was verging on disrespectful with you. You both gave it your best. And for the first time ever, I don't care who wins. I think you're both terrific.
9:59

DAVID COOK
is the new
AMERICAN IDOL!!!!


10:00 Sorry Pamy. Cookie is crying. His parents are on the floor.
holdmesam you did it!!! Congratulations to everyone. As they said, they're all winners.

10:01 Cookie can barely talk. His mom is onstage!!! The word nerd is at a loss for words!!!! He won by 12 Million votes!!!! His brother Andrew is sooooo cute!!!! Pamy is okay. She's still breathing.

10:02 So this is the real winning song. "Time of My Life" OMG. I thought it was "Dream Big." But hey, Cookie is so handsome singing it!!!
Pamy: At least David A went out with a bang. With his dignity intact.
10:04 Oh, David and David are hugging. And now David's with the judges. The top 12 are walking with him. He's calling Archie. They're just too adorable. NO ONE HAS DONE THIS. Sung their finale song with his top 2 competitor and the entire top 12??? SO SWEET. SO CLASSY COOK. You are one Classy Cook.

10:05 You see Andrew go "That's my brother" and you see me go, "That's MY Idol". That is my Idol. The best Finale ever.