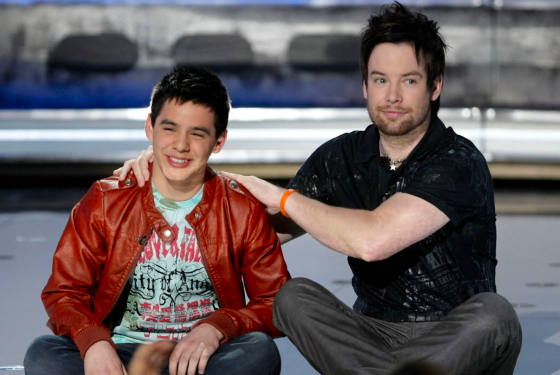 Even the usual suspects can't predict who will win American Idol. DialIdol says that Cook leads by a huge margin. Zabba on the other hand, says it's a close fight. Whatever the case may be, the boxing metaphor sort of suits tonight's showdown. The Davids need to bring it and knock out the competition to win the title.

For the first time, I'm not hating ANY contestant in the finale so this will make for a VERY VERY boring review. I'm not lambasting anyone a la Jordinieta so this will be a long, David-loving read. Sorry guys.



ROUND 1: Clive's Choice




David Cook - "I Still Haven't Found What I'm Looking For" (U2)
I just died. What a way to start the competition. I thought his vocals were superb and he was really feeling every single word. It was heartfelt and his performance were just amazing. I don't care what anyone else says. I thought this was his best.
Randy: I can call you DC, right? I love the scoop at the note in the end. It was hot baby.
Paula: You may not have found what you're looking for, but we have found David Cook. David Cook has arrived. Amen amen. And you're in great voice tonight.
Simon: At the top of the show, I could see you were very tense, very emotional i can understand why. so taking all of that together, I thought it was phenomenal.
How I wish I were the girl he was singing this too. With every eye close he did and every stroking of the microphone, I swear I thought I was going to spontaneously combust. This guy knows how to work the camera, the stage and the crowd. Oh Cookie. I'm so in love.



David Archuleta - "Don't Let the Sun Go Down On Me" (Elton John)
I thought Archie did the best he could. His vocals were of course good, but I guess it wasn't all that for me. I'm sure Pamy thinks otherwise. The judges of course, think it was heaven-sent. I'm not going to complain.
Randy: Listen. Wow. David! Check it out babe. It doesn't matter what happens wright now you gotta know one thing. this is one of the best performances of the whole season. You chose the right time to peak. That was crazy hot molten lava vocals.
Paula: I got chills up and down my arms. I gotta tell you. The sun is never going to go down on you. You bring so much sunshine and the whole world sees it through your singing. I'm so excited. It was unbelievable
Simon: I'm going to be honest with you., I thought last week you were okay. I thought tonight's performance was arguably the best you've done so far. Hang on! Taking everything into account. Round 1 goes to Archuleta.
I love the constant effort to keep his eyes open. Good job, boy. Close fight between him and Cook in this round. Pamy is writhing next to me. It must mean it's fabulous. She's doing the Paula clap.

So Simon said that Round 1 goes to Archuleta, but I beg to disagree. I thought that Cook was the victor of this round. His voice alone was enough to make him win the round. Then there was the sexiness. Let's not even go there, because I can just ramble for days on end about that.



ROUND 2: Contestant's Coronation Song Choice




David Cook - "Dream Big" (Emily Shackelton)
I found myself bobbing to the song and I hadn't heard it 'til this morning. I thought that Cookie brought his game. Then again, compared to the other coronation songs, this is one of the better ones. Yes, sappy message, but non-sappy delivery.
Randy: The song was just okay for me but what made it really work was your voice. You were singing your face off. Nice. Nice.
Paula: A song in your heart, a guitar in your hand and all of us mesmerized by you. This is a great way to take a song we don't know and fall in love with it.
Simon: That was a bit of a lightweight. I thought the end was okay. Bearing in mind this is supposed to be a winning song, it didn't feel like a winning moment for me. It was a 6 and a half out of 10.
HOT GUITAR Skillz. And my dad just pointed out after 17 weeks of hearing him play the guitar that he's a lefty!!! I'm the most un-observant person ever. I'm loving the red pimp lights. I can imagine him singing this in a stadium full of jumping people.



David Archuleta - "In This Moment" (Ryan Gillmor)
So this is the usual kind of coronation song, but I guess Archuleta is really sticking to his strengths and he does it well. I'm not the biggest fan, but I thought he was pretty good. This just shows that Archuleta is more of a singer than an artist and you can't fault him for that.
Randy: Right now, once again for me, the song... i wasn't crazy about the song. You are so in the zone, you could sing the phonebook. Another hot performance.
Paula: Another heartfelt performance, it doesn't matter what you sing, it's like you're on fire tonight. It's pure magic and that is why you're in the spot you're in. COngratulations
Simon: I love the egotistical lyric. You definitely definitely chose the better song. Much more in keeping with the night. Round 2 goes to David Archuleta.
Did he change clothes? Either way our cute little plush toy delivers on this cheese fest of a song. "How can a window encompass perfection?" How indeed? But hey, this is the boy's bread and butter. This is a difficult song, breath management wise. I feel like I'm going to lose air but he continues to belt. Go Archie. Pamy says, Galing! Galing -- and says that David Archuleta is in "top shape." Pamy feels like he's making her feel that this IS... the finale.

Again, Simon awards Round 2 to Archuleta and because both were equally good, I won't award it to anyone. So I say this is a tie or a draw or whatever boxing metaphor there is for this thing. Pamy doesn't believe that Simon's pimping of David is REAL though. She feels like it's a reverse psychology sort of thing. Leave it to Pamy to NOT take a compliment for her boy.



ROUND 3: Contestant's Song Choice




David Cook - "The World I Know" (Collective Soul)
So David started off hot in Round 1, was good in Round 2 and for me, was okay in round 3. I guess he really wanted to sing this song on the finale and I'll give it to him. It wasn't my favorite. I wasn't rolling on the ground with love but I wasn't loathing it either.
Randy: One of the cool things about you is that you showing people a lot of sides of David Cook. That was a sensitive side. This is the kind of record you could do. Very nice job.
Paula: I look at you up on that stage and you're standing on your truth and you're delivering songs with integrity. I applaud you David Cook.
Simon: I just wanna say publicly that you are one of the nicest most sincere contestants we've had. It was a beautiful song but it was completely and utterly the wrong choice for tonight. You should have sung Billie Jean or Hello.
And in spite of my non-love for his choice, Cook still looked freaking sexy and hot singing it. Love what he's wearing. Very slick. Come to my prom with me, Cookie! Oh wait, I'm done. But I can so imagine us slow dancing already. The hair is perfection. The facial hair is just enough. Uber sexy. All I needed was Michael Johns on stage to wipe off his sweat and I would have truly been in heaven. But he cried!!! Don't cry my love!!!



David Archuleta - "Imagine" (John Lennon)
So he encore-d this song. I don't mind. David did a fabulous job. He really owns this song already so I can't fault him for that. In fact, this was the performance I enjoyed most from him tonight. This guy is making my sister weep. Seriously. I can't imagine how she'll be tomorrow morning.
Randy: David Archuleta. I'm really happy and proud that with the 2 Davids on stage, you are so good tonight. You are exactly what this show is about. Finding the best singer we could find and the best singer of season 7 is right there.
Paula: It's the culmination. And you left me speechless as you did when I first heard you sing. This is what it's all about, David.
Simon: you know, we've taken a little bit of a stick this season, but at the end of the day, this show about finding a star. And tonight I think we've witnessed one of the great finals. In my opinion, you came out here to win. And what we have witnessed is a knock out.
I like how he dressed young though. He finally looks his age. Not that his face doesn't show his youth. He just looked most comfortable with this song. I don't believe that Cook was calling him out on repeating a song, because it's not like there are any rules on it. Archie did great here. Pamy does the Paula seal clap over and over. Come to mama, plush toy!!!

Simon again awards Round 3 to Archuleta and for the first time, I agree. It's funny because Simon went on Ellen saying Cook would win but here he is throwing Cook under the bus and praising Archuleta. I don't know if this is some sort of ploy, but at this point, I really don't care. I feel no hatred for anyone. I'm literally just enjoying the finale.

I'm sorry Pamy, but I thought that David Cook gave a great performance tonight. Though David Archuleta put up a good fight, I was hoping he'd do at least ONE upbeat song, but hey he's sticking to his guns. I'm already so happy for Cookie being there, but hey, it wouldn't hurt for him to win. Still, it's anyone's game.

Obviously Pamy is on Team Archuleta. So if I have to choose, I'll say I'm on Team Cook. NOT because I did predict him as winner, but because over-all tonight, I enjoyed him tremendously. It doesn't hurt that he's hot either.

How did you vote, America? One thing's for sure. I literally thwarted ANY thing that might come Thursday morning, because I'm live blogging no matter what. Let's all pee in our pants together, folks. There are NO spoilers tomorrow. I'll be waiting along with everyone else. Watch. Me. Puke. Here we go.