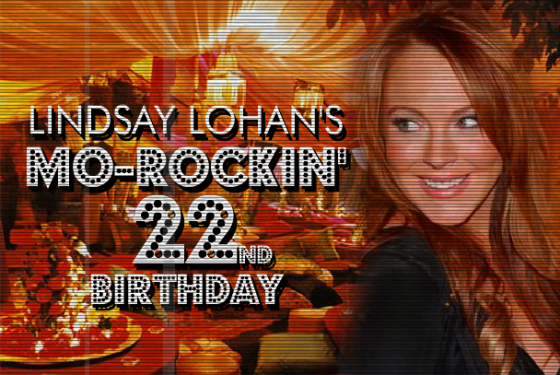 Do you have a product you want publicized at NO LESS than Lindsay Lohan's birthday party? Then head on over to this website because our birthday girl, Lindsay Lohan is looking for sponsors for her birthday bash!!! But wait! What exactly is this all about?
Sponsors will have a unique branding opportunity at an internationally worthy media event... Upon nightfall, an intimate group of 75 VIP guests will gather for dinner, performances and most importantly to help Lindsay blow out the candles on her 22nd birthday cake!
Now I'm sure this isn't something new (Paris Hilton and Nicole Richie have their birthdays sponsored -- as I'm sure many many other stars), but it's still funny to read about it. Especially since there's an ENTIRE website dedicated to it. And apparently, it's no hoax -- says TMZ, but hey I believe it.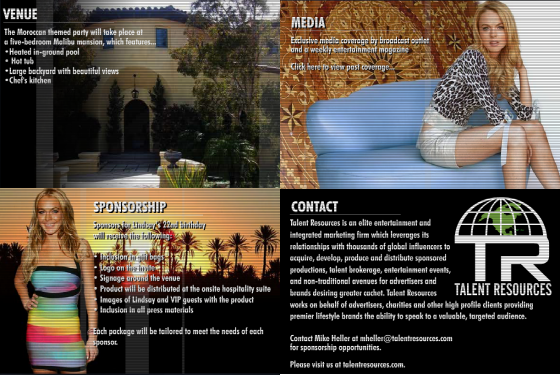 The Moroccan themed party will take place in a five-bedroom Malibu mansion... Exclusive media coverage by broadcast outlet and a weekly entertainment magazine. Sponsors for Lindsay's 22nd Birthday will receive the following... images of Lindsay and VIP guests with the product.
Don't believe them? Apparently, Lindsay's other birthdays are very well-documented by weekly entertainment magazines. So what are you waiting for? Pop out the check book and sponsor Lindsay's birthday!!! You might just get Lohan BFF, Samantha Ronson holding (insert product here) all over US Weekly!

On a side note, I can't believe she's only 22!!! She's a year older than me and has had so much more life experience. Not that I want to get a mug shot, get arrested for a DUI, go through an eating disorder, and check into rehab all before my 22nd birthday; I was just saying.