And then there were three. In fairness, it's been three seasons straight where my favorites have made it to the top. That must mean I have pretty good judgment of who TPTB like.

Tonight, we get three songs each. I'm hoping for all killer and no filler because at this point, with one week left, there ought to be something to make me drop dead with amazement.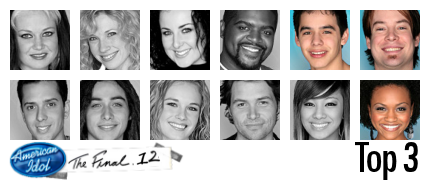 ROUND ONE: Judge's Choice
David Archuleta - "And So It Goes" (Billy Joel) - chosen by Paula 2
Wow David's mayor has a fabulous mustache. How about those pimp lights! It looks like he's glowing from the heavens!!! Technically, I'm sure this is a very difficult song, and David A did sing it really well. I could feel his emotion, but I guess it wasn't the most moving thing ever.

Randy said that he's in it to win it, baby!!! Paula said that it was a pure and stunning performance and felt that he was a storyteller. Simon said it was very good -- no surprises -- a bit predictable. Good. Good.


Syesha Mercado - "If I Ain't Got You" (Alicia Keys) - chosen by Randy 1
Does Syesha's city have no mayor?!?! Why didn't her mayor read it for her!!! But really, Syesha looked incredibly gorgeous tonight. Her dress was just blingabling all the way and I was sort of blinded by it. She of course, sang the song perfectly and was really fighting her way to the finale. Pamy, I'm sure is shitting in her pants, all nervous for her David. But I say fear not.

Randy could see her heart beaming and smiling. And he said that she's standing there at NUMBER 3?!?! As in third lang. Paula said she looks absolutely stunning and a bunch of praises. Simon thought she sang it very well, but wishes Randy picked something else that would allow her to make it her own. He thought she looked gorgeous.


David Cook - "The First Time I Ever Saw Your Face" (Roberta Flack) - chosen by Simon 3
David has no mayor but is on TV!! And he's shocked to see that he's singing Roberta Flack. Simon says it's one of the greatest songs of all time. I had never heard the original so I'm not sure if he changed it up at all, but one thing's for sure. David looks mighty sexy doing it.

Randy says he could sing the phonebook. Randy wishes Simon would have chosen another song where David could rock. Paula says it's about David. She now considers him her second favorite singer. Simon says it's his best performance. Original. Simon says that round 1 goes to Cook and Cowell.
ROUND TWO: Personal Choice
David Archuleta - "With You" (Chris Brown) 1
I love his song choice. It's contemporary and pop-py and current. Did David just say BOO?!?! Ack. So cute. It was a little awkward watching him at first, but his cutie puppy dog looks endeared himself to me. This guy can't really move (the bobbing from side to side is funny) but he can sing. I actually did enjoy it.

Randy applauded the fact that he tried something new and young, but he couldn't believe David singing "my boo." Paula thought it was perfect for the tone of his voice. And thought it was perfect for him. Simon applauded that he didn't do a treacly ballad, but he thought it was a Chihuahua trying to be a tiger -- it wasn't really him -- with the awkward dancing.


Syesha Mercado - "Fever" (Peggy Lee) 3
Yes talk about performance. Syesha's really trying to win this thing. Could my dad be right with his crazy ass bet? Syesha is freaking sexy though!!! That little silver dress is so fab on her. If this girl gets the boot, I'll feel bad but won't really care. If she stays, I'll be so sad, because I want a boys finale, but she does deserve it. Wow, she's working it.

Randy said it was a great performance. Paula said she looked lovely. And was surprised at her song choice cause she thought it didn't show who Syesha was as an artist. Simon said that she will probably regret her choice tomorrow. Simon thought it was a lame cabaret performance. Do you notice how Ryan didn't deflect Simon's bad comment?!


David Cook - "Dare You To Move" (Switchfoot) 2
David Cook is again looking freaking hot. David thought that the song wrapped up his experience -- from being a bartender to this and thought it was the appropriate song for the appropriate moment. I'm loving how he's got his guitar back!!! It's like an extension of his arm and fits just naturally with him. That was a kick ass performance. Love this song.

Randy namedrops a bit and thinks it was a little pitchy. Paula said she knows it was challenging, and was wanting more from him. Simon thought it was predictable and wasn't impressed much.
ROUND THREE: Producer's Choice
David Archuleta - "Longer" (Dan Fogelberg) 3
What the hell, Nigel?!? This song is older than David and me combined (or so I think!) I have to give it to Archie for giving it his all though. It's just really not a song for trying to keep yourself in the game. If this ain't revenge from Nigel for what Paparchuleta did last week, then I don't know what is.

Randy said another interesting song choice but thought it was another hot one for him. Paula thinks it was a lovely performance and expected nothing more. Simon thought he sang the song very well, however he thought the song and lyrics were horrible cause it was so gooey. Blame Nigel!!! Something for a 90 year old. Still he thinks he's done enough to get into the finals next week.


Syesha Mercado - "Hit Me Up" (Gia Farrel) 2
WOW Syesha can dance. I love this song. It was played on the pilot of Gossip Girl!!! This shows that Syesha can do contemporary too. And she looked really good. I hope she danced more. But hey this is a singing competition after all. I want her to record this song for her studio version!!! It's so club-ready!!!

Randy said he could see her doing the song but was just okay for him. Paula thought she did the song very well. She still doesn't think it's what Syesha is as an artist and doesn't think it's enough to get her into the finale. Simon thought last week's songs were better but was forgettable and non-defining. Again, blame Nigel!!!


David Cook - "I Don't Wanna Miss A Thing" (Aerosmith) 1
PIMP SPOT MUCH!!! The lighting, the coat, the violins! The sexiness!!! Breathe Patty. Breathe. I felt like Bruce Willis was going to die all over again. This is just making me cry!!! Whoa lighting!!! Whoa guitars. This is just going all out crazy. Is this the dress rehearsal for the finale *hopes* All that was missing was confetti, baby!

Randy loved the song but the performance was predictable and just okay. Paula gave him a standing ovation. Paula told him that she'll see him at the finals. Simon thought it was one of the greatest songs of all time and thought that David Cook wins the night. Really? Well let's see what the voters have to say.
My Final Two
1. David C
2. David A

Obviously, I'm rooting for an all-David finale. But with conspiracy theories like, anyone Paula recommends a song to gets the boot: Archie. Then there's the first performer in the Top 3 gets the boot: Still Archie. This makes Pamy very very scared. But really, I highly doubt it's Archie's time to go. Still, I wouldn't bet my life on it.
DialIdol says Cookie is on top followed by Archie (though by a huge margin) and Syesha is waaaaaay behind. I don't know how accurate this has been, but I wouldn't be surprised if they set it up this way. Still, it's all up in the air until tomorrow. In fact, they were all on equal footing for me tonight. They all averaged the same. I really don't know anymore.