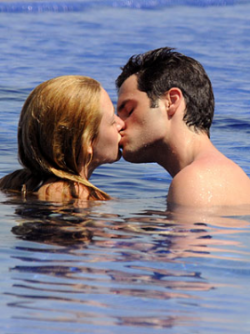 Blake and Penn are for real?!

I always heard about it but never saw real freaking proof to verify this oh so gorgeous union. But apparently, it's fo real!!! This only made my day more. Because I just finished watching GG 01x17 last night and though I'm too tired to make a recap right now, I'll settle for some real life love!!!

This is like Summer-Seth all over again. Except I hope this time, it's for real. I doubt it, but hey a girl can dream right?
KISSES IN THE SUN
Looks like life is imitating art! Gossip Girl costars Blake Lively and Penn Badgley – who have coyly sidestepped relationship rumors – enjoy a steamy kiss in the pool during a romantic getaway last weekend to Paraiso de la Bonita, a luxury resort in Mexico's Mayan Riviera.
Now who am to complain about this at all. Looks like we know how these two are going to be spending their time after the season finale next week. More beach frolicking shots!!!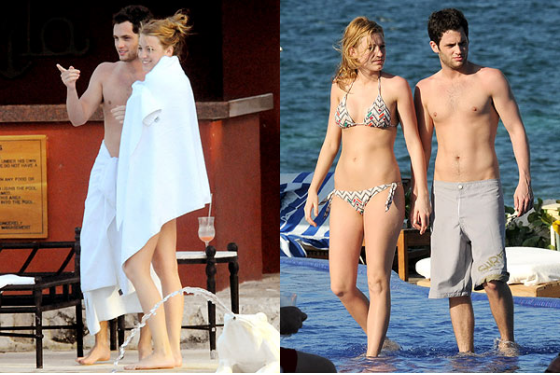 TOWELING OFF
Getting pruney? The twosome dry off with some thick white towels.

COOLING THEIR HEELS
Lively and Badgley cool their heels in the resort's infinity pool.
Can they get any cuter?!? I'm just all sorts of excited right now. This beats the boring life of Dan-Serena!!! Now they can break up on the show since they're together in real life anyway. Please don't let this be a Chad-Sophia thing.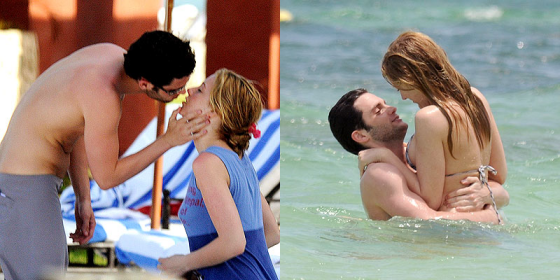 BÉSAME, BABY!
When Badgley was named among PEOPLE's Sexiest Men Alive last year, he revealed what he looks for in a girl: "Somebody's who confident and independent ... looking good doesn't hurt, but looks will only get you so far."

WATER BABIES
It's a far cry from the Upper East Side hangouts they're used to! The couple ditch the pool and frolic at the beach.
This is just waaaay too reminiscent of Bennifer Part 1 wherein Ben and J.Lo are all over each other at the beach. I hope this doesn't spell doom for this couple. I wonder what their portmanteau will be? PAKE? BLENN?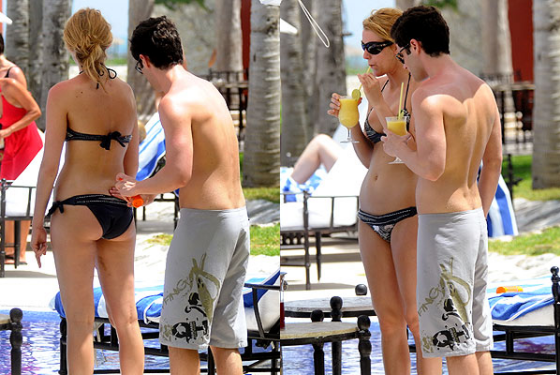 SUN PROTECTOR
While on vacation, he helps his girlfriend protect her "beautiful" self from the blazing sun, applying some lotion to her lower back.

MARGARITAVILLE
Poolside, Badgley and Lively take a break from the heat, indulging in some frosty beverages.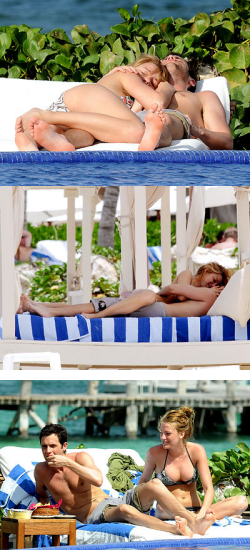 They seem really really blissfully unaware of the camera though. And these shots are pretty clear so the photographer paparazzi must have been awfully close. I don't mind if this is publicity that they're trying to drum up for Gossip Girl especially with the hiatus coming up, but I'm just hoping it's a legit relationship.
SWEET SIESTA
And just when all that sunbathing gets too exhausting, Lively and Badgley curl up for some R&R.
How exactly do you sleep this comfortably when it looks sort of sweltering? Oh to be young and in love. These two are just tooo adorable.
MADE IN THE SHADE
"I think she's incredible," Badgley earlier told PEOPLE of his costar. "She's an amazing person and she's beautiful – so there's not a lot to dislike."
Ahem... we should have called it back then, but the pictures were a little long to come by. Thank goodness that their official outing is a love-fest at the beach. The Costume Institute Gala was a nice foreshadowing but this just seals the deal.
SNACK TIME
They may be sharing chips now, but back in January Lively called talk of a romance "silly." She told PEOPLE: "Everybody always tries to dig into your personal life or create things that aren't there."
Either way, this is a nice way to wrap up the season long speculation about the veracity of their relationship. Way to be outted, e? Looks like they're trying to rival that Jennifer Aniston-John Mayer lovefest in Miami. Yummy indeed.