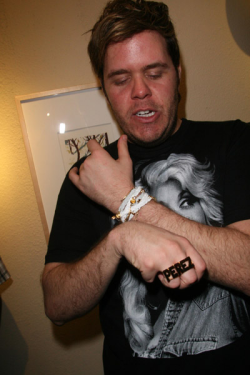 I know I'm NOT a fashionista, but I think I can a spot a fellow clothing challenged friend when I see one, right? Well, hold your breath for this one.

Perez Hilton has a what?!? This is just plain disturbing.
Celebrity snitch Perez Hilton is launching his own clothing line, Perez Hilton For Hot Topic. Be on the lookout for products like Perezcious Pink and Gossip Gangster Flip Flops, ranging in prices from $2-$50.

"I keep seeing these lines from the likes of Lauren Conrad and Heidi Montag that give me nightmares," he says. "My brand will be very conscious of my audience." [PopCrunch]
Apparently, all you need to get a clothing line these days is a little bit of buzz and absolutely no experience in the fashion industry and you're set to get your own line.

Take for example, Heidi Montag who just couldn't let Lauren one up her. Calling her line Heidiwood, it didn't exactly get the most stellar of reviews. But somehow, I forgave her. Or rather I just didn't care.

But Perez?! This I really just don't understand. Believe me, I'd love to eat my words when he releases a to die for collection, but somehow, I'm doubting that. Who's next? The Girls Next Door?