Pamy and I checked out the list last week and due to the sheer amount, I hope the contestants don't go the usual route. After all, there are 500 plus songs to choose from. And Rock and Roll is a pretty wide genre so thsi should be an interesting night.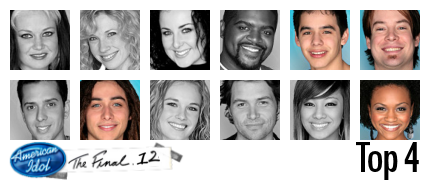 ROUND ONE
David Cook - "Hungry Like the Wolf" (Duran Duran) 3
I'm not so sold on his first performance, but I have to admit I was taken aback by how hot he was in that first shot. His close up is just crazy. This is a performance that needs to be watched because his sexiness totally carries this entire thing. I love you Cookie, but this isn't going to be on repeat.

Randy thought it was an okay choice and an okay performance. Paula was left with a big appetite and was happy to see David grow and flourish. Simon thought it was a little bit "copy cat," but thought it was enough to get through to the next round.


Syesha Mercado - "Proud Mary" (Tina Turner) 1
Good luck to her. It's been done 100 times. But wait! Those opening steps! And wow, I'm actually watching Syesha and NOT just listening to her. For the first time, I'm going to say she performed the hell out of the song instead of just singing it really well. Super fab!

Randy said Syesha was in the zone. Paula said she looks like a star. She's now a beautiful woman with magnetic presence. Simon thought it was a bad shriek-y version -- a bad impersonation of Tina Turner and that he didn't have fun. I sort of feel bad for Syesha after that.


Jason Castro - "I Shot the Sheriff" (Bob Marley and the Wailers) 4
For the first time, I thought Jason looked like he was actually enjoying the song he was performing. Maybe because he finally gets to sing some Marley! I can't say it's his best vocals but he definitely looked like he was finally feeling the song.

Randy thought it was a "really" karaoke bomb. He feels like there wasn't anything special about it. Paula thought he performed his best, though she wasn't crazy about the performance or the song. Simon thought it was utterly atrocious -- this felt like a first round audition massacre. Simon didn't know what he was thinking. Jason said he was thinking, "Bob Marley!"

Thank you Paula for asking the men to drop it though!!! And for keeping him up. Oh Castronauts!!! You guys gotta keep it together!!!


David Archuleta - "Stand By Me" (Ben E. King) 2
David sings to himself! And to his dog!!! Wow, that gets the schizos and dog lovers to vote for him too!!! But wait, this song was made for David. It's inspirational and friend loving. And he's "contemporary" After all, he included a line from "Beautiful Girls" by Sean Kingston. He should have sung more of it though.

But seriously, I actually really liked it. I don't usually gush about Little David but this was a really good, upbeat, updated version! With this song alone, he just sealed his position in the Final 2. Even if Pamy refuses to believe this for fear of jinxing him. Fear NOT!!!

After ten hours of cheering, Randy says he's happy that there's one guy who's trying to win the whole thing (he brought the hot man vocals!). Paula said people forget that he's way beyond his years. And drops the 17 year old card after weeks of not using it. Paula thinks he's delivering it and seasoned! Now I'm hungry. Simon said that he could have whistled this song and it would still be better than Jasons (OUCH!!!) Simon can say he struggled but its too late he took it back by calling it the best performance so far.
ROUND TWO
David Cook - "Baba O'Reily" (The Who) 2
CSI NY!!!! But wait!!! WHATTA PROFILE!!!! Seriously!!! Whattanoutfit!!! He's so freaking hot!!! Nice camera movement. CU of David's Profile then SUPERIMPOSE to MS of David favor left. They really give this guy the camera love!!!! He's looking so amazingly hot. And his vocals are sooooo much better than the first one!!! I wish he would have gone into a more upbeat part of the song, but hey, I'll take the camera love ♥

Randy thought there was something different with him tonight. Paula wants more. Dear, you're not alone. We all want more Cookie!!! Simon welcomes back David Cook. Ayi. So underpimped.

And as Cookie stood there next to Ryan, he was actually prettier than Seacrest. That's just NOT possible! but yes, it was.


Syesha Mercado - "Change is Gonna Come" (Sam Cooke) 3
Wait, that first note was so long I was able to go take a bath, get a pedicure and my hair cut, conditioned and colored. And wait! She's wearing her McPhee Yellow gown. This is back to Syesha's very stellar vocals, and yes I felt her emotion, but I wasn't feeling the song. And during that last note, I was able to climb Mt. Everest twice! Wow, that was long. Still, it was a good performance from her.

Randy thought the first song was loveable but this one wasn't. He didn't like the arrangement of the music OR vocals, because Sam Cooke is the best singer ever in life!!! It fell flat for hi. Paula just stands up and claps. She wants to hug Syesha. Paula said though, "THIS IS IT FOR YOU!" Hala!!!! Again, Paula is a clairvoyant remember?!?! So this could be the "shocker." Simon agreed with Paula. Wait which part? The this is it for you part? Or the hug part? Or the good part? Hmmm... But wait, Simon totally defends Syesha by telling the audience that Randy was wrong.

Dear, you can cry. But you don't have to defend your song choice. Seriously. It felt like she was running against Hilary and Obama. Oh no. Stop the reverse pimping. You're still pimping her by not pimping her. I'm not making sense, I know.


Jason Castro - "Mr Tambourine Man" (Bob Dylan) 4
I feel bad for him. I feel like his nerves got the best of him!!! That was such an obvious lack of lines. But alas, I doubt this is enough to save him. But I'm begging Castronauts unite!!! Save Jason!!! I want to hear the studio version of this though. I hope he records this one instead of the other song.

Randy said that Jason isn't in the zone. Paula said the Jason has won her over anyway and Simon advises him to pack his bags. I'm really hoping the fans power vote!!!

David Archuleta - "Love Me Tender" (Elvis Presley) 1
From the moment those spotlights shone on him, I could see the confetti falling on him at the finale. In fairness, his vocals were pretty damn fantastic on this one. I could see Pamy all giddy with excitement although she was trying her best to contain herself. Fear not, sister. See you at the finale.

Randy said the hot vocals were his as he caressed every note. Ew. Paula said that she could feel David's heart. Simon said he crushed the competition tonight as David tried his best to keep his humble face on.
My Bottom Two
3. David C
4. Jason

So I wish people would have not gone their usual route. There were 500 songs folks! Why stick to the predictable?! AND FOR THE RECORD, the only reason David C is in the "bottom 2" is because he got a 2.5 compared to Syesha's 2. NOOOOOOOOOOOOOOOOOOOO!!!! I know, because I love David C!!! I don't know who should go anymore. I know it's SHOULDN'T be someone named David though!!!
DialIdol says that David Cook is on top while Jason Castro is predicted to be eliminated. At this point, I can't tell anymore. I'm just excited for tomorrow's kick out. How quickly will 10am come around?!?