So I got very few correct predicitons this week which only goes to show that the Idols are really going for songs with absolutely no recall (at least not with me). I only know two of the songs sung tonight and well I don't know if that's a good thing or not. I thought my choices were good so I hope tonight's performances are better than expected.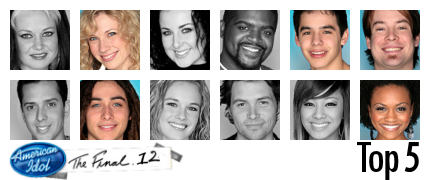 ROUND ONE
Jason Castro - "Forever in Blue Jeans" 4
So he forgot the lyrics while with Neil Diamond, thank goodness the guy isn't a diva and didn't blow up. I hope Jason doesn't forget his lyrics onstage. This was a surprisingly good song for him. I thought he did it justice. He was really comfortable with the song and well, he was wearing blue jeans. The song really fit him and I'm glad he pulled it off.


David Cook - "I'm Alive" 1
I liked Cookie's performance. His vocals were alive and he performed well. And onstage he was just on fire. He was really feeling the song. He was wearing a lot of his brother's initials too. It was on his guitar, on his jacket. But really when I was watching him, it felt really natural for him to be there onstage. It was really fabulous.


Brooke White - "I'm A Believer" 5
My goodness. That was just bad. Terrible. It lacked character, her vocals were blah and I was just not getting it at all. Contrary to the first two performances, this was uncomfortable and was just not good. I wish she would have chosen, "Will You still love me tomorrow" because even if that's in her comfort zone, at least she would perform well.


David Archuleta - "Sweet Caroline" 3
I guess he needed a happy, upbeat song and he got it. I thought his vocals were alright. Onstage, he looked like he was trying his best to have fun. I like his get up though. It's one of the most youthful things he's worn (not that i'm expecting him to come out in diapers). That was a good performance for David.


Syesha Mercado - "Hello Again" 2
Syesha's vocals were of course good. This woman is really fighting hard to stay in the competition and it shows. She looked really focused on delivering a great performance and that's what she did. Though it doesn't make me want to root for her, I have to admit it was pretty solid. I don't know who her fans are, but they seem to be keeping her in.
PAULAGATE!!! Seriously, this just proves that the show is really rigged. I mean they can give any excuse they want (She's giving her notes on the rehearsals, blah blah) but the crowd has spoken. Sure they're doing damage control already, but they shouldn't be too worried. It wasn't like we didn't already know this show was rigged. Now, it's just confirmed.

ROUND TWO
Jason Castro - "September Morn" 4
I guess he was really feeling the song because you could hear it in his voice. I thought he was pretty good. I prefer his first song to this one though. But really I couldn't really concentrate after what Paula did before the second round. It was like she totally preempted what Jason was going to do. I feel terrible for him. I wish he'd strangle Paula with his dreads.


David Cook - "All I Really Need Is You" 1
It's a good call to sing a fast and a slow song. Valerie said that the second performer in the Top 5 gets the boot, I hope that's not true because he got even better with his second performance. I felt the lyrics and his vocals were fabulous. He felt like a real singer already and not just someone vying to win the top spot. I hope this seals the deal for him to the next round because I'd hate for the curse to be real with this one.


Brooke White - "I Am... I Said" 3
A better song choice and she sort of redeemed herself for her "I'm a Believer" fiasco. At least she didn't ask for a repeat of the song or didn't cry midway so it was a pretty good performance for Brooke. Thing is, I wasn't blown away and at this point in the competition, you've got to be freaking fabulous and that wasn't freaking fabulous, it was just fab.


David Archuleta - "America" 5
Not my favorite song (no I'm not anti-America), but I felt like this was going to KLC route. Still, it was far from anything KLC would do anyway. I was just disappointed with his song choice. I wish he would have picked a slower song since "Sweet Caroline" was upbeat enough already. Still, I'm sure the ArchAngels were satisfied with him tonight thus assuring him a spot next week.


Syesha Mercado - "Thank the Lord for the Night Time" 2
I don't know if the pimp spot can save her, but I guess TPTB are doing all they can to save her. Complete with back up singers and all. I think Syesha put one hell of a performance. I have to admit I wasn't watching it fully s I was computing their scores (Yes there's a math behind this). This just proves that no matter how fabulous Syesha is, I'm just not drawn to watching her.
My Bottom Three
4. David A
4. Jason
4. Brooke

So obviously I think Brooke should go, but because I predicted her for next week, I wouldn't mind if Syesha got the boot first then followed by Brooke which makes way for an all boys top 3. My dream top 3 (The three boys). And yes, I may have put Jason and David A in the bottom 3, but they all averaged a 4. Believe me. I wouldn't even put them there if I were totally biased.
DialIdol says that Syesha is NUMBER 1, followed by David Cook while David A, Brooke and Jason are in the bottom 3. I doubt the Arch Angels will allow for Little David to get the boot. Tomorrow, it's anything goes. I can't wait. And please, someone please gag Paula or rather sock Nigel please.