Disclaimer: I was so exhausted Wednesday night that I fell asleep and wasn't able to post my thoughts. Then Thursday came around and I still didn't have the time because I needed to do internship in the morning. Thanks to Pamy (who FINALLY updated her LJ after 4 ENTIRE months) though for taking my place. Here's her more intellectual take on things. I'm quantity, she's quality.

This basically sums up my newfound love for Andrew Lloyd Webber -- the first celebrity mentor who wasn't falling all over himself over the Idols. You've got balls! Now prepare for Nigel's wrath.
What was awesome about Lord Webber as a mentor is that he seemed unimpressed with these mediocre talents. All of his positive notes had caveats like "He MIGHT do a good job" and "I believe this girl has no idea what she was singing about (VFTW's own Brooke)." He's freakin' Andrew Lloyd Webber, who has his choice of world-class musical talents to work with, so he doesn't even have to pretend that he's excited about working with these people. [Vote For The Worst]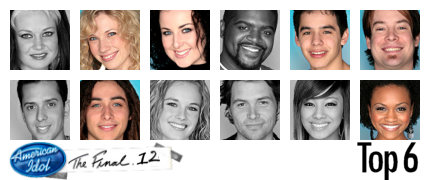 Syesha Mercado - "One Too Many Rock 'n' Roll" (Starlight Express) 3
Syesha once again brings the goods (vocally). I don't even know this song nor have I ever heard of it, but she manages to make me enjoy it. She was probably the most theatrical performance of the night which was probably why Simon commented that way, but hey the obvious pimpage in the show just got even more blatant. Anyway, I think I was sort of entertained by her, which is rare for Syesha.


Jason Castro - "Memory" (Cats) 5
Pamy and I were guessing that little David would sing this song. I guess not. I'm not impressed by Jason this week just because I thought it was dead-ish. I'm glad he didn't tamper with it (although it would have been interesting), but unfortunately, retaining the original version just made him come off as boring and just blah. Oh Jason, I'm so afraid. Castronauts unite!


Brooke White - "You Must Love Me" (Evita) 6
This is what happens when you let her do it once, she repeats herself (no pun intended). Remember when she re-started "Every Breath You Take" and they let her off? Well she thought she'd try her luck again, this time apologizing first before repeating. If you just listen to the mp3, you'll hear this stark silence after her sorry. It conjures so many images in my head (of Simon throwing his hands up and walking out; Randy just shaking his head; Paula gasping and the worsters rejoicing). I can't even comment on the rest of the song. For me, when she repeated the song, that was it for me.


David Archuleta - "Think of Me" (Phantom of the Opera) 2
Interestingly, I'm glad little David didn't go the save-the-world-and-the-polar-bears route here. I love how he started off acoustic on this one too. Very nice. Then the piano comes in and I'm sold. I'm glad he wasn't too serious about the song and his vocals were great too. Yes it got a little too melodramatic in the end, but it was over-all fab! I'm still not over the fact that he didn't get a song with the words: "Jesus" or "Children" so that's plus points for him.

Although I didn't notice, it's been confirmed that David did flub his lyrics (again) and that the judges did not call him on it. This is just further proof of the "David-David" plans of the Idol producers. I feel bad for the others, but don't think that David will be harmed by this in any way.


Carly Smithson - "Jesus Christ Superstar" (Jesus Christ Superstar) 4
I'm glad she picked a fast song. She could have gone the "I Don't Know How To Love Him" route but she didn't. Her vocals were pretty strong on this one. I was half expecting her to start doing some choreography a la "Whats the Buzz tell me what's the happaning" (as I fondly remember it thanks to the numerous AVR viewing classes we had in Religion class in high school). But really, it was a pretty good performance for Carly.


David Cook - "Music of the Night" (Phantom of the Opera) 1
Did Cookie NOT rock-ify this song? Props to you! I'm so proud. And see, you don't have to because you sound fabulous!!! Your voice can stand on its own without all the drama (which I love though). His vocals were actually very sexy. Just listening to him makes me shiver all over. Then you see him and you know you're in Cookie Heaven. It's cute how he chose the song Michael Johns was going to sing if he were still in the runing. But really, Cookie FTW.
My Bottom Three
4. Carly Smithson
5. Jason Castro
6. Brooke White

So the Davids take the cake tonight. David C and Jason didn't do things their way tonight and it worked for the former but not the latter. I guess you can't win 'em all. Still, I'm hoping the boys stay intact. Who do you think should go?
DialIdol says that Carly, Brooke and Jason are in the bottom 3. If any of the girls go home tomorrow, I don't really care. If Jason goes, that's just not good. Syesha though consistent is just not working for me, Brooke should stop whining and Carly well, I'm on the fence. But stay away from the boys!!! SAVE THE BOYS!!!