I love Mariah Carey. Yes, there was that phase when her songs were a little annoying, but in general, her prolific career has given me lots of songs on my iPod to listen to no matter what I'm feeling. Typically, girls are more comfortable singing Mariah songs so it was really interesting to see how the boys would take on these songs.

I could feel that no one would do "Honey" or "Heartbreaker" or "Dream Lover" but I wish someone would have. I mean they're fun and peppy! That would be a total challenge to whoever could pull it off right? Oh I miss Michael Johns already.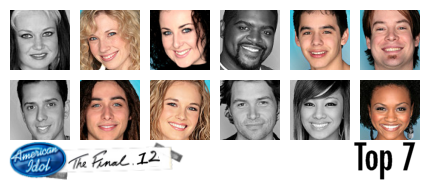 David Archuleta - "When You Believe" 3
How did I predict that he would pick this song?! It was from the Moses cartoon, "Prince of Egypt," naturally D-Arch would snatch the song up. Mariah's not so tall after all, with those high heels, she was only a bit taller than David. Anyway, onto the song! Is little David wearing leather pants??? "bad vibe" I see? Over-all the vocals weren't so bad. The lower register was a little sketchy and his falsetto didn't quite make it, but the middle parts were all pretty okay.

Randy said he was worried about tonight, because of the boys singing girls song. Randy also said he can sing anything. ANYTHING? "Can I get a..." by Jay-Z? Nah, not anything, but anything with holy/save-the-world undertones, he can hack. Paula said that David made Mariah proud. Simon agrees and bet that he would pick that song and that he had a number 1 hit with that song in UK (Simon sings?) and that he did it really well.


Carly Smithson - "Without You" 5
Carly's missing Michael!!! I miss Michael!!! BRING MICHAEL BACK!?!?! So Mariah "couldn't wait to meet Carly?" Really? Anyway, I'm not a fan of this song, but Carly started off really well. She looked really beautiful in her dark blue dress and her vocals were just wow. I wanna hear the studio performance of that because Carly usually does even better in the studio version.

Unfortunately, the judges weren't feeling her. Randy likes that she challenges herself with the song, but he thinks that she needs to utilize her lower range too. Paula likes that Carly showed some vocal restraint, then swelled, then soared. Hmmm... Not an all out pimp? Simon wanted to hear her sing this song even before Mariah week and Simon doesn't think she pull it off. He knows she's capable, but thinks that she was wound up and was just an ok version. Is this underpimping perhaps a sign of her kicking out? Are they throwing her down a few notches to make her fall from grace tomorrow less hurtful? Oh no.


Syesha Mercado - "Vanishing" 6
Props to Syesha for not picking a very well known Mariah song. I guess the judges can't say that she didn't make it her own, because no one really knows how this song goes. Thing is, I know she's good vocally, but I still have no love for her. I wasn't compelled to watch her move on screen. I was just meh.

Randy said that she chose the toughest song vocally. Randy believes she did a good job, all things considered despite the pitchy parts. Paula thinks she was really smart this week for picking a song not many people know. Wow, Paula and I are on the same page on this one, and that she was magical tonight. Simon said technically she was very very good indeed, and he thinks she ran a risk by not choosing a song that wasn't well known.


Brooke White - "Hero" 7
Damn, she missed her sister's wedding for this?! Oh Brooke, you better make a damn great performance to justify your absence at your sister's wedding. There goes the piano playing again. Brooke was visibly shaking in her close ups on camera. I know its no joke to play the piano and sing at the same time, so maybe she should just concentrate on the singing part, right? I mean this is still fundamentally a singing competition. But there.

Randy liked that she brought the 'singer-songwriter' vibe to the thing?! What?!?! And he said that she lost some confidence in the end. I'm sort of confused with the comment. Paula said that every inch of her is authentic. Well I hope she doesn't have implants right? But Paula said that she was really good despite the off notes -- and how she sped up the wrong parts. Simon doesn't think she had much of a choice of doing what she did and like she was a hamburger with no meat. I sort of agree. Michael Sleazak has a better metaphor. "It was like a Hero with NO cold cuts."


Kristy Lee Cook - "Forever" 4
Mariah thinks that Kristy did better than SHE did on that song. Wow. Never knew we had a KLC fan in the house?! I have to say that Kristy is so pretty tonight!!! The makeup is fabulous. the hair is gorgeous. She's going to win this thing with her looks. Though I'm not a fan of the song, I have to give it to Kristy for making me like her on this song. In fact, I thought she was the best girl tonight. *Gasp* Did I actually just admit to that?!?

Randy said that it wasn't amazing with pitchy parts but she definitely stepped it up in the end with that note. Paula said that she's a very smart girl and had this all in her plans. Paula is blown away and loves that the arrangement could give her a hit in the country western world. Paula said that Mariah's legacy -- wait up, Mariah died? Simon said that he could see Kristy jumping up and down when he found out it was Mariah week and that he didn't get chills. It wasn't great for him.

And from Pamy via SMS: Kristy Lee is like the Jan Nieto. No expectations (from her) anymore, but constantly improving. I actually really really liked her. Haha


David Cook - "Always Be My Baby" 1
First off, this man just gets hotter by the second. Ate Let said that he's getting more guwapo (handsome) every week. Yan ang appeal (That's appeal!) First off, I love this song, so props to him for picking it and making it his own (or who knows, it could be a cover, we'll find out in a few days). But really, the song was sooooo sexy. The way he sang it just blew me away. I couldn't keep my eyes off him the entire time he performed.

Randy said that he's ready to make an album. And Randy stood up and gave him a standing ovation for the most "brilliant performance." Paula said it belongs on a movie soundtrack. And that he's it. Simon said that he was a breath of fresh air. IT was original, daring, stood out by a mile and the signs of a great artist. And then DCook bawled. There we go. Hello finale (hopefully)


Jason Castro - "I Don't Wanna Cry" 2
Again, I never heard of this song. But I know Jason's going to Castro-fy it. I'm glad he didn't play his own instrument. Let's concentrate on your vocals, boy. You could see that he was really feeling every single line and every single note. Now that's how you're supposed to sing a song. He stayed true to himself without being boring. CASTRONAUTS unite!!! Our baby is back. Let's keep him in for the long run!!!

Randy wasn't loving it like he was in a weird beach luau. Paula wishes she were in that luau. And that he was amazing. Simon agrees with Paula. It wasn't the best vocal for him, but it was identifiable with him and was a great version.
My Bottom Three
5. Carly
6. Syesha
7. Brooke

So the girls are in the bottom 3. I guess they pretty much dug their way there with how they did not shine compared to the men and boy in the show. Why did no one choose a fast song?! This was such a depressing night. No offense to them. I think they all did pretty okay jobs, but there wasn't a FUN FUN performance when Mariah's got a ton of other songs that also require vocal chops but also need some showmanship.

This is also my first show without Pamy to rank with me!!! Nooooo!!! I feel so clueless without her input. Have a safe/fun trip in Davao dear! D-Arch is missing your ultimate bias already!!!
DialIdol says that the Davids and Jason in the top 3 and that syesha, Brooke and Carly are in the bottom 3. That leaves Kristy safely tucked in between the upper and lower three. Oh the injustice in the world. Who do you think will get the boot tomorrow? Cross your fingers for any of the girls!!!