I'm not much of an inspirational song kind of person. But hey, it's not like I'm a country fan and I enjoyed last week. Idol Gives Back has its perks, but it also gets a little annoying. I'm hoping tonight will be enjoyable because again I'm no fan of inspirational.

I'm glad American Idol is "giving back" but I hate how it becomes more about THEM giving back than the actual giving back to people. Okay, I'm not making sense anymore, but there. I said my piece. Let's get onto the performances.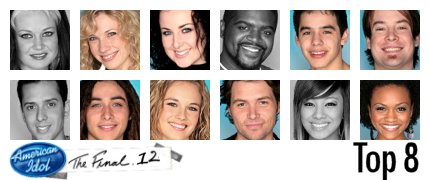 Michael Johns - "Dream On" (Aerosmith) 8
Not the best start, but he brought it with the chorus. He really loves the neck scarf eh? The falsetto was just crazy. I'm not the biggest fan. Maybe I have to listen to it more. Maybe because I was on such a high from "sexy loving lies" last week and this was a downer. But why am I making excuses for Michael? I'm hoping he doesn't get the boot though.

Oh noes. Was he answering back to Randy?!? And what's up with Randy making comments anyway. I'm not used to him not dawg-ing around.


Syesha Mercado - "I Believe" (Fantasia) 5
I'm not a big fan of Fantasia nor of this song, but Syesha managed to make me enjoy it. Obviously, this woman has pipes. She has a tendency to go the McScreechy route though. When she doesn't need to, because her voice alone is fine already. Then she went to that last note and bam! Screech fest. Thing is, I wasn't moved. I'm still NOT rooting for her. It was just okay. Randy's right.

You lose points for answering back to Randy. For some reason she came off as arrogant. And Paula got it wrong. This was NOT her best night at all. Simon said it best. She's always doing the BIG singers. Why not be herself?


Jason Castro - "Somewhere Over the Rainbow" (Israel Kamakawiwoʻole) 1
FABULOUS SONG CHOICE. This guy really really really knows what works for him and he milks it. He really is staying true to himself. I'm glad that despite the chillax song, his voice has effort. He made it different from the "original" version of the song. It was simple but you could feel the emotional connection -- unlike Syesha.

Back in the hut??? What hut? But yes, Randy. Jason is back. Paula's first coherent comment. Wow. I understood her. Simon found it fantastic and so did I. I can't wait for the studio version of this.


Kristy Lee Cook - "Anyway" (Martina McBride) 4
Where does she get her song choices? I was hoping she'd do AMAZING GRACE again, but alas, her iTunes has more than one song apparently. I feel the emotion from her and I have to admit she was actually pretty good.

Randy said it was "really good for you." Underhanded praise perhaps? Paula and her boobs think she outdid herself tonight. I agree. But thing is, it's the best for HER outside the competition. Thing is, she is in a competition where you will compare her with others. Agree with Simon too. She did look like a star.

What's up with the extended praise?!? Are TPTB trying to keep her in the game!? And what's up with the victory dance there? Oh well...


David Cook - "Innocent" (Our Lady Peace) 6
Wow. The video package. his hair. It's too sexy. The blue shirt. So hot. This guy is getting hotter by the second. Onto performance. Again, looking mighty fine. Loving the white jacket, the hair. I have to admit, I'm not aware of the song, but the band I have heard. Props for picking a non-conventional song choice, but I can't say it was my favorite.

Thanks god for your hotness. The "give back" on his palm was a nice little touch -- pimp hand spot. Randy wasn't loving it this week, and the crowd disagrees. I kind of agree with Paula with the "he's got the entire package" comment. Oh yes, the package is JUST RIGHT if you know what I mean.


Carly Smithson - "The Show Must Go On" (Queen) 7
My god, I missed the first part due to boredom. Seriously. Pamy and I are sure this is vocally impressive. But dude, I just wasn't caring. Especially after last week's jaw dropping amazing performance, this was just not good.

Randy said it right. It was sooo disconnected. Paula was trying to salvage her, but she wasn't feeling the connection or the engagement either. She's right. When Simon praises your wardrobe, you know something's wrong. Simon said it was more angry than inspirational. "In a bit of trouble"? Is this the foreshadowing for the "shocker elimination?!"


David Archuleta - "Angels" (Robbie Williams) 3
First off. I LOVE THIS SONG. Robbie Williams's version is just amazing thus the high expectations for it. So there's the pimp piano playing and the pimp smoke machines and pimp lighting (making him look like an Angel -- how apt). TPTB really went all out with the Archulater this week.

He tried mixing it up with the arrangement of the first part and it worked for him. For me, last week he brought it more. This week though, because his competition is sooooo terrible, he stilll manages to shine with that performance. The glory notes in the end aren't my favorite, but over all obviously it was one of the better performances of the night.

Randy LOVED the runs? I didn't love the runs. But hey, TPTB are really making sure they seal the deal on his Final 2. Paula said fantastic. Simon tells him it's the best song choice of the night. I sort of laughed when David mouthed his thanks. Simon is right though. This boy is going to sail through to the next round. No questions asked.


Brooke White - "You've Got A Friend" (Carole King) 2
Dude, talk about conventionally inspirational. Brooke chose the most obvious song choice, and managed to actually make me enjoy it. Pamy said this isn't a "song contest" song but Brooke makes it work in a way. Then again, after last week's Jolene, anything will be better. Simple songs are hard to sing and I'm glad Brooke brought it.

I'm wondering why they're underpimping her? Are they making way for her elimination already? Randy said he "wasn't mad at her." Not quite sure how to understand that. Paula calls her 'definitive' like Jason. Hmmm... not sure again. Simon says it's a "pleasant walk in the park" and "not original" So much for the pimp spot. They didn't give her any pimp lights. No wonder she's in tears. She can feel the lack of votes coming.
My Bottom Three
6. David C
7. Carly
8. Michael

During the show, Pamy and I rank them after their performances. It scared us that Kristy was number 2 for some time because that just shows how bad everyone else was. Kristy can't be number 2 right? So obviously this wasn't the best week. Thankfully the Archulater came and did his thang, despite him not being on his A-Game, he sort of was a bright spot in the show. Jason though. Jason is back.
DialIdol says that David A is on top (what's freaking new) and Carly is at the bottom. Hmm... I wonder who gets the boot. This is Idol Gives Back week after all, so it could be a shocker elimination (for more ratings), but yeah, let's see how things go.