I'm a self-confessed NON-country fan. Every year, I dread this week because I don't usually enjoy the performances. Season 5 had it during Top 9 too and Season 6 had theirs during Top 7. I can count the number of performances I enjoyed between those two seasons one ONE hand, so I'm not expecting much tonight.

And lo and behold, the don't just do Country, they "restrict" themselves to Dolly Parton's discography. I know that's a lot of songs, but still restricted. I personally love Fergie and Charlotte Church's version of "9 to 5", so I'm hoping someone does that. Here goes nothing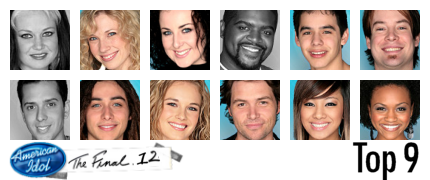 Brooke White - "Jolene" 8
Apparently, this song is about some girl trying to steal your husband. I didn't feel like Brooke's husband was about to be snagged! Wake up chica! Thing is, I think she sings well, but I felt like there was nothing I enjoyed about her performance. And because her voice was just okay, it's not like I can say I was blown away by vocals. Oh Brooke, don't make me not like you honey.


David Cook - "Little Sparrow" 4
So David owned up to the cover-of-a-cover song hullaballo huh? I don't remember if Daughtry did this in season 5 with the "I walk the line" cover by Live that he adapted, but yeah, let's not forget that. I really hope they drop this already. Anyway, I heard that David got hospitalized!? What the hell?! But let's get to his performance.

OH MY GOD. HAIRCUT HOTNESS!!! Seriously. That cut was just freaking amazing. I was seriously floored by the haircut and the look. But let's get back to his performance. There is something about David that makes me fan myself. How can you sing a song about a sparrow so freaking hot?!? I mean honestly. He can sing the phonebook and be hot like that. Ack.


Ramiele Malubay - "Do I Ever Cross Your Mind" 7
Oh no. Is it Ramiele's time to go? At this point, I don't really care. I like her, but her performances have just been blah-ish (to quote her BFF forever, Danny). I thought she was overpowered by the band, because I could barely hear her and it was as if she was out of breath. I only got to hear her voice in the last part when the band stopped playing. You know you're in trouble, when I enjoy the band more than the performer.


Jason Castro - "Travelin' Thru" 6
NO MATTER what you do, Jason I will love you. The thing with Jason is, he can do this every week and I'll want to watch him. The song didn't even sound country to me anymore. I like how Jason's laidback performances aren't all stage-y. It's very very natural and not put on at all. It's like he was born doing this. Castronauts unite!!!


Carly Smithson - "Here You Come Again" 2
DAMN! This woman's voice is just precious. No wonder she's the plant, she's got pipes of gold. I don't know this song at all, but she made me love it. I'm still scared of her husband, but with that performance I was soooo less scared of her face.

Poor Carly. Why is Simon being mean to her? Not only is he underpimping her, but he's insulting he dress sense, and she didn't even look that bad! I've seen worse!!! She actually looked sort of pretty tonight.


David Archuleta - "Smoky Mountain Memories" 3
Oh David, thanks for NOT choosing "Islands in the Stream." Not that I know this song any better, but I'm glad you didn't fall for this. I wish there was a hip-hop/rap week though so that David can't choose a song about happiness and sunshine, and bunnies and puppies. Really. That's a challenge.

As usual, David's vocals are very good. I mean he can just sing the hell out of a song. And to quote the judges, his performance was "the best-glorious-money making" song of the night. I can imagine him as a beanie baby already.


Kristy Lee Cook - "Coat Of Many Colors" 9
Why is this woman still on this show! Honestly. I can't even comment on her anymore. I just can't. The most country song of the night was rightfully sung by Kristy. Thing is, this is probably her best performance already, and yet it still does NOTHING for me. Oh noes. Please go already.

I'm sorry, what's up with the "thank you simon, love you!" comment. I was almost feeling sorry for her (because she could go), but that comment just threw me off. I don't understand what she was trying to do? Suck up? Trying to be snarky? Sarcastic? WTF?


Syesha Mercado - "I Will Always Love You" 5
Was it just me or was that Whitney's version of the song? I don't know how the "country" version of this song goes, but that didn't sound country. Maybe that's her "making it her own?" Pimp spot anyone? The yellow dress (very Kat McPhee minus the panty flashing), the piano, the sitting on the piano, the lights, the spotlight. The 30 minute last note?!? Dude I'm surprised she's still breathing.


Michael Johns - "It's All Wrong, But It's Alright" 1
Can anyone spell SEXY? Can anyone spell HOT? Can anyone see me writhe on the floor from a virtual orgasm?! Can I have Michael Johns all to myself??? (told you ladies I'd come around) And quoting Dolly's song...

Hello, are you free tonight -- HELL YEZ! For you Michael, I am soooo free tonight, tomorrow night and every night this week!

I like your looks, I love your smile -- I like YOUR looks and I LOOOOOVE Your smile!!! Come on, give me a grin baby!!!

Could I use you for a while -- You can use me ANYTIME honey. I'm serious! Just text me or rather just tell me where you are and I am SOOOO there.

It's all wrong, but it's all right -- HOMAYGAWSH. Watch me spontaneously combust from your hotness through my television screen.

Just close your eyes and hold me tight -- I don't want to close my eyes lest I miss a second of your scorchingly sexy performance.

Tell me sexy lovin' lines -- The lies I tell myself are deluding myself into believing I have a shot with thy royal hotness (complete with purple scarf)

Obviously, I'm in love. See people, all it takes is one scorching performance and I'm on my knees. Kill me now.
My Bottom Three
7. Ramiele
8. Brooke
9. Kristy

It's sad because I already placed Kristy's name in the number 9 spot before even watching the show. What can I say? I'm just not feeling this woman at all. Surprisingly, I didn't find this night repulsive. I actually found myself enjoying Country night. But what I enjoyed the most, was Dolly Parton herself.

I don't think I've seen a more genuine mentor on the show. I just wanted to give her a hug! That would be hard though, considering her breadth. I thought I'd be freaked by her plastic surgery, but I was able to see beyond that. I hope the Idols learn from her sincerity. It goes a long way.
DialIdol puts Michael Johns, David A and David C on the top. On the other hand, Kristy, Jason and Ramiele are in the bottom 3. I don't know if this is how things are going to go down, but I wouldn't mind seeing Kristy gone. As for my Jason, obviously I wouldn't want to see his dreads go just yet. CASTRONAUTS UNITE!!!