Let's just start by saying I'm NOT happy that it's another week of the Beatles. No offense, I love the band! I love them to bits. But as if last week wasn't a disaster enough, they had to milk it for yet another week!? Is that even right? I mean really? Even Simon said he was surprised they repeated it.

So anyway, now that I got that out. I'm still not happy with the David H elimination, especially when KLC gets another week on the show. Oh noes. I'm already preparing myself for the worst.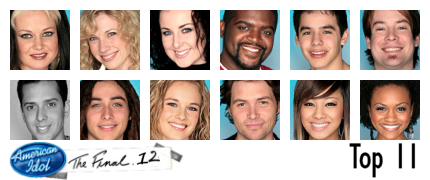 Amanda Overmyer - "Back in the USSR" 10
Not a fan this week. I guess I was expecting she'd top or at least be at par with last week's performance, but I wasn't such a fan. I have to give her props though for looking like she enjoyed it and for starting the show fun and happy! Ballads are boring, but if she finds a way to make it non-boring, let's go. I challenge you dear, go make a ballad non-boring.


Kristy Lee Cook - "You've Got to Hide Your Love Away" 11
Again, this woman is so pretty. She's this hybrid of Kate Bosworth + Diane Kruger. That's hot! In fairness, it wasn't THAT THAT bad, it was just bad. So a kick out worthy performance considering she didn't get kicked out last week. For some reason though, I couldn't bring myself to concentrate on her performance. I was able to check my mail on the side. Answer a bunch of emails, scratch my back, take a bite, make a thesis all in the time Kristy sang. Boring honey.


David Archuleta - "Long and Winding Road" 3
I was expecting fireworks, big dragon fireworks, to make up for last week. Instead I only got sparklers. Oh David. It wasn't bad, in fact it was good. Just not great. And after last week, he needs great. He started off not on key, but he picked it up eventually. Pamy (David's biggest fan ever) thought it was a very Star Search Performance. When Pamy thinks this way of D-Arch you know something isn't right. David!!! You can't just be a cute plush toy. Bring back the greatness!!!

I guess he's got the judges on his side though. Wow, we actually DON'T agree with them and with David at that!!! Did SIMON just drop the M word? The MASTERCLASS comment? Seriously?!? Hey obviously TPTB are trying to keep him in and I'm not going to complain, but dude, prepare for some backlash. And still despite it not being his best, compared to the others it was pretty good.


Michael Johns - "A Day In The Life" 9
Oh Michael. The accent kills me every time. Just keep talking. I don't know how you're going to stay in the game if you keep this way. It wasn't great either. Then again, when have I thought he was great. It was just okay. I'm just okay with him. I preferred "Across the Universe." In fact I loved it so this week was a disappointment. His movements were a little awkward, the bouncing pointing holding of the mic was weird, but he's real pretty to look at.


Brooke White - "Here Comes the Sun" 5
Brooke wasn't at her best this week. Was it because she wasn't with a piano or guitar? I wasn't as impressed or blown away, but it doesn't mean it wasn't knock my socks off great (like Kristy said she was). I like how she was wearing yellow (sun) and how her graphics were well coordinated but woman you can't move! Sit down. Grab a piano. Take a guitar. Don't stand there looking like an air traffic controller! It's like she's flagging down an airplane during a storm. Still, vocals were good.


David Cook - "Day Tripper" 1
Voice box. Rocker outfit. Rocker voice. Is it just me or is this guy getting hotter every week? I have to agree with Pamy and say that he's the rocker (note I didn't say rawker) we enjoy the most. I find myself looking forward to his performances. The voice box was a little gimmicky, but hey at least there was effort (read: Ramiele, Kristy). I mean this guy puts on a show. And he's getting prettier by the day!!!


Carly Smithson - "Blackbird" 2
This song reminds me of 7th Heaven, but somehow I wasn't cringing. In fact I found myself liking the song, strangely. Her voice was fab! She's got such restraint and control over her voice. Obviously well trained. She's got experience to back it up. Her tone is amazing. She's oozing talent, but somehow I don't want her to win. I just feel no attachment to her. But in fairness, the voice is riveting. By the way, if I took screencaps of her performance, I'd be afraid with every other cap. She looks scary, but sounds fab.


Jason Castro - "Michelle" 6
Again, I wasn't as impressed as last week's. I guess I was on such a roll from his week after week of performances that I was just expecting he would be at least better than last week. He's just like Brooke, they sort of look like lost little lambs without their instruments. Thank god you're cute and funny (your interviews go from cute to adorable to funny). The performance was just okay, especially without his guitar. Get the guitar back. Castronauts unite!!!


Syesha Mercado - "Yesterday" 4
Her voice was good. She's got good pipes, but I just don't feel her. Just like Chikezie, these people are pretty damn good, but I have no emotional connection to her. I think they put her near the last to save her, but hey let's see. I have a feeling I'll really enjoy listening to this on the studio recording, but she was just boring to watch. There was no movement. Pamy literally slept through it. Still, vocals count for something. Simon was right, this was the song to keep her in the competition. Let's see if she stays in.


Chikezie Eze - "I've Just Seen a Face" 7
Chikezie's got talent. This guy is just a big ball of talent. He consistently gives good performances. But like Syesha, I feel no love for him. If he goes far, he's deserving, but if he gets kicked out, I won't cry buckets over it. He's reverting the bluegrass arrangement from last week I guess. I'm not for rehashing, but hey it works for him, so I won't complain too much, cause I just don't really care for him.


Ramiele Malubay - "I Should Have Known Better" 8
She started off not so good, but I guess she picked it up in the end. The pimp spot is supposed to save her I guess, but this girl isn't safe at all. The thing is, Ramiele isn't an artist like say David C or Jason who know what they want, Ramiele just goes with the flow. David C needs to coach her more. But then again it's a competition so although they take care of her, they're not going to spoon feed her. Ramiele is a good singer, but that's it. She could possibly leave. Soon I can feel.

My Bottom Three
9. Michael
10. Amanda
11. Kristy

And I thought last week was bad, this week was just blah. Seriously. Obviously two weeks of the Beatles are just not good. If they have one more week of the Beatles I don't know if I could handle it. People, perk it up! This is supposedly the BEST TOP 12 ever and I'm not feeling it at all.
DialIdol once again predicts that David A is safe and EVERYONE else is in the bottom 10. Lovely. This thing is really just playing on the safe side e? Let's be bold! So who's the next to go? I predicted Amanda, but we just really never know. America, let's get cracking.