I love the Beatles. I know I'm not their biggest fan, but I do love a lot of their songs. Thing is, I'm sure that it's difficult to interpret these classics, so good luck to the Top 12. Fab (humungous) stage. I would so kill to be an audience member -- the place just looks like so much fun. Then there's Ryan's oh so sexy hair. I just wish he and Simon would get it on right now. The top 12 can only get better.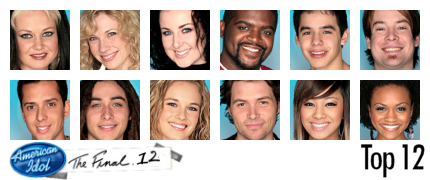 Syesha Mercado - "Got To Get You In My Life" 8
I give her props for picking an upbeat song to start the show. She could have gone the belt-er song route and started off with "Something" or something, so good for you. It doesn't even sound like a Beatles song anymore, which is I guess a good thing. Enjoyable performance, with pretty good vocals. And dude, this woman is skinny! Did that TV add 10 pounds already? Paola is so disturbed by her jacket though.


Chikezie Eze - "She's a Woman" 9
This guy is so endearing. He's slowly taking me into his warm hugs. And he worked at the airport! I don't know this song, so I guess the country-fication of this song is meant to make it different. It's very "black horse and cherry tree" a la Kat McPhee. Good performance but I'm exhausted. I'm guessing they don't want him out yet with all the pimpage he got from Ryan.


Ramiele Malubay - "In My Life" 10
I'm loving the zombie-like looking audience waving their arms in unison. Ramiele's got a good voice, but she should really veer away from the slow songs. She needs to show them her upbeat self. Yes you can sing, but let's show some pep and some energy! I wanna show some happiness. Her thank yous are sounding very Paris Bennet. And Paula made sense!?! Wow. But yeah, bordering on boring.


Jason Castro - "If I Fell" 4
So Jason has a style that he really really loves. I mean I have no problems with "staying true to yourself" so I guess that's Jason's mantra in life. I'd love to see him in hip-hop week, being chill and all. Thing is, I'm not complaining. I love Simon's "student in a bedroom at midnight" comment -- because Ryan and Simon are so in that bedroom TOGETHER at midnight! I'd love to have Jason IN MY BEDROOM AT ANY TIME OF THE DAY. Castronauts unite!


Carly Smithson - "Come Together" 1
Where's me lucky pot of gold? I'm so bad. But I love her accent. I surprisingly enjoyed her performance. It was authentic and it wasn't put on. It felt natural. And then there were the vocals. Wow, this woman has pipes of steel. It doesn't mean I want her to win, but I do want her to go far a la Daughtry. I have to agree with Simon. Perfect song choice. So Simon dropped the Kelly Clarkson comment. Ahem. It's funny though how Paola and Pio keep copying her accent every other second.


David Cook - "Eleanor Rigby" 7
Ayi. Isn't Carly a bartender too? Love team anyone!? The hair is crazy. His jacket is fierce! Looking pretty fly for a white guy, David. I didn't think he needed to rawk-ify this song, but hey this is his style I guess (in a Jason Castro way). Well, that was certainly unique. Not sure if it was my favorite version of the song, but it wasn't revolting either. Looks like the judges are being very generous with the love.


Brooke White - "Let It Be" 2
This song will forever be "Letter B" from Sesame Street for me, but Brooke actually made me forget that and just focus on her. See, she sticks to her style but doesn't come off as boring (pay attention Ramiele). She managed to stay on the piano and not be stagnant. She was obviously feeling the song. She looked like she was about to cry in the end there too.


David Hernandez - "I Saw Her Standing There" 6
Coursemate-ish! Jordin's hometown-mate! He's so cute! I'll take Beatles 101 with you!!! Stop hanging with the ladies David! I sort of like the twist he put on the song. His phrasing was certainly different from the original and I like the way he did his own riffs. I'm so used to this song being sung the normal way (care of Blake and Jordin at the finale last year), but I really enjoyed his performance. Upbeat and filled with energy, I liked it. A little over the top? Maybe, but look at the stage! THAT's over the top, if he made it plainer, he would drown.


Amanda Overmyer - "You Can't Do That" 5
Pamy noted there are so many rawkers this season. I wasn't averse to Amanda last week, so I'm trying to keep an open mind this week. She doesn't need to wear vertical striped pants because she's losing a lot of weight! Again, I actually enjoyed this one. Considering I'm not her biggest fan. Still, I doubt this will get her the boot because it wasn't her worst either, in fact it'll rank high on my favorites (from HER, of course).


Michael Johns - "Across the Universe" 3
Tennis coach card again I see? Works for me. Cutesy kid too! Plus the accent. He's trying to draw me into his fold. I swear we've got a batch of talents that "stay true to themselves" and I respect that. It's just funny because no one's going to be flexible to the themes anymore. But for some reason, this works in Michael's favor this week. I'm not repulsed or cringing and Pamy and I are actually bobbing our heads to it. Oh noes. Am I being drawn into the MJ fold?


Kristy Lee Cook - "8 Days A Week" 12
Oh noes. I love this song. Why did Kristy choose it? OH MY GOD. She did country-ify it. You know how Chikezie changed it up, this girl just fucked it up. And there's the stance again! IF this woman does NOT get kicked out, there is no hope for Idol. Lennon is turning in his grave. As much as I want to kill her. I'm sure Yoko will do it for me. I feel like I'm in a perya and she's the sideshow (she's not even the main event!). Dude, stop the falsetto, I'm gonna die.

BUT WAIT: When Paula starts with "I didn't like it" we're screwed. When Paula doesn't get it, YOU'RE SCREWED. And well, I agree with Simon. It was horrendous. Somewhere Dolly Parton is slitting her wrists.


David Archuleta - "We Can Work It Out" 11
So I don't know where the rumor came from that he's Filipino or partly, but apparently not. But aside from that, he's just my brother's age! And he's on that Idol stage! This is crazy! Did he just miss a lyric? And then have a lyric that totally applied to it afterwards? And then miss another lyric? And another one? Oh my goodness. This is crazy. I love you Little David, but whoa. This is crazy. Looks like we'll be testing how strong Team Archuleta really is. In fairness I like the arrangement, but it sucks that he missed a few lines. Oh noes.
My Bottom Three
10. Ramiele
11. David A
12. Kristy

Funny thing is, I was about to rank David LAST, and Pamy and I were so devastated that this was the case. But as I did my countdown there were only ELEVEN finalists. I was like, "who's missing?" Then I realized I didn't even rank Kristy! Wheeee! David's NOT bottom! Cause he so isn't.
DialIdol is funny as it only says David A is safe and EVERYONE else in the bottom 3 11. So I don't know what to trust anymore. All I can say is, now I'm actually nervous for who gets the boot. Not fun, especially since I have finals tomorrow. Ack. Just keep my fave 6 in and all is well. In fact, keep my non fave 5 too. Kick Kristy Out!!!