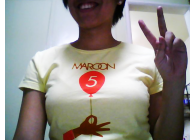 Seriously. How could I even consider NOT going to this concert? Really? What was I thinking? Scared I wouldn't be awake/aware for my 124 Drama finals? Who cares? Because really, for that 1 plus hour that I was dancing and singing my lungs out to Maroon 5 was well worth every peso every hour I spent away from "preparing for finals."

I had a very full Wednesday, starting off with a talk in Poveda in the morning, BC 111 listening session that afternoon, watching a few films for BC 123 and then the concert. So by the time I arrived in Araneta (with terrible traffic and no parking), I was quite tired already.

It didn't start on time (durr), so it was good because we got a good pre-show, despite there not being an opening act. Seeing all sorts of "celebrities" walk in to the patron seats was fun. There was Heart Evangelista, Sam Milby and Anne Curtis (holding hands), Bayani Fernando and his family, and Eula Valdez. But my favorite celebs were Sam and Kai! Kai took all the photos I used cause I actually didn't bring a camera.



Photo courtesy of Kai Honasan


The stage didn't have a lot of decor, but the lighting was beautiful. The other concert I watched in Araneta was INXS, but this was definitely more whoa-worthy. Our seats in patron were fabulous either! Thanks so much to Nikki for inviting me! I had a ton of fun with you!!! So sorry I was "late." Thank goodness the concert was later.

There's just something about Adam Levine. The moment he stepped onto the stage and played the intro to "If I Never See your Face Again," the whole crowd was up on their feet. And in fairness to him, I never sat down. Seriously. All 14 songs had me jumping and singing and just going nuts. Since I had finals the next day, I told myself I wouldn't scream, so I had to content myself with just "singing normally."



Photo courtesy of Kai Honasan


I didn't have to exert much effort though. Araneta coliseum was packed to the rafters and everyone was going nuts with me. People just kept singing and shouting and singing and shouting some more. When Adam said he learned some words, the crowd went even crazier. He counted in Filipino, saying: "Isa, dalawa, tatlo, apat!" Instead of counting 1, 2, 3, 4 before a song. It was so cute. In fact, he got better everytime he'd say it.

The crowd went even crazier if possible during, "Won't Go Home Without You." There was a point in the song where Adam just stopped singing because the crowd was singing and singing and singing so loudly. At that point, I just didn't care that I had drama finals. I was singing my heart out.



Photo courtesy of Kai Honasan


Then there was a time when the crowd was cheering SO LOUD that Adam just stopped singing and was listening to the cheers. Everyone was yelling for a good 5 minutes probably. NON-STOP. He was so happy with the cheering, you could see his smile getting bigger and he was just really just taking it all in.

Then Adam says that they've been overseas for quite some time and he's never felt so loved despite being so far away from home. The crowd went even crazier. I think he even said that "this was one of their best concerts ever!" I know that he probably says that to every venue, but for some reason I sort of believed him. The vibe in Araneta was soooo good and everyone was really having a good time.



Photo courtesy of Kai Honasan


Other than Adam, I thought Jesse was really cute too. I would glance at him every so often as he played on the piano. If Adam's hot, Jesse's real cute! Even if I was quite far from the stage, I couldn't help but yell at him lines of their songs. Matt, the drummer also had a solo and he was so fabulous! Seriously, this band is just made of all kinds of awesome.

In between Secret and Shiver, Adam sang a bit from "In the Air Tonight" by Phil Collins, and the oldies in the audience, including me, started singing along. It was a nice and he sang it really slow and sexy, I swear I thought I was going to die right there in my place. Adam is obviously one hot and sexy man with a really high voice. His tattoos were seen from the wifebeater he was wearing underneath a hoodie. Seriously, only this guy could make that combination of clothes look that hot. His arms being exposed were a visual treat, despite being far from the stage.

SETLIST
If I Never See your Face Again
Makes Me Wonder
Harder to Breathe
The Sun
Can't Stop
Secret
*a few lines from Phil Collins's "In The Air Tonight"
Shiver
Wake up Call
Sunday Morning
Won't Go Home Without You
This Love

encore:
Little of Your Time
She Will Be Loved
Sweetest Goodybe

The crowd got ten thousand times crazier when they played the singles they released, but I was hoping they'd play "Kiwi" just because I love that song so much, but it's alright that they didn't. It was sweet indeed to end their encore with "Sweetest Goodbye." Since I had been listening to "Friday the 13th" for weeks on end before their arrival, I had a feeling they'd end with this and it was nice to hear. If they ever coming back, I'm so there.



Photo courtesy of Kai Honasan
WON'T GO HOME WITHOUT YOU, ADAM!