And yet another delayed entry from me. I'll try my best to be updated this coming weeks (especially since school is coming to a close), and because I hate catching up (especially with Idol). Anyway, last week the girls were terrible, so I don't think it could have been worse than that. Still, there are only a handful of girls that I really like anyways.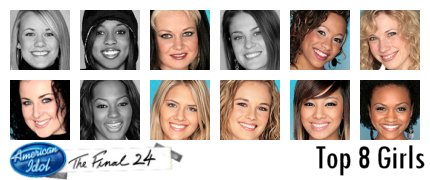 Asia'h Epperson - "I wanna Dance With Somebody" (Whitney Houston) 4
I love this song. But it is by Whitney. Therefore, I don't know if Asia'h could pull this off. I thought her voice was pretty good on it. She was energetic and looked like she was having fun. I don't know how the hell she got booted off? was that the worst performance of the night? I doubt it.


Kady Malloy - "Who Wants To Live Forever?" (Queen) 8
Gutsy song choice. I think the song itself is boring, so Kady would have a hard time livening it up. But still, it's a make or break week dear, are there NO OTHER 80s song that would better showcase your performing skills? She didn't even hit half the notes, and she's just utterly boring. Though I wasn't a fan of Kat McPhee's version of this either (two seasons back), I couldn't help but compare how Kady got no pimp lighting. Bleh.


Carly Smithson - "I Drove All Night" (Cyndi Lauper) 5
In fairness to this woman, based on her mp3 alone, I was about to just dismiss her like I do every week. And since I'm not a fan, I didn't plan on really watching her perform. But after watching, though I was distracted by her mommy jeans, I have to say she was pretty good. Still not a fan, but at least I wasn't bored (despite not knowing the song). Though a little dead, her vocals totally made up for it.


Amanda Overymyer - "I Hate Myself for Loving You" (Joan Jett and the Blackhearts) 6
What is up with the "rawkers" this week? Am I feeling unusually angst-y/generous thus my liking them? Again, based on the mp3 alone, I wasn't a fan of this, but for some reason, I enjoyed their performances. More so than blondie twins Kristy/Kady. Seriously. Carly and Amanda whom I'm usually against actually got my vote this week. So weird.


Kristy Lee Cook - "Faithfully" (Journey) 7
Yet another borefest. I mean really. Thank goodness she's pretty, but to me, she's like the female Luke Menard. Nice face, boring performer. Really. I don't care for you at all. Asia'h should have stayed and you should have gone. I mean really. This is just ugh-worthy. I was bored and sleepy half the time. Rawr.


Ramiele Malubay - "Against All Odds (Take a Look at Me Now)" (Phil Collins) 3
Why this song? Really? I'm just not a fan, but thank goodness she's likeable, because this song just does nothing for me. This sort of scares me because she wasn't exactly high on DialIdol last week, but thank goodness she's got a fanbase, because this girl needs to make it past the Top 12. Step it up chica!


Brooke White - "Love Is a Battlefield" (Pat Benatar) 2
Wow, my only orientation of this song is the rock version which I heard on "13 Going on 30," but this was a welcome remake of it. I'm glad that Brooke stripped it and made it acoustic because I don't think I could ever see Brooke rawk-ify anything. Still, I hope she breaks free of this acoustic-Lilith-Fair vibe she always gives, because it will get boring one day.


Syesha Mercado - "Saving All My Love for You" (Whitney Houston)1
Why am I liking her? I'm usually more for Asia'h than her, and despite singing a Whitney song, I thought she gave it her all and it showed. I guess because Brooke did a really great version right before her, she would be a little overshadowed, but I enjoyed it.

My Bottom Three
6. Amanda Overmyer
7. Kristy Lee Cook
8. Kady Malloy

Despite the fact that Entertainment Weekly did not appreciate those who jumped onto Highway Houston (Asia'h and Syesha), I actually really enjoyed their performances. And Brooke and Ramiele though both fabulous are going to bore me soon if they doesn't mix it up. Then there's Carly and Amanda who I usually hate, but this week were quite enjoyable. And finally, the Blondies (Kristy/Kady) who should have gone home.

So I think two out of the four kickouts were fair this week. I just wish Danny and Asia'h made it instead of Kristy and Chikezie, but I guess you can't have it all. I'm starting my poll for next week's Top 12. Here's where I get people to guess in what order they'll be kicked out. If you want to send me your suggestions, in what order they get kicked out, just drop me a line, I'll include you in my predictions table.