Did I actually miss BOTH shows this week? Yes, I actually did. I couldn't believe it, but thanks to school and thanks to Maroon 5, I actually missed two nights of Idol. But my anal self will not allow a non-recap. Here goes the very belated recap. The eliminations aren't influencing me. Or at least I'll try.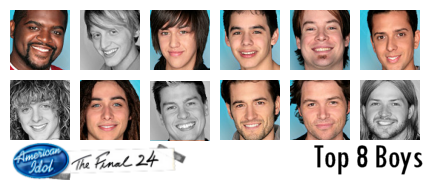 David Archuleta - "Another Day In Paradise" (Phil Collins) 3
I'm all for little cherub cheeks, but he should sing a fast song next week. I'm getting too depressed. The piano playing is a nice touch though. Thank goodness I love his voice, because I absolutely abhor this song. Please Idol Producers, don't even include this on your set list of songs to choose from. I don't care if it's got socially relevant meanings, I hate this song.


Michael Johns - "Don't You Forget About Me" (Simple Minds) 6
So the vocals weren't bad, I guess I have just have to get around to actually liking this guy. I like this song, so it sort of saved him, but I guess I was just looking for something more from him. He's just this rocker who I have no emotional connection too. But obviously he's got fans, so hello Top 12 for him.


Jason Castro - "Hallelujah" (Leonard Cohen) 2
So he botched up the last note, I'm still in love!!! This song brings me back to The OC and that makes it even all the more worth it. Jason Castro is the king of soul. He's got so much soul in him, I'm just so in love. He made the song mean so much. I'm practically in tears! CASTRONAUTS unite! Let's not rest on the Top 12 laurels. Let's take him all the way.


David Hernandez - "It's All Coming Back To Me Now" (Meatloaf) 4
Just the fact that he's singing a Meatloaf song is enough for me. David H really is gutsy. If I recall, Meatloaf drunkenly performed with Kat McPhee in the finale of season 5, but hey let's see. I LOVE David H! He totally got me all teary-eyed by the end of the song. So I also liked him more last week, this is enough to get him through to the next week -- stripper or not. Why not just do a little striptease for more votes, e?


David Cook - "Hello" (Lionel Richie) 1
OH.MY.GOD. Did I just love this song or did I just love it? Seeing that Lionel Richie sang it, I wasn't going to have high hopes, but David C just totally rocked it. His vocals were, though Daughtry-esque, his attitude isn't and I'm totally digging it! The Davids are just rocking my world so much, it's crazy.


Danny Noriega - "Tainted Love" (Soft Cell) 5
PURPLE!!! Danny Noriega is just made of love. I love this song. Though not really a singers song, I thought Danny pulled it off pretty well. He looked like he was having fun on stage and he was so full of life. I didn't think it was revolting or kick out worthy, but I guess he didn't have too many fans this week. Too bad.


Chikezie Eze - "All The Woman I Need" (Luther Vandross) 7
The thing with Chikezie is, he's got a fabulous voice and he's on tune all the time, but I'm just not into him. This song was kinda boring for me. Boring but in tune. Really. So why can't I just like him right? I don't know if he's got fans, but seeing that he didn't get kicked out means he does have fans. Oh well.


Luke Menard - "Wake Me Up Before You Go Go" (Wham!) 8
Why in the world did they give him on the PIMP spot? Were they hoping this would propel him into the Top 12? But fine, your Royal Pretty-ness does look oh so adorable in that tutu and leotard. Molly is right, he needs a Gap Ad stat. So he sang one my favorite songs ever. I'm not sure if he did it justice, but at least he was in tune. He seemed to be enjoying it. I just don't know if he's Top 12 material/if this is enough to save his last two horrible performances. So yeah. I guess the voters listened to Simon on this one.
My Bottom Three
6. Michael Johns
7. Chikezie Eze
8. Luke Menard

Entertainment Weekly said it best. This was the best guys night. Because other than Luke Menard, all of them were pretty damn fab. Still, two guys HAD to go, even if I think more girls deserve the boot. Take the belated quiz so I can see if we agree with what really went down.

I don't believe that Danny deserved the boot, because though his vocals weren't stellar, I still think he's got more personality than Luke and Chikezie combined. Chikezie's got vocals and Luke's got looks, but Danny trumps them both.