After last week's great performances I'm expecting pretty good ones tonight. Either at par with last week's or even better. I know I'm just setting myself up for disappointment, but here goes anyway. I don't think I've ever rooted for a girl contestant, but we'll see if this batch will change my mind.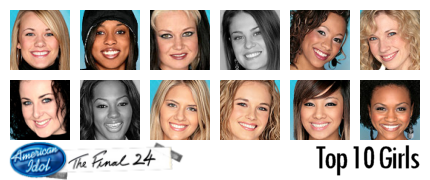 7
Carly Smithson - "Crazy On You" (Heart)
Oh she's married. And she's a bartender! Love the Irish accent. Entertaining, yes, but considering I was doing work while her performance went on and I felt like she didn't compel me to stop doing my work means it wasn't moving enough for me. It was just alright. Nice way to start the show, but whatever. Nothing much really. Bring on the pimpage though, it wasn't like I wasn't expecting that.


Syesha Mercado - "Me and Mr. Jones" (Pauly White) 6
Oh she's an actress? Fart. The baby cry is scary. I can't get over it. Very LaToya all over again. She's great vocally, but it's not doing anything for me. She has that "Paris Bennett" thank you style. I don't know if it was indulgent just cause it was written for a girl, but it was pretty good, just not my favorite.


Brooke White - "You're So Vain" (Carly Simon) 1
I want her to do my hair!!! Beauty school dropout! Love it! Guitar, yehes! Bring on the instruments. The tone of her voice is fabulous! This song was made for her. Yes it sounds like the original, but hey that wasn't a bad song at all. Nice homage. She made me stop my work and listen to her. I'm loving it! She's so bouncy! She's really feeling the song e? Anyone in particular you want this song to reach?

AND her husband was hot. Plus Simon loved it! Wheeee!


Ramiele Malubay - "Don't Leave Me This Way" (Thelma Houston) 2
Can anyone spell J-A-S-M-I-N-E? Seriously!?! You dance that too? This is such a throwback. I liked her vocals. This isn't a very popular disco ish song, at least not with me, but she looked like she was really enjoying what she was doing. I'm not revolted by it. She could have done less head bobbing, but hey I won't complain.

I'm glad that Simon agreed with Paula. let's keep Ramiele in the game. This wasn't even a terrible performance, it just wasn't va-voom!


Kristy Lee Cook - "You're No Good" (Linda Ronstadt) 4
Oh my god, only tomboys like being dirty and going outside. Honey, I would have liked it if you said that you were Kate Bosworth's doppleganger. Yes dear, you can't walk in heels indeed. And what's up with the standing with the legs apart, I feel like you're about to give birth. Definitely better vocals than last week, she's into the song more. But who in their right mind will sing a song that keeps saying 'you're no good.' Way to get negative reinforcement.

The judges are trying to keep her in, I see. Being really nice to her, which is fine. What's up with her top? Is that the only silver top she could find?


Amanda Overymyer - "Carry On Wayward Son" (Kansas) 9
Uuuuy, You and David Cook belong! The rawkers can fall in love and form an alliance to kick all the others out then reach the final 2 then they all win. Honey, you and David Cook may belong, but what the hell was that? It wasn't really the song, but the entire performance in general. I was disturbed by the hair then I saw the pants and was just like whoa.


Alaina Whitaker - "Hopelessly Devoted to You" (Olivia Newton-John) 3
I know some people like that, but hey I won't judge. Food is food. At least she eats. She really looks like Carrie, but doesn't necessarily sound like her. I love this song and she started off quite good, but when it came to the high notes, she didn't quite make it. Still she ended it pretty well, but not her best for sure.


Alexandrea Lushington - "If You Leave Me Now" (Chicago) 5
Wow she had funky hair!!! And she grew up fast! That was at Ground Zero?!?! She grew up fast! Oh wait it's been 7 years. When my little sister, Paola comments on your clothes, they must be bad. Her vocals were good, but it was just meh. I don't think it was the best song choice to showcase her vocal range. Dude you're trying to up last week and this was such a down. So sad.


Kady Malloy - "Magic Man" (Heart) 10
How diverse. Britney goes opera. I dare her! Bring that snake out and do Phantom of the Opera. She should quit AI and join "Last Comic Standing," because she'll hit it off there. Her face is kinda scary while singing today. The song, I'm not even familiar with, wasn't the best song choice either. Wow, that was just umm... I can't explain. I'm still too disturbed by her facial expressions.

I love her Britney impressions though. Seriously. She should audition as Britney and just go through this as Britney.


Asia'h Epperson - "All by Myself" (Eric Carmen) 8
Boring fun fact, sorry. Dude, you started it out okay, but that large note that you needed to reach you just blew it. You asked for this man. You look hot, but the voice was just not there all the time. There was that silent note where our jaws dropped cause she didn't make it. Oh noes Asia'h.
My Bottom Three
8. Asia'h
9. Amanda
10. Kady

Wow. I can't believe this. That was just terrible. The girls were so dull and boring and just bad. That wasn't good. When I saw the ranking, I couldn't believe how high the others were ranked then I realized I couldn't rank them all at 10. Wow. Entertainment Weekly said that tonight was the most horrible ever, and I do agree. Wow, the boys actually entertained me so much more. Why not kick out more girls this week? Why am I so disappointed?! This is not the way the top 24 is supposed to be. I'm supposed to be enjoying this, not just coasting along.

DialIdol says all the girls are in the "bottom 3." Looks like I don't know what to believe anymore. I'm just hoping that those who flubbed tonight but are usually great don't get the boot just cause of this one performance. By the way, Ryan was extra hot tonight. The gray denim is hot with that tucked in black polo. Very laid back. very hot.