The boys were just LUKEwarm last week. So I'm hoping this week shows they deserve 6 slots in the top 12. I've been so busy with school (what's new) that for the first time in my life, I'm not even reading spoilers. What?! Patty and spoilers go together right? Well not these past few weeks. So here goes Patty without spoilers...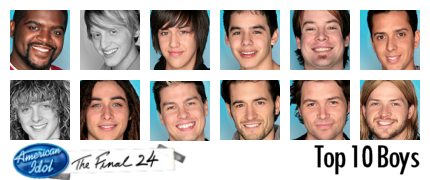 Michael Johns - "Go On Your Own Way" (Fleetwood Mac) 9
So you play tennis? Points in my book. But dude, that wasn't the best start. I was hoping more from you. Pamy and I agree that we liked you better last week which isn't good. But hey, I'm still hanging on to the tennis bit. That might save you. What's up with the bouncing? Trying to make the performance more interesting I guess?

Thank you Simon for saying what I wanted to say. It was a bad song choice. I'm waiting for Michael Johns to prove me wrong but tonight wasn't the night.


Jason Castro - "I Just Want To Be Your Everything" (Andy Gibb) 5
Ayi, he sucks at interviews. So cute. This guy is piling on the charm. Love the "i'm not good at talking bit." The guitar again! I love him with that guitar. I wanna be that guitar! Strum me Jason! Is this really a 70s song?!? Again, he makes things "relevant." Wow, really a 70s song? And by Andy Gibb at that? He's so radio friendly. This can be on the radio right now.

What's up with the non-pimpage? Castronauts unite! WE must keep Jason in! Are they trying to kick him out to make way for Michael Johns?


Luke Menard - "Killer Queen" (Queen) 8
Uy, very Blake Lewis. A capella group e? Definitely the leader of the band with his hotness. I don't quite understand what image Luke Menard is going for. You think he'd stick to the cute boyband leader, but no, he goes the umm... I don't know what route this is. Paola calls him weird. I kind of agree. That was weird, but better than last week.


Robbie Carrico - "Hot Blooded" (Foreigner) 6
Ummm I guess I'm just apathetic to this guy. I didn't care that he drag raced or talks back to judges. Maybe because I just don't care. And still, I'm sort of watching him. I really think he should cut his hair. I know that the long hair is all part of the "authenticity" of his rawker image, but I really would give him a shot with shorter hair. I'm so bad.

In fairness to Paula, that was a really coherent/smart comment from her. That was the best thing she's said on the show. And then goes to mess that up by saying her next comment. Paula know when to shut up.


Danny Noriega - "Superstar" (The Carpenters) 7
First off, pretty hair again. I'm not this songs biggest fan, despite being sung by Gian on Philippine Idol, but that was just alright for me. I can't even say much about it. His vocals were okay, but I just wasn't raving or jumping up and down. Simon was right too, it was just right. He does look fabulous though. I mean so pretty I'll die.


David Hernandez - "Papa Was A Rolling Stone" (The Temptations) 2
This guy is definitely making up for last week. The tone of his voice is fabulous and the growl is sexy! He really just needed to get rid of his nerves. And thank god he did. The way he controls his voice is just crazy. And he looks good too!!! He hit all the notes too!!! Flawless. I couldn't take my eyes off him. He OWNED it.


Jason Yeager - "Long Train Running" (The Doobie Brothers) 10
Oh wow. you're so unique. Only Jason can play multiple instruments. Why am I so mean this week? Anyways... His song is pretty upbeat but he didn't get me standing up and dancing and this is 70s week right? I'm just apathetic to him too. The performance was good, the voice was good, but do I like him more? No. Love the ending pose, really trying to mix it up. Poor dude though, Simon was HAAAARSH.


Chikezie Eze - "I Believe to My Soul" (Donny Hathaway) 3
Chee-Keh-Zyeh. Love it. Let's not kick this guy out. He's got real good vocals. Though I'm not his fan, he has such a great voice. And an Elliott throwback!!! He made it his own. Made me miss Elliott, but Chikezie made me enjoy his version too! I'm glad he liked his suit last week and nice retort at Simon's fashion choice -- without being rude. Stay one more week!


David Cook - "All Right Now" (Free) 4
Oooh, smart COOKie e? In fairness, this little trivia sort of endeared me to him. I love this song, and he started off good. I see he's carrying a guitar. Not bad at all. In fact, I feel guilty for enjoying his performance. What a difference a week made! Fab song choice, fab performance. I'm loving it.

Don't argue with Simon though. NO ONE ever wins. It just makes you lose points with the peeps. It's alright, I can imagine how sensitive everyone is up there after a performance.


David Archuleta - "Imagine" (John Lennon) 1
He's such a gay little boy! I love him!!! And Kelly loves him too!!! So cute. But dude, good luck with song choice. You just chose the hardest song ever. Making it his own, I see. I'm loving the superimposing of his profile, his MS and his CU. The pimp spot is on!!! The lighting is crazy beautiful. There's like a halo around him.

Then there's the vocals of course. I can't believe I'm saying it again, but he's only 17!!! There's so much soul in him I swear I feel like he robbed someone of soul just to have that much soul in him. Very Josh Groban-esque, minus the curls. No offense to John Lennon but this isn't my favorite song, but D-Arch totally made me not get bored. Love it!

And the girls can't seem to get enough of him either. Paula is reduced to tears. Simon just did the "Lakisha" prediction, let's hope D-Arch doesn't rest on his laurels.
My Bottom Three
8. Luke Menard
9. Michael Johns
10. Jason Yeager

I'm sorry Michael. I really do want to give you a chance, but this week just wasn't a way to win me over. Maybe next week. Entertainment Weekly said that D-Arch and David H trumped the competition and I agree. At the same time, DialIdol says that only D-Arch has fans, whoa, everyone's in the "bottom 2." That's so funny. I wonder how Friday's kickout will go.

Well the boys definitely amped it up this week. There were the weird song choices once again, but over-all I enjoyed this week 10,000 times more than last week. I can't wait to see what the girls have in store for us tomorrow.