I like Beyonce Knowles' music. You can find me singing "Baby Boy" and "Naughty Girl" to myself a lot of the time. In fact, I actually like both her albums. And usually, she looks pretty good. Yes, there are times when I'm not so sure what Beyonce's style is, but I forgive her. She is but human after all. But when she starts dressing in space suits, I start to get "alienated." No pun intended.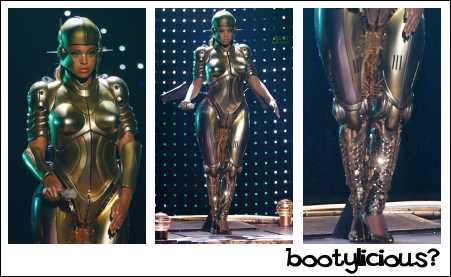 Photo Taken from: [JustJared]
Beyonce performed a rousing rendition of "Get Me Bodied" at the 2007 BET Awards on Tuesday. The Bootylicious singer arrived in a gold space outfit with Matrix-style letters spelling out "Beyonce" in the background. Beyonce then stripped off her space gear and danced the rest of her performance in $100,000 gold Balenciaga leggings and a matching bra top. -- taken from JustJared
I'm sure she performed it well, but girl, I also have to look at you! The space suit is obviously not working for me. Then again, even her bra top looks a little painful. Still, I got to give it to her. She still gave a really really great performance.