I love airports. Incheon, Changi, JFK, LAX, such beautiful airports. I haven't been to too many airports, but I surely haven't seen anyone this hot in the airport. The nearest I saw was Geena Davis in LAX 7 years ago, and well, Nannette Medved at NAIA, but that doesn't even count.

I guess the reason I love airports is because it means either I'm going somewhere foreign or I'm coming home after travelling. It wouldn't hurt if the airport was great too, and I can't say that about NAIA.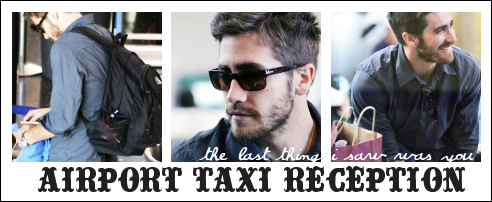 Photo taken from JustJared
Jake Gyllenhaal catches a flight out of LAX airport on Wednesday in Los Angeles. En route to visit sister Maggie and niece Ramona, perhaps? While passing through security, the Brokeback Mountain star showed of his snacks stash — loads of lollipops and bunches of cookies. Food for flight! -- taken from JustJared
Nothing beats the LAX airport when Jake Gyllenhaal goes through it. I can be in NAIA with a one way ticket to hell and it wouldn't matter as long as Jake walked through the place. Why can't I ever be in the airport when Jake passes by carrying lollipops in his bag looking this hot? As if my dwindling summer wasn't hot enough, Jake just had to turn it up a notch.


Happy Birthday
genrocks!!!
I wish you another fabulous year!!!
Take care always!