I've never tried this so I might as well make a stab at it. I can't believe it's the finale already, once again. It seems like it was just yesterday when Taylor Hicks and Katharine McPhee waited for the confetti to fall on them. And now, we've got another male-female combo.

I actually woke up early enough to catch the real live telecast. Thank god my body cooperated with me. I'm still a little sleepy, but hey, I can stay up for this.

* Started off with Blake Lewis and Jordin Spark's performance which I thought was wholly entertaining. I mean how can I resist Sexy Blake singing "I Saw Her Standing There" Seriously, hey they even got to insert that Jordin was 17! Gasp! The Beatles are prophets! They knew Jordin was 17. But in fairness, they sounded really good together.

* Gwen Stefani's pre-taped performance was pretty good, except that I didn't want a pre-taped performance at the finale. But oh well, they can do it, I guess.


*One of ten thousand commercials*


* Kelly Clarkson performs "Never Again" and she's good. But I think their point is, they produced at least ONE great American Idol.

* Whee with the fillers. Here comes the "Golden Idol" which I'm not so amused with, but I'll go with it lest I be disappointed for two more hours. Go Margaret Folwer. I never thought I'd see you again and yet there you are kissing my Ryan. Simon won't be pleased. Damn, they're stretching it for way too long. Thank god that was over.

* Top 6 Guys's perform performing a medley arranged by David Thomas of Take 6. All I can say is hot! CAKE will be soon reunited. And what? They're not next to each other. Phil Stacey's voice is so damn good. I don't know why he didn't make it long enough. Oh look, it's Brandon Rogers. I haven't seen enough of this guy.

* Oh look, it was cut short by Smokey Robinson. But at least he's got the Top 6 for backing vocals. And they look white hot. Yes, even Sanjaya Malakar. Damn, Chris Sligh really trumps Chris Richardson's nasally is a form of singing voice. I love seeing the top 6 boys in white! White hot!!!


*Two out of ten thousand commercials*


* Yet another plug for the Idol Band search. How is this going to work? A la Rockstar? Oh no, nothing could recreate the genius that was Rockstar. But wait, these people think they can do anything. So I'll have to see.

* Blake gets back to his Bshorty roots and hooks up with people who's names I didn't get. But he gets all white rapper on us. So cute!!! He looks really like his old self. Lovely. I'll give TPTB props for even letting these people on the show. love it.

* Damn! Blake's Daddy is so proud. That was really good though. Love seeing Blake's homeboys. Seriously. Kinda hot.

* Yet another Golden Idols. Rawr the fillers.

* Top 6 Girls this time around and they're all in white too. Love Gina's hair. They're all looking really good. Oh look! It's Stephanie! She was robbed. Oh we get another look at Haley's legs.

* Gladys Knight comes in the middle. Wow, she looks pretty good! Then again, I don't really know how the woman looks, but she sure sounds fabulous. Take notes girls. Take notes. I thought the boys were better. But I'm biased that way.

* Oh look! It's my predicted final two, Melinda Doolittle and Lakisha Jones singing with Gladys Knight and doing a fabulous job holding their own while the rest sing back up. If only things went my way. Still, that would mean no Blake. So I'm not complaining.



*Third out of ten thousand commercials*


* Well, well, well, they got Tony Bennett to come back despite everyone not following his tips. Way to go! He's singing "For Once In My Life" the way only he can. Wait, isn't this a duets album? Who's he going to sing a duet with? Say Blake! Say Blake!

* Wait, no duet? Damn. Still, this guy obviously knows his stuff. He's got the entire Kodak standing up. And they should. Ooh, look it's Justin Guarini and Jerry Springer. And Jennifer Hudson with glasses. Not all together. ust in succession.

* No more Golden Icons!!! Please!!!

* They're finally admitting to their "special friendship" I don't think they're going to win. But hey, anything goes. Why didn't Antonella and her friend win? They're hot guys! And their "good people" God loves good people.

* Melinda back-ups sings with Bebe and Cece Winans? Melinda looks so hot in her gown! ANd she's no longer back up baby! This must be a great moment for her. Go Melinda. Knock 'em dead!!!



*Four out of ten thousand commercials*


* Ford video using "Time after Time" A sort of recap of all the Ford behind the scenes thing. Awww. I'm getting all choked up. It's been so long. Not.

* They both get mustangs! Who gets the red one? Who gets the blue one? Blake looks genuinely happy. Hey, I would too! And didn't Jordin just learn to drive? Or does she even know? Lucky lucky people. Somewhere in the Kodak, Melinda is cursing.

* Carrie Underwood is looking good. This girl has definitely bloomed. She's singing this again? Okay, so 2 out 5 past Idol winners have showed up. It'll be so evil not to have Taylor Hicks. But looks like they won't be including him again. That's what you get for sticking it up to the man, Taylor.

* Clive Davis, guys! He made an appearance here but not in the top 3? Get a gun and shoot him! He's talking about his son, Daughtry, the golden boy is apparently the biggest selling artist of the year. In fairness, I'm impressed. And I haven't even bought it. So, that's a lot of other people liking him.



*Five out of ten thousand commercials*


* The African children's choir! And their not singing Josh Groban's song! Whee!!! They look so happy to be there!!! They're the most spirited performers tonight.

* Sanjaya! I miss this guy. I wanted him out, but now that he's back, it's all good! And Ashley Ferl! He's performing live with Joe Perry from Aerosmith at that! Beat that, celebrity duets. He really got me this time! His hair is blowing in the fan! So hot! And he's grinding with Joe Perry. Priceless. This is entertainment.

* Ashley Ferl is crying again? It's getting old, little girl. But you know what's NOT getting old? Jordin. She's only 17 Sanjaya's wind blown hair. I love it. The lighting is making him look like a god. And he gets to hug Joe Perry. Love it.

* Green Day performs John Lennon's "Working Class Hero" and for some reason it doesn't look live. Maybe it's just me.



*six out of ten thousand commercials*


* Taylor Hicks!!!! 3 out 5 American Idol winners! I'm so happy Taylor's here. I'm not even his biggest fan, but I'm glad they're not totally ignoring him. Wheee! Also, I can't believe it's 9:30 already. Some things never change, he got in that soul Patrol again!

* Jordin and Ruben Studdard singing "You're all I need to get by." Wow, 4 out 5 American idols. Does this mean Blake's singing with Fantasia? Or will they not give him that honor?!? Supposedly he's singing with Kat McPhee. But she's not a winner. This is tough. Fantasia or Katharine for Blake?!?

* Finally! Someone's taller than Jordin! Go Ruben! He's pretty good. I like their performance. That's cause i really like this song. So good they're not spoiling it for me.



*seven out of ten thousand commercials*


* Brad Garrett becomes a seat filler for Paula Abdul. Bathroom break gone too long? Be careful guys, she might trip over something and break something else. Bette Midler performs live.

* Randy Jackson and Paula are waltzing? What?!? This is such a distraction. Not my favorite song, but I guess they need more filler before the actual announcement. In fairness. Now, they're flying (Paula and Randy I mean). The hours went by fast.

* Jerry Springer is crying from the pain of Bette Midler's performance. Hoff didn't cry this year! What?!? The Hoff and Springer need to battle it out next year.



*eight out of ten thousand commercials*


* A tribute to Sgt. Pepper. Look, it's Joe Perry again (not a lot of celebrity guests huh). And it's Kelly Clarkson again, this time wearing a backless number. She jumps up and down a lot. I'm a little uncomfortable. Looks like there will be no Fantasia. Not that I'm asking for it.

* Taylor does a take two too! He looks like he's losing weight. I'm clueless as to what the Beatles songs are. But he's just introduced Carrie Underwood. I'm not getting Fantasia.

* Carrie is so skinny! She looks like my Barbie! (said in that Sophie/Olivia voice from The Holiday). Again, I don't know the song. I'm seriously clueless. Okay, I got it. "She's Leaving Home" with the Top 6 girls as back up. Don't worry Melinda, it's only temporary.

* Ruben's at it again and this time he's got Top 6 back up again. "Lucy in the Sky With Diamonds" Oh the boys are out upfront and Blake's wearing a Sgt. Pepper jacket.

* The top 12 are singing "With a little Help from my Friends" How apt. Are you all friends. That's the question. I love the black ensemble. They look they're going to a classy funeral. Hopefully not Blake's.

* There is no Fantasia. Wait, was Blake's performance the one with the beatboxing? Oh right. So I'm assuming their announcing the winner already.


*nine out of ten thousand commercials*


* Here we freaking go... 74 Million votes y'all. Blake and Jordin are standing there looking freaking nervous. Blake looks hot.

* Blake looks really happy even if Randy just said Jordin was his pick. Paula Abdul is really my favorite. Simon Cowell's again picking Jordin (based on the last song)

* Jordin Sparks Is the new American idol

* Blake looks really happy. How come she doesn't look surprised? And why is Blake genuinely happy? This is crazy. I want the confetti! Oh no, it's that song!!!

* Dude! That's not confetti! That's firework!?! I want messy confetti! Oh they're there. But wait, come on, Jordin. Cry! Cry! It's time to cry.

* Yay, a few tears. But Paula had to upstage her and cry first. Oh-kay, It's your NOW. Whee.

* A group hug from the top 3. Lovely.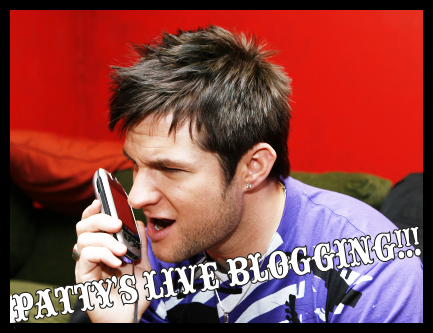 And that's it folks. Season 6 is over and done with. Ryan Seacrest is out. Now what to do?