Well, it's down to the line. In 24 hours, Blake would have done all he could to win American Idol. I'm nervous and excited at the same time and I honestly can't wait for the finale. I don't think I've ever been this excited for the finale before. Then again, maybe because the competition is so tough that it's really hard to call it.

I'm sure I can speak for Pamy when I say that things are still a bit surreal. With all the craziness surrounding this show, who knew Blake would even make it this far? He surely hasn't been favorred by TPTB this year and yet despite the odds, he beat out two divas to make it to the finale two. Again, I can honestly say, I already feel like Blake's a winner.

Before I start, I thought I'd take a moment to revel in Blake's hotness. After the finale, there could be a possible drought of Blake pictures.



Simon must be straight, because he doesn't seem affected by Blake's hotness. Or he's just too distracted because Ryan's onstage with him too.

I found a this on IdolStalker. Com and I decided to put it in table form, thinking it would be easier for me to figure out who had the upper hand in this thing and still, I can't figure it out. They both have their pros and cons and their respective loyal fanbases. I'm just hoping that the BlakerGirls are more rabid voters, but Jordin hasn't ever been in the bottom anything, so it's not for me to say.


Jordin
Blake
Her voice has power, she is able to express emotion through her singing, is attractive, young and her showmanship is improving. She is also quite marketable and markatable = dolla, dolla bills y'all! I can just see the money signs in Clive Davis' eyes.
Strengths
Creativity, willingness to take risks, unique, stylish, modern, attractive, strong fanbase and showmanship. I read in People magazine that he actually makes his own pants.
Has a hard time hitting most notes straight on and slides/searches her way in to them (and no, not in a stylistic way), has serious trouble singing in her lower register, often picks easy songs and some people have said that she appears fake and phony. I also was not impressed when last week she chose to sing a song she had previously sung instead of taking a risk with something new.
Weakness
Blake is a good singer but he is not necessarily a great singer. He does, however, make up for it in showmanship and his vocal ability is more than proficient enough to guarantee a strong career.
Yodelling and Vibrato: Like Blake's beatboxing, Jordin's yodelling and vibrato can be very annoying. One yodel per song, I say, and maybe some vocal training can help iron out those vibrations.
Special Skill
Beatboxing: Oh boy… this can go either way for Blake. If he can learn when to use this extraordinary talent, it will be a powerful weapon. He is skilled, but sometimes has me wondering if he needs to join Beatboxers Anonymous. Even great things in excess can be bad.
She's marketable, which is good, because she hasn't shown a great deal of creativity with her songs. She definitely can be a real pop star and with that pretty face, maybe she can actually end up in movies and on television.
Final Verdict
Blake is going to be a great songwriter and performer. Many of his performances are memorable because he takes risks and is oeriginal. As we've seen with Kelly Clarkson's recent troubles, an artist who can write and create their own music is very valuable - if the music is good, of course. Blake can deliver. I believe it.
Taken from IdolStalker


Anyway,
24fps told me that Blake was going to sing You Give Love A Bad Name as his encore song and She Will Be Loved by Maroon 5 as his brand new song. I'm hoping he can recreate his spectacular performance of YGLABN because it's one of those iconic performances that couldn't neccessarily work the second time around. I also hope he gives SWBL a really emotional feel to it, because Blake can get a little blank when it comes to "ballads."

And I'm really hoping that the "Coronation song" that both he and Jordin will sing isn't tailor made for a girl or whatevs. I'm hoping Blake plays with the arrangement or whatever to make it his. That way, even if Jordin goes last, his version will still be the one on voters minds.

Anyway, I read that Jordin is supposed to sing A Broken Wing as her encore (seeing as she can't do I who Have Nothing a third time) and Fighter by Christina Aguilera. I know she's young and trying to show Simon that she's young but I don't know how Jordin is going to pull this off. I'm sure she's thought of this well so she's probably really ready to ingrain it in our brains that she is 17 and ready to win the title.

There's nothing left to say. Just that, I obviously like Blake (no, it wasn't obvious) and I'm going to be rooting for him tomorrow. Here's to season 6. Blake definitely made it worth it.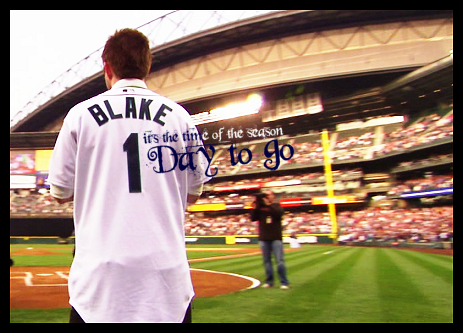 Blake better be brilliant tomorrow because Pamy is so stressed on his behalf. Seriously, she's practically in tears because of him. Right, Pamy? Only Blake is worth our tears. Hang in there, my most hard working sister, my Idol partner all throughout. Blake's going to give us one hell of a show! I can feel it.