I've been listening to Thicke and Jamiroquai lately. The latter, I'm not so ashamed off, but the former, what a surprise! Seriously. If someone told me weeks ago that I'd be listening to Thicke on my iPod, I'd be like, "No way! Not after his wonderful performance on Idol!"

But thanks to the miracle that is Blake Lewis, things have been pretty different around the Lazatin household. Like say, topic of conversation between me and Pamy always seem to include the words, Blake, Idol, Finale and HOT. But really, can you blame me? This guy is just everywhere.



thanks to
mediocrechick for scanning the entire article
In hindsight, isn't it eerie how Melinda, Blake and Jordin are on the top of the square, all next to one another?!?

Originally presented as just an odd kid with a thing for vocal sound effects -- In fairness, I'll give Pamy props for liking Blake from the get-go. I was a little skeptical about him after his audition, but Pamy was unstoppable. She was obsessed from the minute he walked in, with his "mad scientist" get up. Still, he won me over, eventually.

Lewis, who says he never watched Idol before auditioning -- Wow, glad to know this kid's got a life. I for one, can't ever say that. I've watched it since it started airing here (season 3) and if I do get into the competition (as if), I can't honestly say this. So what exactly does Blake do instead? I have no idea.

"I have to share an apartment with three other dudes, which is terrible" -- Really now? You're not even in the slightest bit happy you have to share your BED room with Chris R? Come on Blake! You gotta mix the batter to make a Cake! (what the hell am I saying?)

No surprise that Lewis admits to breaking their 10 p.m. curfew. ''I mean, what are they going to do? 'You can't sing anymore?' '' he says. ''I went out until 1:30 a.m. I got reprimanded by singing last, which is probably the best thing that can happen.'' -- Naughty boy, eh? I like it! Let's go and break some rules together!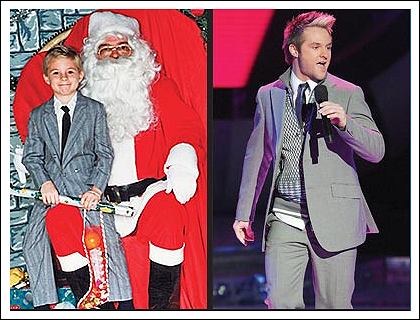 Those slick dance moves evolved over decades of practice. "Blake was doing the moonwalk at 5 years old," says his mom, Dinah. He was making his own videos then, too. "I have a tape of me singing 'Rudolph the Red-Nosed Reindeer,' " says Lewis, 25 (with Santa in Seattle in 1984). He might have Mr. Claus to thank for his trademark beatboxing: "I always wanted to be a drummer (but) I never got any drums!" -- taken from People
First off, what a cute kid! I'm digging the pinstripe? plaid? suit he's rocking as a kid!

He can moonwalk? Has he showcased this on national television or am I misunderstanding what a moonwalk is? Nevertheless, I'm obviously impressed. I can barely walk and he can moonwalk! What can you do, Jordin?

Now when will these little home vidoes surface from the family treasure chest? Come on, Mrs. Lewis! I'm sure BlakerGirls would get a kick out of a leaked version of your adorable son singing that christmas carol!

You can bang my drums bongos, Blake, if you know what I mean!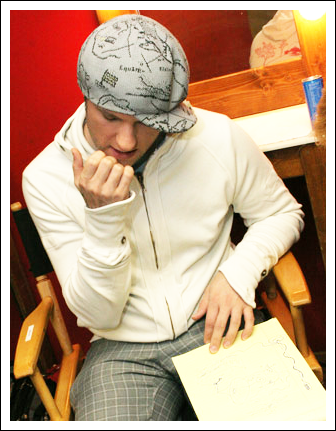 Blake Lewis told us he's a little bit nervous about performing on the upcoming theme shows. "Those are tough for me because I have such an eclectic taste in music," he told us. "I don't really listen to a lot of the stuff that's been on the radio. I'm the kind of person who reads the back of a CD cover and reads someone's name in the thank-you notes and then wants to listen to that person." -- taken from People
It wasn't so hard! You pulled through. If Melinda was humble, Blake tends to underestimate his talent.

I'll give Blake props for being the only Idol who's ventured into songs that have NEVER ever been sung on Idol (thanks to his not listening to the radio, I guess). So if that ain't a stamp of creativity/originality, I don't know what is.

I love reading liner notes on CDs too, Blake! God, we have so much in common now!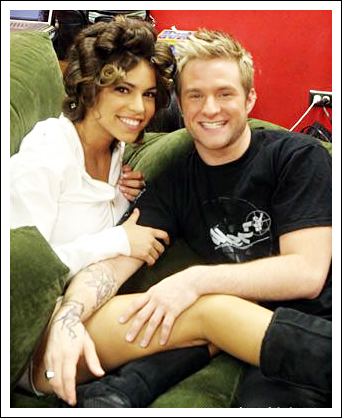 Nice catch!: Ousted contestant Antonella Barba returned to the Idol arena – and proved to be an unusually reserved audience member, staying put in her seat (right behind Simon Cowell's mother) for most of the show. Still, Blake Lewis managed to catch her eye at the end of the night and blew her a kiss. She promptly returned the favor and he "caught" the airborne smooch and held it close to his chest. -- taken from People
HU-WHAT?!? NOOOO!!!

Blake! What are you doing?!? Stay away from the Barba!!! This picture breaks my heart. And then I read this little snippet? I almost died of a heart attack! GET. AWAY. FROM. HER!!!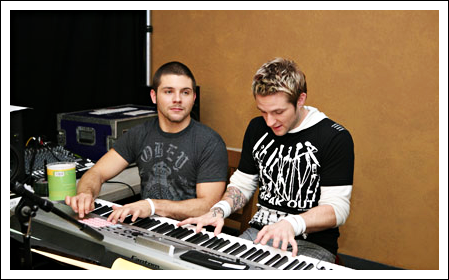 Spreading the Love: After whipping the crowd into a frenzy by beat-boxing his way through Bon Jovi's "You Give Love a Bad Name," Blake blew a kiss to the judges' table at commercial. He then ran over and surprised Chris Richardson, by putting his hands on Chris's shoulders and jumping while Chris's back was turned. The two close friends then gave each other a handshake and bumped shoulders before Blake left the stage so Chris could take his turn in the spotlight. -- taken from People
That's more like it. I love having me some Cake after a long day.

I'm sure jumping on Chris's back wasn't the only thing on Blake's mind. But alas, American Idol still is still rated G. That would have been one hell of a show though. Move over, Rymon!

Handshake? Come on! Show each other how you really feel and give the Cake fans something to talk about, right Sanjaya?
Favorite Blake Live Performance
Favorite Blake Studio Recording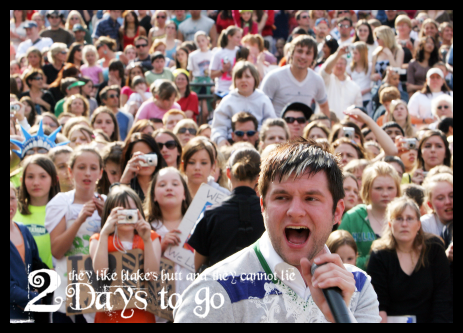 I honestly don't know how I still sleep at night. 48 hours left and that's all there is to it. Seriously, the hours cannot go by any slower. I'm just too damn excited. BlakerGirls, start strecthing those fingers. I don't want no Carpal Tunnel getting in the way.