72 Hours. That's all the time left 'til the freaking finale. Seriously. I don't know how I'll be able to breathe through the next three days. It's like I've hooked myself up to an IV of Blake information and the fluid is keeping me sane 'til the finale.

It's been said that they're repertoire on Tuesday (Wednesday for us) will consist of an encore, the original song made for them, and a song they haven't done. Now, I'm really hoping Blake pulls out all the stops here, because he's going FIRST.


24fps shared this little snippet with me about the coin toss that went down after the top 2 was announced and it just seals the deal that Blake is still such a gentleman, 'til the freaking end.
After Wednesday night's show, fans got to stick around to see Ryan Seacrest flip the coin to see who will kick off next week's finale. The coin had a picture of Jordin on one side and Blake on the other. He tossed it up and Lewis it was – but, when asked whether he wanted to go first or second, Blake said, "Let's let the producers decide." Then, turning to Jordin, the great sport said: "Do you want to go first?" It didn't take Sparks long to decide – so it will be Blake Lewis who will sing the first song in the final performance show live at the Kodak Theatre next week.
Hello!? Blake, it's your time to take the pimp spot and he didn't take it! Instead, he offered Jordin the choice. I swear! It's called delicadeza, Jordin! He was just being polite. You should have said: "No Blake, it's so sweet of you to offer, but you won the coin toss! You can go last!"

I hope Blake has something crazy up his sleeve to just blow Jordin out of the water. I'm afraid because Katharine went first last year, I think and we all know she didn't quite make it. Anyway, as if that wasn't sweet enough, I stumbled upon this article and it just proves Blake really is a sweetie through and through.
Now that you've been on American Idol you're no longer Shorty from Bothell.
I will forever be Shorty from Bothell! I'm now Blake Lewis to the world, but I'm still Shorty from Bothell.

Why should you win American Idol?
I've never looked at it as a competition. I've tried to represent myself, be true to myself the whole time. The support on the show and the fans have seen that. I've never looked at it as a competition so I think I've won regardless. I won when I got into the top ten. Win or lose I think I'm a winner on this show already.

What do you think of Jordin?
Jordin and Gina were my picks in the beginning to win this whole thing. She's 17 and she's already a woman. She performs, she's good looking, she's got a fantastic personality. It reads really well on camera. Regardless of the finale she's already won it in my mind. -- taken from People
First thing that came to mind was, how sweet can this guy get? The interview's a bit longer than this, (you can read the rest here) but I only posted what I thought was essential to prove that he's not affected by his quasi-celebrity status at all. He' still B-Shorty from Bothell. Obviously, winning Idol won't make him a stuck up celebrity at all. Of course, this is the fan girl talking. So let's squee a bit. Damn Blake, you're so fine!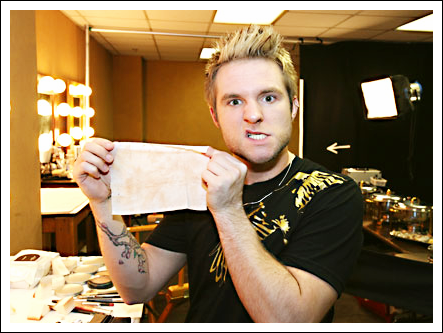 How do you prefer Blake's hair color?
Blond: It's so much better lighter
Brown: It's so much sexier on him!
Red: Who know? it could work!
Which hairstyle do you prefer on Blake?
VIDEO: Blake Lewis performing during Blue Scholars show Friday night
In case you weren't at the Blue Scholars performance Friday night, here's a video of Blake Lewis, a.k.a. Bshorty, beatboxing during the encore break. What wasn't in the videos is Blake addressing the crowd after his five-minute beatbox tirade. He didn't pull a "watch American Idol and vote for me" speech. Instead, he hugged Sazi and Geologic and told the crowd that he and Sabzi have been friends since junior high. He said: "The first time I rocked a mic, Sabzi was on Rhodes." That's a keyboard for those non-musicians out there. -- taken from SeattlePi

Dude, this guy is too much! He didn't even pimp himself!!! Even I would have taken advantage of this opportunity. I would slip it in that I'm in dire need of votes, at least. I mean this people are obviously on your side. There's nothing to be ashamed of! More votes = WIN remember? You're in your hometown! You must pimp yourself, they will understand!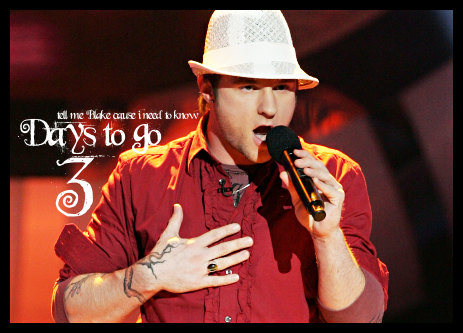 If this isn't enough to prove that Blake's got such a winning personality, I don't know what will do it. He's just so down-to-earth and unfazed by it all. Other than the immense talent, I think you've gotta love him for that. Damn you Blake! I'm listening to Thicke na rin!