And then there were 3. Seriously, this season just zipped by me and I can't believe it's all about to end next week. Hopefully, with my ideal final 2 singing their asses off. But before I get ahead of myself, there's still the top 3 to recap.

This year, they didn't get Clive Davis and I'm not going to complain. He gave Elliott a terrible song choice last year and that could have been part of his downfall. Still, this year's top 3 is a pretty worthy bunch. Of course, I wouldn't have minded if it was Phil, Chris R and Blake in the final 3, but I got 1 out of 3, so I should be thankful.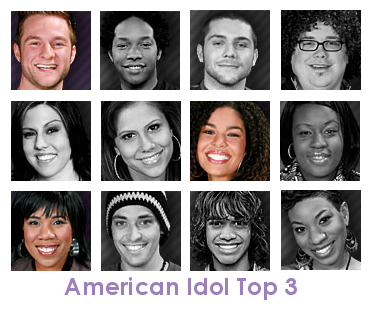 ROUND 1: Judges' Choice

Jordin Sparks - "Wishing On A Star" (Rose Royce) chosen by Simon Cowell 3
Nothing is stopping the Jordin train from reaching the finale and I think she did a great job on the judges choice. Paula was right, because Simon picked a really good song for her. Thing is, it kinda sounded like Beyonce's, but hey, I'm not going to complain. This chick is going to win this thing anyway, so I might as well, sit up and listen. It wasn't her best, but for me, her best for the night. And though I hate it when people mention her age, I have to say that it is "quite impressive" from someone her age.
Randy: "That was a very good vocal, kinda like a little Beyonce."
Paula: "Simon picked a good song for you."
Simon: "Even though I chose the song, it wasn't actually one of your better performances. You sang it brilliantly, I just wish we hadn't done the wicked jazz arrangement."
Okay, on and on with pimpage I see. The only thing working against Jordin tonight is her performing first. But nothing is stopping Ms Sparks from winning this thing. Watch her sparkle!



Blake Lewis - "Roxanne" (The Police) chosen by Paula Abdul 2
I was so afraid for his song choice, just because I know it isn't exactly a popular song to sing, but hey if anyone can pull it off, it'll be Blake. I think Paula did a good job on picking a song (unlike last year's Elliott-song-choice-fiasco) for Blake. Unfortunately, it's one of those songs that are really hard to cover because only tantric sex god Sting sang it! Hello? Tough one, perhaps? I thought Blake did a great job on it.
Randy: "All in all, I've got to give you an 'A' on that. Great great performance. Pretty good vocal...that was hot"
Paula: "You did me proud...it was good it was fresh..."
Simon: "It was good, it wasn't great. I'm not gonna call that earth shattering...the problem with that song is you are always forced to do an impression of Sting."
Shut the hell up, Simon! You've praised more unworthy performances and you can't even give it to Blake this week! He needs all the pimpage he can get and you aren't giving it to him!!!



Melinda Doolittle - "I Believe In You And Me" (Whitney Houston) chosen by Randy Jackson 1
That was amazing. Melinda's vocals are so perfect for this kind of song. I'm glad she got a great song from Randy. I actually got goosebumps listening to her sing. These big songs really suit Melinda because it just shows that she can really bring the song to a whole different level. Her expertise is obvious. This proves it. She looked so beautiful and so worthy of the finale.
Randy: "I wanted to through a little difficulty at you...you blew it out da box..."
Paula: "You were fantastic...one of your best performances."
Simon: "Your best performance in the last four weeks...round 1 goes to Melinda."
Okay, I agree with Simon. She definitely wins Round 1. She definitely rose the challenge. Watch out Sparks, Mindy Doo is in fighting form and she ain't going down so easily.



ROUND 2: Producer's Choice




Jordin Sparks - "She Works Hard For The Money" (Donna Summer) 3
Her vocals are all over the place on this one and I think the producers had too much confidence in Jordin. That was just not good. And wait a minute, is this 17 year old singing about prostitution? Nigel, Nigel, Nigel... are you sure about this song choice for your 17 year old favorite? This won't sit well with Jordin's young fans, now will it? So much for the pimpage -- no pun intended.
Randy: "Very nicely done. That was hot too."
Paula: "Jordin, you worked hard for the money tonight, I thought you were fantastic."
Simon: "Actually, it was a very good performance."
WHAT THE FUCK JUDGES??? That wasn't hot at all. That was so Top 24 worthy and I'm not even joking. Her "Give Me One Reason" performance in the semis was waaaay better than this.



Blake Lewis - "This Love" (Maroon 5) 1
Ack! Seriously, Blake + Maroon 5 = SOOO much LOVE! I'm sure Chris R was just dying from watching his boy work it out on stage. I love it that Blake's getting even just a little love from Nigel. The song was perfect for him because it was current (less than ten years back -- yes, Jordin, during your lifetime) and Blake made it work. Seriously, why am I the only one rooting for this guy? Oh wait, I've got Chuckie Dreyfus on my side. Beat that, Jordin!
Randy: "When you decide to put out an album, that's the kind of record you should make."
Paula: "A good night for you."
Simon: "I preferred that one to the first one...you sounded very comfortable...that was good."
Would you give the guy a break, Simon!? A little pimpage would NOT hurt him! Just say the word "fantastic" and I'll be happy. I'm not even hoping for a "vocal master class" here. Just something positive. Damn you, Cowell!!!



Melinda Doolittle - "Nutbush City Limits" (Ike & Tina Turner) 2
So they finally give her some Tina Turner. Melinda has been channeling her Idol all season (so everyone tells me), so at least she gets something she's comfortable with. Of course Melinda does a flawless performance and I'm kind of expecting it. I'm not a big fan of the song, but the way Melinda handles it just proves she's studied Tina her entire life and it pays off.
Randy: "Another great solid performance."
Paula: "We love you, we love you and we love you."
Simon: "Love that side of you... again another brilliant performance."
Why can't they ever give Blake this much love? I found this performance mechanical and Simon goes on and praises her with the word "love," something he hasn't uttered at all to Blake! Oh well, at least I like Melinda -- so she deserves this.



ROUND 3: Personal Choice




Jordin Sparks - "I Who Have Nothing" (Shirley Bassey) Repeated from British Invasion Week 2
It was good the first time, and I seemed to have liked it the first time around, but I hate it when contestants repeat performances. It's like yeah you pulled it off the first time, so what? I don't want an encore -- save it for the CD. I have a feeling this is what she'll be recording for this season's CD -- whooppee! I want to hear you rock something else. Seriously.
Randy: "Way to close it out, very hot, nice control."
Paula: "It sat well in your voice...you sounded really great."
Simon: "I wasn't loving it as much as I should have done, because it's an incredible old-fashioned song and a performance, so I actually wish you had chosen another song. There's a part of me that hated the fact that a 17 year old was singing a 60 year old song."
Simon's contradicting himself here by giving her an old song, but really I don't care because anything to bring Princess Jordin down is okay in my book. Okay, so I sound evil. But really, nothing anyone does is stopping the powers that be from crowning Jordin this season's winner, so give me a little entertainment, alright?



Blake Lewis - "When I Get You Alone" (Thicke) 1
Love the intro. Was that Beethoven? I'm not even familiar with this song, but I doubt it started that way. I'm not Robin Thicke's fan so I was a little wary about his song choice, but of course, Blake just made it his own and totally entertained me. He's just the most "current" performer. He's the most original of the bunch and I can so imagine listening to him on my iPod without having to categorize him as someone from Idol because he sounds like what's out now -- at the same time being original about it.
Randy: "It was a'ight...like that Maroon 5 vibe for you better."
Paula: "I think you had three great songs, three great performances."
Simon: "I actually really liked that."
I could really kiss Paula. Screw you Randy. Watch Paula give Blake some love. And Simon, if you plan on giving Blake some love in the end, why not give him a little more than that! This could be the last thing you ever SAY TO HIM! Did you think about that?



Melinda Doolittle - "I'm A Woman" (Peggy Lee) Repeated from Top 8 Females Week 3
So Melinda goes the repeat route and at least she chose one my favorite songs. But did you notice how she totally screwed up the first few lines of the song? And why did no one call her on that? Oh yeah, because along with the Jordin train, we've got Melinda hanging on. Good performance, but for something repeated, I was expecting her to bring it even more, not mess up lyrics. Remember they totally bashed Chris R for that.
Randy: "That was hot again...You can sing anything, the phone book whatever."
Paula: "Melinda, you're fantastic. You're in the spotlight."
Simon: "Love the little striptease at the top. If I'm gonna award a place in the final to a person who has consistently delivered week after week, it's you."
Simon's right though. Melinda deserves a spot in the finale just for sheer consistency. Melinda needs the title to make it in the business and she's proven herself worthy of making it to the finale. Of course, I wouldn't mind if she brought Blake with her.

My Bottom Two
1. Melinda Doolittle
2. Jordin Sparks

Was it any surprise that I didn't list Blake there? Obviously, I think Blake has to make it to the finale. He's been the most original, risk-taking Idol this year and the finale would be so damn boring without him. Jordin is good and Melinda is great, but Blake is fucking fantabulous! SAVE BLAKE LEWIS!!!

Who will go tomorrow night? According to DialIdol, my Blake could be leaving us for good? Is this the last we'll see of him this season? Or will the BlakerGirls vote till the end. Apparently, Blake's the new anointed one on VotefortheWorst. Do I care? Hell no, as long as the votes help him, he could be the worst in their eyes. SAVE BLAKE LEWIS!!! What a boring finale that would be if he wasn't there.