Am I the last person on earth to find out about this???

I've been reading this series since high school and there rumors that it would be turned into a movie starring my favorite Lindsay Lohan. When I heard that, I almost died. I hate it when my favorite books get turned into movies that don't live up to the book. But then that rumor faded and I went back to reading about these Upper East side rich girls, whose lives I secretly wanted to live out. Now I read about this:
On the heels of Fox's cancellation of his series "The O.C." after four seasons, creator Josh Schwartz got a green light from The CW for his teen soap pilot "Gossip Girl." "Girl" is based on a book series about upper-class Manhattan teens and their parents and is produced by Warner Bros. Television and Alloy Entertainment. -- Taken from TV Week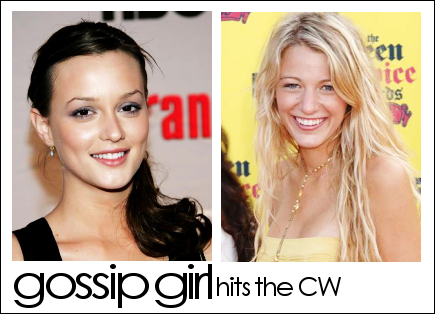 Blake Lively is set to play Serena in the upcoming show and Leighton Meester will play Blair. Blair's love interest, Nate Archibald, will be played by Chace Crawford. Taylor Momsen is playing Jenny Humphrey and Penn Badgley is playing Jenny's brother Dan Humphrey, and their father, Rufus Humphrey, will be played by Matthew Settle. Ed Westwick will play the character Chuck. Kelly Rutherford will play Serena and Eric's mother Lillian van der Woodsen. Blair's mother, Eleanor Waldorf will be played by Florencia Lozano. Nan Zhang will play Kati and her friend Isabel will be played by Nicole Fiscella. -- taken from Wikipedia
In fairness, the girls are pretty. I was so afraid they'd miscast the characters and since this book is so character-centric, it would have been awful if things got messed up. But the casting is according to Wikipedia, so that's not sure yet, but if it's correct, then go Josh Schwartz cause I loved The O.C. so this should be pretty good. But good luck to the people behind this too because the book has quite a fanbase and since I'm sure they'll be basing it very loosely, fans might be disappointed. Still, I'll try to keep an open mind about it.

With One Tree Hill ending, Gilmore Girls gone and The O.C. axed, at least I have something new to look forward to. Seriously, the fall season cannot come any sooner.