The Beegees are apparently a really prolific group. I looked them up and they've got discographies upon discographies of songs. Some I've never heard and others I know by heart . I was hoping a few of my favorites would make it in and obviously, the idols and the audience kind of think alike.

Still, I wasn't expecting much from this show as Chris and Phil are gone and I'm left with ONLY Blake to look forward too. I know the three divas will still shine, but really, I just feel no love for them. My like for Melinda is probably the only thing going for the girls. I'll try to keep an open mind though tonight -- even if I'm pining for Phil to come sing "How Deep is Your Love."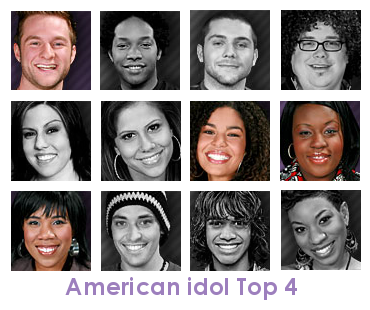 ROUND 1

Melinda Doolittle - "Love You Inside Out" (Beegees) 3
Oh Mindy doo. That wasn't something to rave about. I know Melinda's vocals are superb, but it was just a little blah for me. It was old and boring and it didn't seem like it was a final 4 performance. I was really expecting Melinda to pull the punch for me here. To prove to the haters that she's in this to win! But I didn't feel that at all. And I'm rooting for her, so Melinda, you better give a better second performance, because this was just not top 4 material.



Blake Lewis - "You Should Be Dancing" (Beegees) 1
I don't care what the judges say. Paula's on crack. Randy's an ass and Simon is just being himself. What the hell are they talking about? I thought he was pretty damn great. The song said I should be dancing and Blake did get to me to go dancing. He was the only one this entire ngiht that got me dancing. And yes, it'll be very very difficult to beat last weeks spectacular show, but hello, this wasn't bad at all! The judges are in it to bring him down. Seriously. They give him no love at all and i just want to shoot them for that. I thought Blake's falsetto was good and I thought that only he got the disco vibe. Screw you judges. Blaker girls! Assemble!!! We need to save the Blake!!!


Lakisha Jones - "Stayin' Alive" (Beegees) 4
I don't think this is the best song choice for Lakisha. It's such an iconic song, that there isn't much you can do about it. And if it's to be sung by a non-Beegee, you should just go over the top, but Lakisha didn't do that. Again, I really think song choice is vital and she should have done something else -- like "How Deep Is Your Love" -- or anything else really. This just didn't work for me at all.



Jordin Sparks - "To Love Somebody" (Beegees) 2
Jordin is 17. Wasn't that established a thousand mentions ago? Why can't they seem to get over it? By the looks of it, they're really posing Jordin to win and though I'm not depressed, I'm not jumping out of my seat either. I have to say that her vocals were good on this one, but the judges are just waaaaay pimping her. Yes, I liked her rendition, but it didn't blow me away. Blake's performance last week: that blew me away. This was just good. They really want this girl to win. And it's becoming way too obvious. Yes, praise the girl, but put yourselves on a leash. This ain't the finale yet.



ROUND 2




Melinda Doolittle - "How Can You Mend A Broken Heart" (Beegees) 1
This girl knows how to get back on her feet. I happen to love this song and she did it justice. Simon's right: this sealed her spot next week -- not according to the voters at DialIdol though. She ranks bottom two though. Not good. I'd have Melinda any day.



Blake Lewis - "This is Where I Came In" (Beegees) 3
Okay, maybe it was the song choice. But it wasn't TERRIBLE EITHER. Why are the judges dissing him like they want him kicked out? I don't understand. Blake, you should have chosen a different song. There are a zillion Beegees songs, and you had to choose a non-hit. still, congratulations for not tanking at it. I feel really bad for Blake because he's getting a lot of flak for something that wasn't even horrendous. I've heard tons of awful performances and Blake wasn't in those. Seriously. SAVE BLAKE LEWIS!!!


Lakisha Jones - "Run To Me" (Beegees) 2
Lakisha did lightyears better on this one than her first performance. Unfortunately, I don't think it's enough to keep her in the competition. Her vocals were so much better and I thought she looked really pretty. However, with her past performances, it's been a downward thing for Lakisha and she's actually the most obvious choice to leave. If the untrustworthy DialIdol is to be believed, then she'll be the next to go.



Jordin Sparks - "Woman In Love" (Beegees) 4
I'm not sure what pitchy sounds like, but it seemed like this was one pitchy performance. It was like she was straining her vocals to reach the high notes and I know Jordin can reach them without trying too hard. Then Simon disses her -- but not on the same level of dissing that they gave Blake. This was more of a softened diss. And what's up with the pained smile on Jordin's face? I'm sure it's painful to hear criticism, but you don't have to keep smiling. Frowning isn't disrespectful, it's honest.


My Bottom Three
1. Lakisha Jones
2. Jordin Sparks
3. Melinda Doolittle

I obviously don't want Blake to leave. I could care less who went as long as it wasn't Blake. After the boys got the boot last week, I really don't give a crap about the girls. It's like the boys were my reason for watching this show and now that Blake is the only one left, I'm going to concentrate all my love for him. SAVE BLAKE LEWIS!!!

Will Blake Lewis be saved by the combined votes of the Phil fans and the Chris fans and the CAKE fans? Or will the producers kick him out just for the sake of that stupid "Three Divas" top 3? Seriously. A top 3 without Blake would be so damn boring. I might not even recap it. Ooooh, threat. But yes. I'm so annoyed at how the kickouts are going, they better not kick Blake out. SAVE BLAKE LEWIS!