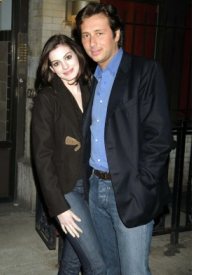 It's no secret I wish I were a celebrity -- or a celebrity girlfriend (to Jake perhaps?) And though I read gossip blogs every single day, I don't really idolize the ones that come out there so often (Lindsay, Paris and more Lindsay). There are few girls in Hollywood that I actually really really love. There's Jennifer Garner and then there's Anne Hathaway.

Now Anne Hathaway isn't exactly everyday tabloid fare. That's why when I actually see some news on her, I actually get a little excited. She doesn't come out in gossip blogs often, unless she's promoting a movie, so any glimpse of her (for me is fabulous).

If Jennifer is laying low, Anne is practically nowhere to be seen. She's very private, which just makes me want to know more about her. She's been with her boyfriend Rafaello Follieri for a few years now. He's non-showbiz and I guess they really love each other to have lasted this long together.

I love non-showbiz boyfriends/girlfriends cause they give these celebrities some perspective and well they're more in touch with reality (and of course the fact that I do wish to be the non-showbiz girlfriend of Jake Gyllenhaal. But that's not the point here. I don't know much about Rafaello Follieri, but I don't think this news is going to work in his favor.
According to the lawsuit, filed in Delaware Chancery Court, Follieri spent at least some of the gigantic money pile on private jet travel for himself and Hathaway, dog care for their Labrador Esmerelda, monster shopping at Prada and Fendi, and an executive chef, among other extravagances. The money was supposed to be poured into development of land purchased from the Catholic Church, which is Follieri's business specialty. Burkle, a fatcat Democrat, counts Bill Clinton as a friend, and was among recent bidders for the Los Angeles Times. -- Taken from TMZ
To think Rafaello is a rich guy. He's from some loaded Italian family! He doesn't need to steal. He's got enough money on his own. I don't know if this is real, but since I was never a fan of Rafaello (I think Anne is way too pretty for him and way too young too), I think Anne should just end this thing.

Anne! I know you love him! But wake up girl! This guy is being accused of money laundering or something evil along those lines! Get away while you can. You don't want to get caught up in this craziness. You're so beautiful, I'm sure you'll find a worthy boyfriend. And Anne's worries don't end there. Apparently, he's also up to no good in the love department.
For Hathaway, the bad news about Raffaelo doesn't end there. TMZ has also learned that while Anne has been shooting "Get Smart" in L.A., Follieri has been spotted in NYC with an unnamed model for Roberto Cavalli, and that Follieri and his not-Anne were recently seen slithering out the back of exclusive celebriteria Waverly Inn.-- Taken from TMZ
If the supposed money laundering didn't get to her, I hope this will! Anne! He's not only cheating his clients, he's cheating on you!!! Don't let the Italian "good looks" get to you. Dump this guy and run! Preferably into the arms of a more worthy normal guy -- or a down to earth Hollywood actor.

But really, in the end, this is a lesson for me too. I can't blame Anne for falling into this trap! This guy probably didn't show his true colors 'til things got serious. Of course, all this is merely speculation, but you've got to keep an open mind when you're in one of these things. That's why Pamy and I have vowed to knock sense into each other just in case we end up with Jamie Cullum for her and Jake Gyllenhaal for me and we're caught up in a not good situation -- where Jake or Jamie turns out to be an asshole (I hope not though). Anne, this is your wake up call! Snap out of it!!!