I don't know about you guys, but I always try to guess what the idols will be singing each week. And since this week was Bon Jovi, that sort of narrowed it down. Now, I happen to be a closet Bon Jovi fan. I love "Livin on a Prayer" and "It's My Life," as they're the perfect Magic Sing fare, but it doesn't mean I'm any good at it. Anyway, Entertainment Weekly also does their little prediction and guess what? Those freaking sages, got two of them right tonight (Phil and Blake!). Damn it! What is in their water?

The "rock" genre is not easy to pull off, because you can't coast along by just being charming, you've got to have the pipes (without screaming) and the attitude (without trying too damn hard). I know I'm no rockstar, but I've watched enough Rockstar: INXS and Rockstar Supernova to see what it takes to be a rawker. Let's hope the Idols give it their best, because as we all know, tomorrow, two get the boot.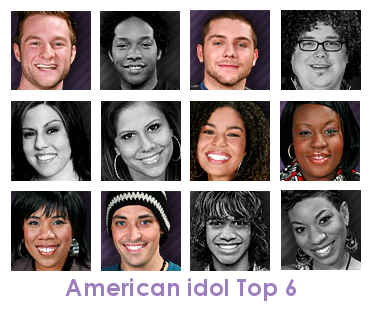 Phil Stacey - "Blaze of Glory" (Bon Jovi) 2
For me, Phil was the only "authentic" rocker of the night. I'm not even familiar with the song he chose, and yet I totally felt the sincerity in what Phil did. His vocals were amazing and he was just giving the performance of his life. I'm really afraid for Phil because Simon just had to put him down. And to think he actually started "rock" night really well. It would be so devastating if he left before Lakisha and even Chris R. I really feel for Phil and think he deserves to stay even just one more week.



Jordin Sparks - "Livin' On A Prayer" (Bon Jovi) 5
This happens to be my ultimate Magic Sing song. I have to sing this every time (with "Lady in Red" and "All for Love" of course). That's why I was a little disappointed with Jordin's rendition. I think the guitar guys beside her restricted her from making anything out of her song. For me, it's rock week, so you've got to be over the top. Vocally, it wasn't bad, but it wasn't good either. I was expecting a tidal wave from Jordin, but all I got was a little current. And I don't want to use Jordin's age and inexperience as an excuse, because when she nails something, they're in awe 'cause she's so young. Yet when she flubs, it's used to her advantage again. I like Jordin, but this just wasn't much.


Lakisha Jones - "This Ain't A Love Song" (Bon Jovi) 4
She had to tweak it in her favor. Lakisha sang the most ballad-y song Bon Jovi ever sang and I can't blame her. She knows what works for her. For me though, it was just alright. Again, it's rock week, I'm expecting her to have me jumping into the mosh pit and yet, I'm shying to the bar. This song just didn't do it for me. She's been on a downward spiral ever since "And I'm Telling You" and she just hasn't fought back. She already got one week more (because of last week's non-elimination), but it's time for Kiki to go.

EDIT: However, watching it the second time around, Kiki was actually pretty damn good. She may not have looked the best, but if she got Simon to stand up and kiss her (so jealous), it must have been pretty damn good. Now here's the thing, I want Lakisha to go, but I wouldn't mind it if Jordin went ahead. She's too strong a competitor for Blake, so we need to eliminate the threats. Oh and a Philippine Idol flasback: Mamita kissing Jan Nieto after his performance was so like Simon kissing Lakisha except this time I didn't cringe.



Blake Lewis - "You Give Love A Bad Name" (Bon Jovi) 1
BLAKE LEWIS IS ONE HOT BRUNETTE! Seriously, this boy so hot he's on fire hunk just went all the way, over the top, rocking it out, leaps of faith, cross-genre bending, blazes of glory. He does not give Idol a bad name. Okay, so Bon Jovi was a little skeptical with how Blake had planned things (and I can't blame him, as he did sing the original), but by golly did Blake's performance shut everyone up -- or rather, got them standing and jumping along. Blake Lewis is one rocking sex god!

This guy knows how to rework a song, totally undermining this week's genre and yet totally coming out on top. We got a little reggae, a lot of rock and of course, the beatboxing. Thing is, Chris gets a lot of the comparison with Justin Timberlake, when really, Blake should too. I'm not saying it's a bad thing of course. JT is hot. Blake is hot. Therefore Blake can be equal to JT, so to speak. For diehard *NSync fans out there, you should remember that part in the *NSync No Strings Attached Tour live from Madison Square Garden performance wherein Justin does a little duel with the drums. He beatboxes and alternates with the drummer. When I saw Blake tonight, it was eerily familiar and I can't say anything horrible about Blake because he just brought the house down -- homage to JT or not.

I finally saw him come to life. I can't say much about his eyes, but his performance was electric! He had just enough rocker in him to make it work and yet he didn't do it the traditional rocker-screaming-growling-his-balls-out route. He totally was true to himself and made the song work for him. And I don't even like this particular Bon Jovi song, but he totally made it my favorite.

I also noticed that Blake has this habit of pointing to the sky. Seriously. He can't help himself. I counted how many times he pointed to the sky in this ONE performance. Guess what? A total of 21 times!!! I'm not saying it's a bad thing, it's just his little quirk I guess. But seriously, it was too hot to even watch him.

And the hair?!? The hair is so hot on Blake. Who knew he'd look so damn fine as a brunette. I love how the darker rocker look was made to suit the theme. Blake is the total package! If he doesn't win this thing, he should at least make it to Elliott-Yamin-level of third place, complete with diehard fans. This guy must make an album now. HANDS DOWN, the BEST OF THE NIGHT!!!



Chris Richardson - "Wanted: Dead or Alive" (Bon Jovi) 6
Now people are always picking on Lakisha for singing songs of past Idol-winners, but at least she picked the winners -- they must be good if they're winners. When really, they should pay a little more attention to Chris too. He's been singing songs by past Idol-finalists (who didn't quite win it). There was "I Don't Wanna Be" by Elliott Yamin. There was "Tonight I Wanna Cry" by Ace Young and of course this weeks "Wanted Dead or Alive" By none other than the rawker master himself Chris Daughtry. And unforunately, Chris R didn't exactly do the song justice. I could barely watch it. I like Chris, believe me -- the Boss still gives me shivers -- but this song was just "nasal-y" even if it is his style, it just didn't suit the song. I don't want Chris to go just yet -- I'd rather kick another girl out (even Melinda), but if Phil goes before Chris, I'm going to stage a protest. Because this week, Phil >>> Chris



Melinda Doolittle - "Have A Nice Day" (Bon Jovi) 3
Name a genre. Any genre. Melinda can do it. As usual, Melinda gives a great performance. I'm just not sold on her. Yes, after all these weeks, she has yet to give an out of tune performance, but it's not just the vocals, for me at least. I have to see a fire in her and well, I can't. Vocally, this woman is on a league of her own, but performance wise, there are others who can so beat her i.e. Blake Lewis. The thing is, we're so used to her being the best, that we fail to see the others who are working their asses off to shine more than her. And she got the pimp spot tonight! They're obviously trying to save her in order to have a Jordin-Melinda finale, which is okay, but not something I'll be EXCITED about. Melinda was great this week, but really, what's new?


My Bottom Three
1. Chris Richardson
2. Jordin Sparks
3. Lakisha Jones

Half of them soared tonight and the other half was just trying so hard to "rawk it out." Like country week, this week isn't something that's easy to pull off. Still, to be the ultimate Idol, you've got to jump through every hoop with flying colors. The six have been given one more week to live and I don't think everyone took advantage of this. But because of last week's 70Million votes, this week's votes won't really matter much. And that isn't good.

DialIdol has been a little more accurate these past few weeks, so I'm really hoping that Blake and Phil are safe from elimination. I love Chris, but there isn't much we can do, unless of course, y'all voted the hell for him. Tomorrow's double elimination is going to be long and scary, that's for sure.