How can you resist that? I'm not even the hugest fans of babies and all, but seeing Jake Gyllenhaal pushing around his niece, Ramona Gyllenhaal-Sarsgaard (sister Maggie is the mom and Peter Sarsgaard is the dad) makes me want to be the one next to him strolling in New York City, pushing our baby along in his Bugaboo Stroller!

I can't imagine how Ramona will learn how to spell her name -- it's so long and full of A's, but I digress. Of course, when the paparazzi get a shot of me, I'll be looking my casual best. The normal mommy look a la Jennifer Garner, yet having that air of super hotness. Ack! Only Jake (and a handful of hot celebrities) can give me this feeling of wanting to push around a stroller (it can be empty for all I care)!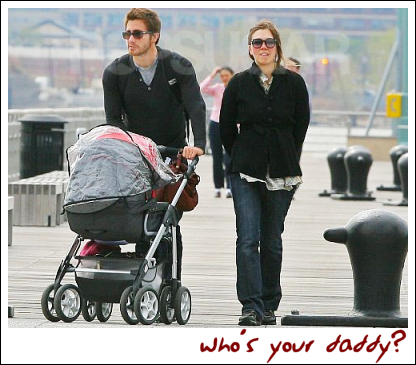 now that's a hot uncle [PopSugar]
Whale Rider Oscar nominee Keisha Castle-Hughes and her boyfriend, Bradley Hull, welcomed their first child, a healthy baby girl, her rep tells PEOPLE. The child, named Felicity-Amore, was born Wednesday at 6:35 p.m. and weighed 7 lb., 6 oz. Publicist Gail Cowan described the baby as "beautiful." -- taken from People
Speaking of babies, 17-year old actress Keisha Castle Hughes gave birth to a baby girl! She's been in movies like, Whale Rider and The Nativity Story. She played Mary in the latter, and I guess she got so inspired by her role as the Blessed Mother, she got herself pregnant too (not by Immaculate Conception though). And the "coolest" part is, her boyfriend, Bradley Hull, 22, is a carpenter too (just like Joseph -- Mary's husband)! Talk about life imitating art.