Probably one of the most boring shows I've watched so far. And it wasn't even bad. The thing is, they've pimped this special show so much, I was really expecting New years style fireworks and all I got were lame lusis. Seriously. But it doesn't mean I wasn't looking forward to the show. Idol really is the highlight of my week -- sad but true.

Tomorrow will be another drag though. 2 hour torture before they announce the kickout. Unless the shocker Ryan was talking about is a non-elimination week, but that's just wishful thinking. Or are they really going the Philippine Idol route by having a three way finale? That's still a long way from now, and yet I actually can't wait to see who wins this thing. Hopefully, one of the boys. Yeah right.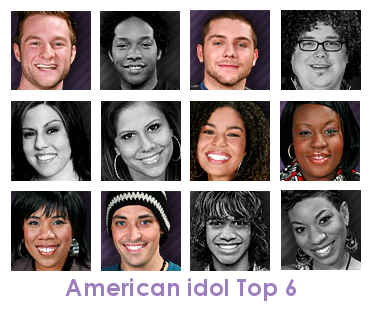 Chris Richardson - "Change the World" (Eric Clapton) 1
And Chris is back in the house! For some reason, I really really really enjoyed his performance. I'm even so bold to say it was my favorite performance of the night. Why? One, the song choice was great. And yet, he made it his own. It was entertaining. I was not bored for a second. I was looking at him the entire time -- I think his charm had something to do with it. His vocals weren't even half bad. Go Chris!



Melinda Doolittle - "There Will Come A Day" (Faith Hill) 6
Simon called Elliott Yamin's performance of "A Song for You" a Vocal Masterclass and I totally agreed with it. This year, he gives it to Melinda -- and I don't think this specific performance deserves it. The thing with Melinda is, yes her vocals are stellar and she's a professional but for some reason, I'm bored with it. I don't feel the emotion. Her face has a lot of expression and yet I'm just not feeling it. She's an incredible performer, but not doing it for me. Melinda will have to really wow blow me away again. Tonight, not.



Blake Lewis - "Imagine" (John Lennon) 4
Here's my deal with Blake. I love him. We all know that. He's got an amazing voice. That's a given. But I find his eyes are DEAD every single week. He's very calm about his performances and that's probably his style, but I'd like to see him with a little more emotion. I have to congratulate him for picking the hardest song to sing because of how simple it is. Blake, I was expecting so much more. You're supposed to be pimping yourself to the max and yet tonight it was still that confident calmness. Don't rest on your laurels boy! SAVE BLAKE LEWIS! I want this guy to make it to the end.


Lakisha Jones - "I Believe" (Fantasia Barrino) 5
This girl really doesn't get it! Last week, she took on Carrie, and this week she does Fantasia. Believe me, I'm not a fan of either winner and yet I still think they're originals were better the first time around. Those songs were written for them. Lakisha, you can't recreate it. I Believe it's Lakisha's time to go. She's the "weakest" link -- I never thought I'd say this based on her first performances. But she's gotten lackluster week after week. Not impressed, but as Pamy told me, for some strange reason, we liked her better than Melinda tonight. Oh noes.



Phil Stacey - "The Change" (Garth Brooks) 2
Phil Stacey is doing that one-two punch thing this week. With last week's stellar performance, he comes back with yet another amazing number! His vocals are just blowing me away. Do I think he'll win? Of course not, but I want him to last longer than Lakisha, that's for sure. I didn't even notice that it was a country song, because Phil, made it his own too. The tone of his voice was just perfect. He started it well and ended it perfectly.



Jordin Sparks - "You'll Never Walk Alone" (Carousel) 3
Inspirational: Yes. It doesn't mean I like it. This happens to be a song I really don't like. I found the song to be a little too slow and boring. Thing is, I can't blame her because it's inspirational week. But look at Chris, he spiced it up and made things groovy. Jordin, I know you can win this thing -- just make me root for you. I don't agree with Simon -- I felt like it was a 60 year old.


My Bottom Three
1. Melinda Doolittle
2. Lakisha Jones
3. Blake Lewis

Oh no, Blake and Melinda are in my personal bottom three!? Yes, unfortunately. Here's the deal. I love Blake to bits, but he's going to need to step it up. And Melinda has to be a little less boring. Hopefully though, Lakisha goes tonight. I've had enough of Kiki. Somehow, Sanjaya's absence is supremely felt. This show was so blah.

DialIdol says that my Chris is the next to go. But really guys, he doesn't deserve this. Not this week. If Melinda has to go, I really don't care. I'm that unattached to her already. I used to super love her, but now it's just all about the boys. Save the hotties! Lose the divas!!!