I'm a popholic at heart. Back in grade 2 or 3, the Spice Girls came into existence and the fangirls in everyone came out. Yes, there were the Backstreet Boys who you could crush on, but the phenomena of the Spice Girls was something else.

Everyone wanted to be just like them. I had a hard time choosing between Sporty Spice and Posh Spice. There were lollipops with their tattoos inside them, there was the movie, the stickers and of course there was the music. Then they sort of fizzled and my fangirl-ing for them also died, but it's always nice to see them, especially when they're together. I usually see just Victoria and her hot husband, so it's refreshing to see the other girls in tow.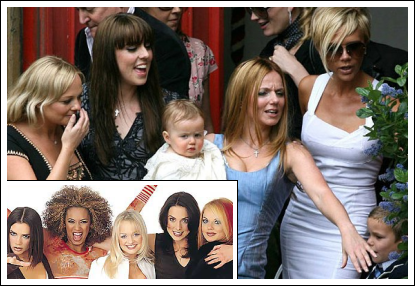 Baby Spice Number 2? [Just Jared]
The Spice Girls — who zig-a-zig-ah'd their way to fame in 1996 — attended the christening of Geri's 11-month-old daughter, Bluebell Madonna, at St. Michael's Church in London on Sunday. Victoria, 33, is Bluebell's godmother. Emma, 31, is expecting her first child this summer with boyfriend Jade Jones -- taken from Just Jared.
Victoria still looks stick thin and the Emma has a little more weight (but that's cause she's pregnant), and well, Mel C is still Mel C. Mel B. isn't around but she has a baby too -- was she the reason the girls broke up, I'm not sure. Geri looks fabulous though! I think she really bloomed after the Spice Girls. I hope they don't do a comeback thing, because for me, things are better left as it is. I heard that Take That did some comeback thing and that's just sad. It's better to remember them as a great thing.