I'm not a country-music person. I can tolerate a little Faith Hill, the pop-ier side ofShania Twain and even Martina McBride (just one song folks, just one song) but that's as country as I'm going to get. That's why I wasn't Carrie Underwood's supporter in season 4 and you wouldn't catch me carrying Bucky Covington's poster in the crowd if my life depended on it.

Still, I totally understand why they keep having this theme each year, but it doesn't mean I enjoy it much. Thus, I wasn't expecting much out of tonight's performances. I just really wanted to see if my favorites would do well enough to last the next week. Again, I'm not a country fan.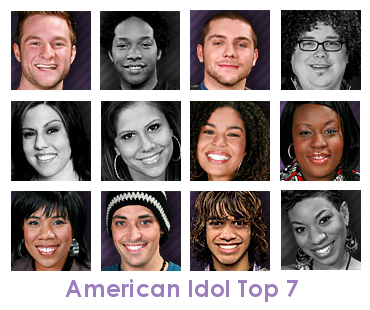 Phil Stacey - "Where the Blacktop Ends" (Keith Urban) 3
So does this mean Phil is a country singer? Because the judges seem to love him this week. I have to say his voice was great as always, but why did they choose to pimp him tonight? Is it the consecutive bottom 3 placement that scared the shit out of them? Either way, I liked Phil's performance even if I wasn't such a fan of the song. He was so comfortable, and so at ease, and I totally saw personality. I loved how he was interacting with the audience and didn't look awkward while doing it. And he takes comments so well -- good or bad. Phil is just so amazingly humble. I'm just happy the judges liked him and hopefully people will vote for him tonight. Phil needs to stay one more week. Seriously.



Jordin Sparks - "Broken Wing" (Martina McBride) 1
Simon said she could win it and he could be right. Jordin's performance this week, during a night that isn't exactly her forte, is a good indication. She could be the Diana DeGarmo of this season, to Melinda's Fantasia Barrino, but that's just me. Or who knows, she could beat Melinda to this. In fact, I think it was the best performance of the night. Jordin looked fabulous in her prom dress and her performance was just flawless. It was a slow song and yet she didn't bore me. Her notes were all hit on the dot and she just really glowed. Amazing performance, and I don't even like country.



Sanjaya Malakar - "Give Them Something To Talk About" (Bonnie Raitt) 7
Well Simon is really giving it to him this week. Don't they want all the Fanjaya's voting like crazy next week during "Idol Gives Back?" I guess not. I wasn't so appalled by his singing. In fact, it was sort of decent. And I might get flamed for this, but I actually sort of enjoyed it -- complete with dancing (a bit) with the back up singers. But is it really on the same level as the best performance tonight? Not even. Sanjaya should have gone a long time ago, but I think having him in is really for entertainment purposes. Of course, I'd rather he leave before Blake goes. So if it's his time to go, then please voters, put down those phones.


Lakisha Jones - "Jesus Take the Wheel" (Carrie Underwood) 6
I'm not even a fan, but I have to say that you don't sing a former contestant's song on the show. Remember Lisa Tucker singing Kelly Clarkson's Because of You last year? Oh yeah, she got the boot. But I'm not saying Lakisha didn't do it justice. I'm just saying, it wasn't up to par with the rest of what she's done. I'm afraid that she's in trouble because of this, but nothing's for sure. I wasn't jumping out of my seat when she sang this and she didn't take my breath away. Then again, it's country night.



Chris Richardson - "Mayberry" (Rascall Flats) 5
Everyone knows that I love Chris Richardson, but for some reason, tonight I just wasn't digging it? Was it because he wasn't able to impress me with some JT-esque moves? Or because he wasn't able R&B-fy this song? Maybe it was the song itself. Despite that, Chris managed to sneak in as many riffs as he could, and boy did this kid charm me. He was so cute. Chris didn't do much for me tonight and again I can't blame him. If not for the violin player with the long greasy hair, there would have been nothing that screamed country about Chris's performance. Country is something not everyone can pull off.



Melinda Doolittle - "Trouble is a Woman" (Julie Reeves) 2
Melinda can't do anything wrong. She's a country singer too? Apparently so. Thing is, this sounds like her I Am Woman performance, and I guess that's a good thing because she was spectacular in that performance. Not her best, but considering it was country night and she's not a country singer, Melinda did fabulously. Her stage presence was strong and she owned the thing. Thing with Melinda is, I want her to win -- sure why not, but if she got the boot tonight, I would feel bad and then be okay about it the next day. I'm not sooooo attached to her. HI have to say though, she looked fabulous tonight. I think Melinda should wear tube tops more because it makes her neck look longer for some reason. I loved how she looked. Still, just for the record, she does not deserve to go, obviously. This girl is in it for the win.



Blake Lewis - "When the Stars Go Blue" (Ryan Adams) 4
When I first saw the title of Blake's song, all I thought was: Haley James Scott and Chris Keller!!! For One Tree Hill fangirls who also love Blake, this would have been the ultimate song choice. I thought Blake did a great job on it. I haven't heard the original, so I'm used to it being a duet, but I wasn't complaining with Blake's version of it either. I don't think Blake made use of his pimp spot too well, but I'm definitely not complaining about his performance. He looked so calm (as usual) wearing his plaid (as usual) shirt and non-denim (as usual) jeans. It was just like any other of Blake's usually great performances. I'm afraid he needs to step it up next week though to make it to the top 5. So why is he in the bottom 3 of DialIdol? I have no idea. He obviously DOES NOT belong there. BlakerGirls assemble and SAVE BLAKE LEWIS!!!

My Bottom Three
1. Sanjaya Malakar
2. Lakisha Jones
3. Chris Richardson

Simon has been a real pain tonight and I can't really blame him. I can't say I love this theme and him being British, is the farthest person I can see enjoying it (not that I'm generalizing or anything). But please, I know I put Chris in the bottom 3, it still doesn't mean I want him to go.

DialIdol is scaring the shit out of me. Yes, it's got Sanjaya at the bottom but guess who's right above him? OUR BLAKE!!! Save Blake Lewis. It's too early for him to go. He needs to make it to next week. I hope all those BlakerGirls dialed their fingers sore. Seriously. SAVE BLAKE LEWIS!!!