Summer is all about lazing around and eating a lot. Oh wait, that's what my entire year is all about. Except that in summer, we do everything to the infinite power.

Pamy has had some pretty weird cravings lately. She was so desperate for donuts, she went all the way to Megamall just to get her hands on some Krispy Kreme. It's shocking because Pamy is the laziest person I know and yet when she's totally fixated on something, she'll do whatever is needed to get it. Lucky for us, we had 3 dozens of freshly made donuts to feast on.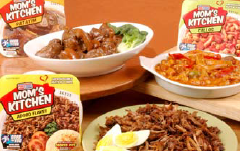 And because the donuts were too damn sweet, we had to eat something else to remove the saccharine sweetness from our mouths. What better way to get rid of this than with good ol' preservative filled canned goods? I know these are carcinogenic and filled with MSG and preservatives and lord knows what else, but hey, I love the bad stuff.

We opened a can of Mom's Kitchen Dinuguan and well, it definitely satisfied our craving. It tastes like real dinuguan except that it's freaking instant. I don't even know how to make dinuguan exactly, so seeing that all I had to do was open the can (actually my mom opened it for me), is amazing! The only con was there wasn't enough meat in it, but for the amount we paid for it (not much), I wasn't really expecting it to feed all my siblings. And apparently, this comes in different variants. There's bopis, patatim, adobo flakes and who knows what more?

Congratulations San Miguel for creating such a wonderful product. Mom's Kitchen Dinuguan is climbing the charts of my favorite canned good for now. You're already up there with canned goods like Laing, Corned Beef and Tuna in Oil. You've got one junky satisfied. I'm definitely going to go raid SM Hypermart the next time we're in the area because I'm all about hoarding and these little babies are too good to pass up. Hello preservatives! Hello pigging out.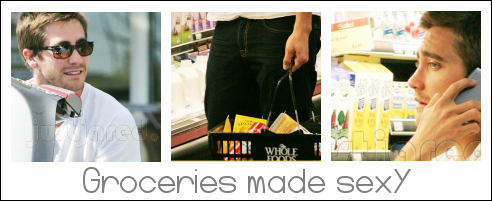 Photo taken from [JustJared]
Jake Gyllenhaal picks up some groceries (for two) at the Whole Foods Market on Friday afternoon in West Hollywood, Calif. On his way out, good boy Jake listens intently to a rant by a heckling consumer advocate campaigner from CALPIRG. -- taken from JustJared
Apparently, I'm not the only one out doing my groceries. Jake Gyllenhaal is looking mighty fine while shopping for two (?). Does he need a bag-girl? Because all that weight training (back in first year) could definitely come in handy. I'll even carry your bags free of charge. What do you say, Jake?