Seriously, can the weather get any hotter? It's 34°C over here and I'm sweating and sweating and sweating some more. If I don't lose weight this way, I don't know what technique will work. I'm glad I didn't have to go back to school today for registration. Yesterday, lines were sooooooo long it's not even funny.

What sucks is, I wish it were manual registration instead of this crazy Real time CRS thing. Why? Because manual registration is ideal for people who want to cancel subjects (i.e. ME). It's ironic because last semester I needed subjects and it was manual enlistment (it would have been better if it were electronic) and now that I need to cancel, it's electronic. God is really funny.

Nevertheless, the long lines plus extreme heat is the perfect combination to get the students sick before classes even start. What a lovely summer this is going to be.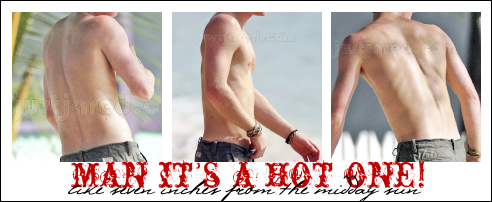 Photos taken from [JustJared]
Royal hottie Prince Harry satisfies his need for speed as he enjoys a jet ski ride during his Barbados vacation. The fun-loving royal shills out about $27,000 on a luxury villa at the island's Holetown resort. Talk about making the most of life before being shipped off to Iraq (he leaves in May).

-- taken from JustJared
As if summer wasn't hot enough. Here goes my Prince Harry, strutting around in the Barbados without his top. This guy really knows how to work up the paparazzi. I'm glad that Chelsy is nowhere in sight. He's so hot, I didn't even have to put his face in the pictures. His back is hot enough on it's own.