Jennifer Lopez is looking really good. I can't say she's the most Latin singer on earth, considering she's forayed into the R&B-Pop domain, but I guess because of her new Spanish language album coming out, she needed the publicity.

I was a little afraid about this week's performances. I was afraid someone was going to sing Ricky Martin a la Jan Nieto, and well know how that turned out. Thank god for their song choices tonight because really, it's all about the songs.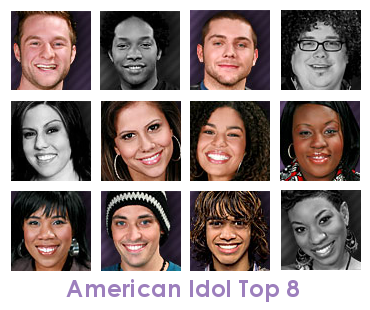 Melinda Doolittle - "Sway" (Dean Martin) 4
I can Pamy can attest to how much I just love this song. And then Melinda chose to sing it, it's a win-win, right? Not really. I liked her performance, it was flawless as usual. But for some reason, I wasn't sold on it. She looked so classy, and that's not a bad thing, but I was hoping for more personality, more pizzaz! It's Latin week, make me feel the heat. She should have taken a few sexing-it-up lessons from Haley dear, and in return, she can give Haley a few singing lessons. It was a little tame, performance-wise. Her vocals were still awesome though.


Lakisha Jones - "Conga" (Gloria Estefan) 6
I like this song. It's a really fun song, but for some reason, I didn't have a lot of fun with Lakisha. Her vocals were of course, spot on -- she isn't a diva for nothing, but I didn't get anything else from her. Again, I was expecting a lot from her, because compared to last week's stellar performance of "Stormy Weather," this week was just a little tamer and it should have been more fiery considering it's Latin week.



Chris Richardson - "Smooth" (Santana & Rob Thomas) 5
Chris, I still want your babies, but not this week. I thought he had a hot performance, but his vocals could have a little more work on them. At first listen, I thought he needed to be on a different key, but it all turned out good, because he hit every note. Then I watched his performance and just died. This guy got the instruments on stage (pimpspot much!) and just worked it. I thought he did a great job. Not his best, for sure, but still wonderful. Unfortunately though, he's not greater than his other half. Still, Chris is the shit.



Haley Scarnato - "Turn The Beat Around" (Gloria Estefan) 8
Wow, this girl chose my FAVORITE Gloria Estefan song, and I'm not being sarcastic. I would have wanted Melinda to sing this, but I can't have it all. I thought Haley actually looked good tonight. I guess the girl is in her element. She dressed the part, and sang it well enough. Am I rooting for her though? Not really. Simon was right in saying her tactic was wearing less clothes. I would have enjoyed it more if she were just in a bikini bottom that had fringes on it to fashion a skirt, but hey, I won't complain.



Phil Stacey - "Maria Maria" (Santana & The Product G&B) 3
I think Phil will forever have a special place in my heart, because despite what the judges said, I really liked Phil's performance. I thought the tone of his voice was wonderful. I would have wanted Chris to sing this, but hey, I won't complain, it's Phil after all. I have this strong feeling he's going to get bottom 3-ed this week, like every other week. Not good. The judges really want him gone, but I want him to stay and I think his performance makes him deserve to stay a week more. And hey, he didn't need to show off his legs either (then again, I wouldn't want him to).



Jordin Sparks - "Rhythm Is Gonna Get You" (Gloria Estefan) 2
Not my favorite choice for Jordin, but she did really well with it. Her vocals were of course really really great. She's actually priming herself to take Lakisha's place because it looks like the other diva's on shaky ground. Still, I found the song to be a little boring. I felt nothing from her. The song was kind of redundant and there wasn't any high point in it. That isn't Jordin's fault, but she could have chosen a more upbeat song (yes even more upbeat than this). Still, she did okay and the judges seem to like her, so she's practically safe.



Blake Lewis - "I Need To Know" (Marc Anthony) 1
And Blake has brought SexyBack! Seriously! What a comeback performance! And to think I DON'T EVEN LIKE THIS SONG! But Blake made me loooooooove it. He totally erased the image of gangly Marc Anthony from my head and just imprinted his sexiness all over my brain. Seriously. When this guy moves, it's like melted butter being poured over warm popcorn. So smooth. This guy is the shit! It's like his feet never leave the ground and yet he's gliding over the entire stage. I just wanted to go up there and rip his shirt off! Blake, I want YOUR babies this week. At the rate they're going, I'll have a brood of twenty before this season ends. Blake for the win!!!



Sanjaya Malakar - "Besame Mucho" (Emilio Tuero) 7
I actually thought Sanjaya did a pretty good job. My mom said he looked like one of Jesus' apostles, and I'm not going to disagree. I thought looks-wise he was trying too hard with the 'stache and the wavy-sexy-curls ala Ace Young complete with the trying to eye-fuck the camera, but it wasn't working for me. this kid is lucky because he got not only the coveted pimp spot but even the lighting pimp spot! It was the works. Nevertheless, I thought his vocals were okay. I'm not jumping out of my seat but it was alright.

My Bottom Three
1. Haley Scarnato
2. Sanjaya Malakar
3. Lakisha Jones (gasp!)

I'm not Latin music's biggest fan. This, along with Country Night, are my least favorite themes. So why the hell did I enjoy their performances so much? I think I can pretty much blame the THREE hotties for making it so much spicier. I really hope that Blake, Chris and Phil are safe because they brought enough heat to light my fire.

If DialIdol is to be trusted, then I will be a happy girl tomorrow during elimination, but will that actually be the case? I highly doubt it. It seems like they keep putting our Phil in the bottom despite his great performances. Well, I'm keeping my fingers crossed.

Happy Blake Lewis Day!!!