Need an easy way to kill me? Just show me a picture of Prince Harry snogging his girlfriend (who isn't me, of course). Fast, easy and clean. You won't need any knives or poison, because just the sight of them will kill me instantly.

I died with jealous when I saw my Prince Harry (yes, my prince) planting a kiss on girlfriend Chelsy Davy. How adorable is he there, giving her a kiss on her shoulders? I just melted to the floor. And they're in public! This royal doesn't care at all, and that makes me love him even more. He must get away from her! I'm so afraid these two are going to end up together and I won't get to fulfill my dream of marrying him and becoming a princess!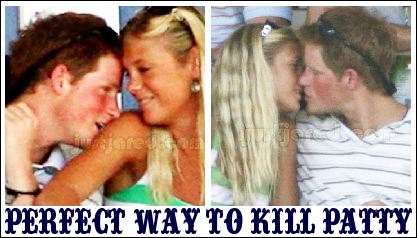 They just don't care [JustJared]


What's the point of my saving up so that I can go to the 2012 London Olympics to meet him at some pub and have him fall madly in love with me (a la Mary Donaldson and the Prince of Denmark at the 2000 Sydney Olympics)? Chelsy, if you know what's good for you, you're going to stay as far away from me when I'm in London in 2012, considering you haven't tricked Harry into marrying you, yet. Oh Harry, what am I going to do with you?!?

I was doing the rounds of gossip blogs when I stumbled upon this video of Fergie and Charlotte Church performing Dolly Parton's 9 to 5. I'm not a huge fan of country, but I really enjoyed their performance. Come country week on American Idol, Jordin can so pull this off. Or Melinda can sing it, but it's a little reminiscent of her I Am Woman performance -- the message is practically the same.


Pregnant Welsh singer Charlotte Church performs a duet on the Easter special of The Charlotte Church Show with Fergie — their own rendition of Dolly Parton's "9 to 5." Charlotte, 21, is expecting her first child with rugby player Gavin Henson, 25, in late 2007. The couple are reportedly planning a lavish wedding on a country estate, Margam Country Park in west Wales.

--taken from JustJared
First off, I didn't know Charlotte Church had her own show. Second, holy crap, she's pregnant!!! Well, she's looking really good in this video. Actually, she and Fergie were really good in this. I keep watching it!