Easter was pretty much uneventful, other than my excessive sleeping and eating. I was so lazy, I didn't even touch the computer for days. Now that's a feat! I love spending the long weekend in bed.

Still, in between lazing around in bed, I managed to insert some Lenten practices. I actually attended three 'Ways of the Cross' in three consecutive days (I was surprised at myself, believe me). I attended a procession and all the masses that came with it. Seriously, talk about reformation. Not that I'm any holier, but it felt good to be good, even just for a few days.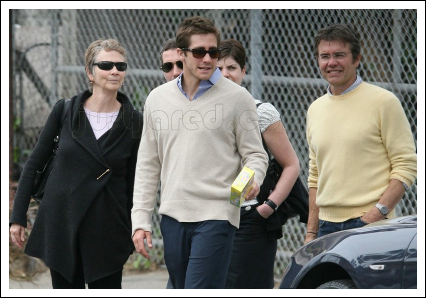 We all know where Jake got his good looks from [Just Jared]


Dear boyfriend, Jake Gyllenhaal, on the other hand spent his Easter out and about. His rumored girl, Reese Witherspoon meanwhile, spent her Easter out with her kids. Despite Maecy's insistence that they're seeing each other, I refuse to believe it, 'til I see them holding hands in a paparrazzi shot. I have nothing against Reese, I'm just jealous of course.

After the lazy weekend, we finally got out of the house. And for some reason, I was in a buying mood -- very rarely do I feel this way. I ended up buying a few things for myself. I bought Something Borrowed and Something Blue. I had wanted to buy these since forever (I have strange affinity to cute covered books and partner books of sorts) and now that I have GCs to spend, whey not, right? This was of course, thanks to the gift certificates given by my lovely godfather for my birthday.

And for some stranger reason, I've been really into dresses. I ended up buying an orange dress from Bayo. I was more surprised that I fit into their clothes and that I could afford it, so I snagged it. I usually find clothes in Bayo sort of expensive, so I shy away, but this dress was actually pretty "affordable."

Finally, to cap of my "shopping spree," today we went to Greenhills and my mom got me two shirts. Lovely. That's the extent of my shop 'til you drop, of course. I don't think I could ever let myself go and just splurge. I was already guilty after buying these things. I'm such a turd.