Every year, this is probably my favorite theme because the selection of songs are just so fabulous! This year though, I think the Idols have surpassed any other idol season when it comes to this theme. First off, song selection wasn't the USUAL *cough*thewayyoulooktonight*cough* I'm so happy with the song selection save for one.

Second, I really think they brought it tonight. Of course, that's just me. It's going to be so difficult to rank them because really, they were pretty fantastic. I mean it. Fabulous. Fantastic.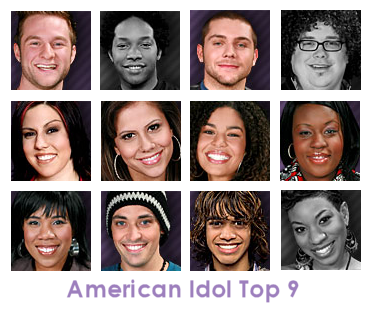 Blake Lewis - "Mack The Knife" (Bobby Darin) 5
Amazing much? I love the song choice! His rendition was true to the original, and yet for some reason, I felt like Blake totally made it his own. The scatting in the end was really amazing. There's just no stopping this guy and I'm really hoping his performing first doesn't go against him. And I have to say that Blake looked really really cute tonight in his gray suit doing all those smooth moves. Thank god he can move, because it sort of distracted me from his vocals. Calling all Blakergirls who can vote!!! Keep this guy in!



Phil Stacey - "Night and Day" (Fred Astaire) 6
Way to go Stacey! This was so good. After watching Delovely I loved this song eve more and now that Phil sang it, I'm just obsessed. I thought he started it great. He was able to sustain his vocals the entire time without going flat or sharp. Although it was a little mellow all throughout, I thought his vocals carried the entire thing. Amazing. And his suit! He looked so handsome in his suit. This guy can carry a coat and tie and look really dashing. And even if he wasn't moving around much, he totally didn't bore me at all. It was so sweet how he was just focusing on his wife the entire time. But the best part was how he didn't smirk or roll his eyes when Simon criticized him and instead gave a genuine aw-shucks smile. Gotta love the personality.



Melinda Doolittle - "I've Got Rhythm" (Ethel Merman) 3
I love how her song choice wasn't the usual. As usual though, Melinda nails it. From the beginning, she was just teasing us a little, then she goes to the fast part and just lets it all out, without trying too hard. Then she goes to the belting part and just rawrs everything out. Blew me away, for sure. The thing is, Pamy mentioned that her jaw drops when she watches it and yet Melinda isn't even trying to make our jaw drop. That's just talent. I'm not too happy with her hair, but her dress was really pretty. Lightyears away from her space costume last week. And might I say, she's got girls to rival those of Haley -- and at least it wasn't vulgar to look at.



Chris Richardson - "Don't Get Around Much Anymore" (Duke Ellington) 4
First shot of Chris and I die. What a pimp spot! The shot of his silhouette with the white back background seriously made me die of orgasmic delight in my seat. I'm going to say it now: Chris, I want your babies! And to think he hadn't even started singing yet. This is so reminiscent of The Boss for me. I love this song. I love this song and did I mention I love this song? Chris just nailed it. His vocals were spot on and he didn't strain with his notes, like he usually does. I have to say that he really did a fabulously fantastic job this week. He could have ended it with a big note, but he opted to bring it down a note and that was way better because he could have lost his air or something. His moves were just awww-mazing. I think he and Blake are teaching each other these moves, if you know what I mean. But really, with those guns, that voice, those looks and those moves, this guy must stay in the game!



Jordin Sparks - "On A Clear Day" (Barbra Streisand) 2
This girl is a little diva! She can win this thing if people aren't careful, and she really deserves it anyway, so there's no problem there. Her vocals were amazing. The song choice was so good for her. After last week's performance-performance, this week, she gives us a vocal performance. Go Jordin go! She can really sing! I'm afraid for her though. Because if she does win, I'm scared that she's going to wither away to nothing-ness/lose a lot of weight, when really she doesn't need to. She's so pretty as she is. I have this strong feeling she's going to conform to the weight standards, and that will really sadden me. Anyways, Jordin was exceptional tonight.



Gina Glocksen - "Smile" (Nat King Cole) 8
Probably my least favorite song choice of the night. Gina has a knack for choosing songs that I really don't like. I have to give her props though because this song could have been very very boring, but her vocals were pretty darn good that she was able to carry the song without me sleeping through it. Still not my favorite performance, it was definitely a good one. It's sad though because she still hasn't wowed me. I really want to like her, but her performances a tad boring, save for her vocals. I wasn't too happy about her outfit either, but that's fine.



Sanjaya Malakar - "Cheek to Cheek" (Fred Astaire) 7
Sanjaya Malakar, are you trying to make me love you? Go and flame me now, because I actually like this performance. I was reminded of the Sanjaya that auditioned before all the gimmicks, the ponyhawks, the crying fans and that website. Aside from his gimmicks (dancing with Paula), I thought his vocals were actually pretty good. This is probably his best performance so far. I'm thinking Simon was being sarcastic, because that was far from incredible, but definitely not horrible this week. Props to Sanjaya for not being "too gimmicky" -- oh wait, he did dance with Paula. So I take that back.



Haley Scarnato - "Aint Misbehavin" (Ella Fitzegarld) 9
And to think I ranked her the lowest, I have to say that I loved her song choice. She doesn't beat Melinda though (in the starting slow then making it faster kind of song genre -- did I make any sense?), but she sure did put up a fight. Again, probably my favorite Scarnato performance. I don't like how she used to sexy thang again this week because that'll just guarantee her another week. Rawr. Thing is, by just listening to her, I'd think she did a good job. Yet after I watched her, I was just so confused. Her performance was totally opposite of the meaning of the song. There she is saying she ain't misbehaving anymore and yet totally flirting with all the guys!? Consistency much, Haley.


Lakisha Jones - "Stormy Weather" (Lena Horne) 1
And Lakisha is back! This girl has been a little dormant the past few weeks but with this week's song choice, she just blew away all the other competition. Her vocals were just freaking great and it wasn't boring at all. She totally blew the competition out of the water. This girl needs to get into a recording studio pronto because those pipes need to be recorded. It would be a shame if she went home tonight. She totally owned it and she beats Melinda (after weeks of trailing her). This week, she definitely reigns.

My Bottom Three
1. Haley Scarnato
2. Gina Glocksen
3. Sanjaya Malakar

There must be something in the water they're drinking this week because EVERYONE and I mean EVERYONE was actually pretty superb, even the bottom three. I had a really difficult time ranking them because everyone brought their A-Game and the show hasn't been THIS GOOD yet! I hope next week's performances will be just as tight. Now, that is a show.

So I think I can divide tonights performances into three. Of course, there's the bottom 3, then there's the hotties (aka the middle three: Phil, Blake and Chris) and the dvias (aka the top 3: Jordin, Melinda and Lakisha). Will my bottom three get bottom 3-ed? I doubt it. In fact, with my luck, the middle three will get the bottom spots.