Gwen Stefani is probably at the top of my list when it comes to favorite singers. I loved her in No Doubt. I loved her first album and I'm actually sort of used to her second album (which is a feat, believe me). That's why when I heard she was the guest this week, I almost died.

** Okay, so they aren't singing Gwen Stefani songs (it would be very difficult to do anyway), but at least they're doing songs that inspired her and she's got a pretty varied taste. That gives the idols a pretty broad selection -- something for everyone indeed. I'm so excited.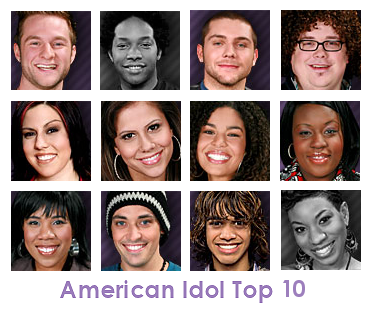 Lakisha Jones - "Last Dance" (Donna Sumer) 5
It's so funny, because Mau Marcelo just sang this song last weekend during the concert and here goes Lakisha singing it too! How coincidental is that? But really, as always, Lakisha delivers a pitch perfect performance. I'll probably get flamed for this, but the problem with Lakisha and Melinda (yes there's a problem), is that though they're amazingly fabulous gifted stellar singers, I think they're a little boring. It doesn't mean they're no good. I just know they're going to be consistently good, with these kinds of songs, but I don't know if they can do any other songs. Still, great job, for sure.



Chris Sligh - "Every Little Thing She Does Is Magic" (The Police) 8
Vocally good, but I thought it was a little boring. I happen to love this song, so I was really expecting something great, but I was a little disappointed. Again, this doesn't mean that Chris screwed up, because actually he did pretty good except for that one note near the end where his voice cracks a bit (or maybe it's just me). I'm not very familiar with being on tempo or beat or whatever it is, because it didn't sound too horrible to me. I'm just scared because I know that Chris is a good singer so he really needs to step up his game.



Gina Glocksen - "I'll Stand By You" (The Pretenders) 7
I'm no Gina fan, but I liked her performance. Did it make me want to like Gina? Not really. And really, one song can change my view of an Idol. Take Chris R.'s performance of The Boss. I used to loathe this guy before that song, and now I love him. So it's not impossible. Gina, work harder and maybe you'll get on my list. They are right however when they said that it was her best performance because compared to the others, I think the song choice was really perfect for her. It wasn't some cheesey ballad, yet she wasn't trying too hard to be a "rocker." Huge improvement for sure. She should improve her style next too. I wasn't a fan of the entire metallic corset-ish top thing with the fishnets and boots with crosses. There was way too much going on.



Sanjaya Malakar - "Bathwater" (No Doubt) 10
Vocally, Sanjaya wasn't repulsive. And then I saw his hair. Wow, I told myself. If that doesn't get your attention, I don't know what will. Thing is, this is probably one of my favorite No Doubt songs ever and after this performance, I don't know if I'll be able to listen to it the same way again. This song needs more oomph and Sanjaya didn't exactly have that oomph. His performance lacked life. I guess he depended on his pony-hawk too much to draw the controversy, but his stage presence was so dead. Simon is right, because what the judges say won't matter. The Fanjayas have spoken and they're going to keep him in.



Haley Scarnato - "True Colors" (Cyndi Lauper) 9
Wow, this is like the ultimate trifecta. I don't like this song. I don't like Haley and I don't like Haley and the song together. That doesn't mean she screwed it up. I'm just not into this at all. Her vocals were good, but Haley's vocals are always good. They're just never great for me. She was just so boring. For a 1 minute plus song, it felt like forever because I wasn't enjoying it. The only thing I liked about it were her legs because wow, her legs are things that MUST be showed off whenever there is a chance. Again, not entertaining at all for me.



Phil Stacey - "Every Breath You Take" (The Police) 1
I thought Phil had a fabulous song choice. When I saw spoilers last night, I just knew he would nail it. And I really thought he did. Phil is back in his element for me. It reminded me of his Missing You performance. He looked really comfortable onstage. I so agree with Paula that it was good that Phil didn't oversing the song. Because he had so many chances in that song to just go all out and belt, but he didn't. A little restraint goes a long way. He handled the song (which I just love) so very very well. Phil is so good with these types of songs.



Melinda Doolittle - "Heaven Knows" (Donna Summer) 2
So this is the title of the song. I've heard it a bazillion times and never knew the name. I think Melinda is staying in her "comfort zone" and that's not such a bad thing. She pulls off her song so freaking well, but I wouldn't mind if she ventured out into more challenging songs (challenging in a melinda-sense that the song isn't her genre). Thing is, I know Gwen was inspired by Donna Summer, but I'm sure she was inspired by more current singers too. Still, ika nga ni Ari Hest, it was an effortless success. Melinda is definitely a pro because she doesn't even look like she's trying. Things are just so natural to her, it's so easy to watch her work the audience and at the same time belt out a pitch perfect song. Fabulous as usual.



Blake Lewis - "Love Song" (The Cure) 3
Blake + The Cure = A Fabulous Love Song. Not as sexy as last week's performance, but definitely a great one. Blake's voice is just so soothing to listen to. He's so calm when he sings, it's not like he's trying and yet the results are fabulous. Though it can be mistaken for undersinging the song, even if he did under-sing it, it definitely wasn't boring to listen to *cough*haley*cough* I'm glad he did the 311 version, because The Cure version would have been too upbeat for his voice. f Listening to this was like slowing walking into a jacuzzi and feeling the warm water on my skin. Seriously, that hot.



Jordin Sparks - "Hey Baby" (No Doubt) 6
This is what I'm trying to tell Melinda. Jordin stepped out of her comfort zone. I'm not saying it was her best performance, but at least she tried showing that she's flexible. She played her cards right (at least for me), because she's already established that her voice is really good. So it was refreshing to see her do another genre of music. This wasn't meant to be a vocal performance, it was more of a fun, new thing and she totally pulled it off. I wasn't too keen of her top though. It really called out to me and said: PICNIC blanket. Her outifit in general wasn't really my thing. Attention Lakisha and Melinda! Be a little more creative with your song choices, please.



Chris Richardson - "Don't Speak" (No Doubt) 4
I surprisingly liked Chris R.'s performance. What's amazing is, I'm so used to hearing Gwen's hurting voice on this track and I thought Chris would destroy it, but he so didn't. He did forget a line and I took note of that. I still can't get over forgetting lyrics, but I guess they're just really nervous. I have to agree with
aprilbegins (who freaking watched the dress rehearsals!!!) when she said that he reminded her of Justin Timberlake. And that is not a bad comparison at all. Chris R is really going up my charts. For sure.

My Bottom Three
1. Sanjaya Malakar
2. Haley Scarnato
3. Chris Sligh

Does my list ever change? Thing is, everyone was actually pretty good tonight. I wasn't cringing through any performances and I definitely wasn't aghast with their vocals. It's nice to know that they're all good with current songs because they are after all Idols right now and not of the past.



By the way, vote wisely. I accidentally voted Haley as the best performer, when I meant to vote for Phil who was right before.


I'm really nervous because according to DialIdol, Chris Sligh isn't safe at all, while Blake and Phil actually became the 10th at one point. I'm just crossing my fingers and hoping that it's Haley who goes. Because we all know, Sanjaya IS NOT leaving tomorrow.