When Pamy and I bought tickets for the Philippine Idol: Final 12 in Concert at the Araneta, we didn't know what to expect. It's been three months since the finale and though we weren't pining for Philippine Idol everyday (thanks to the miracle of American Idol), it was definitely something we had gotten attached to.

It stinks though because I was supposed to attend, Kay's birthday too, but since I had already bought my ticket before knowing about the party, I thought I could catch up. Unlucky for me, the concert started late.

For 800 pesos, our seats were pretty freaking good. We were row I and we could see the features of the Idols when they performed onstage, so it was definitely something. I'm used to sitting really far from the stage where I can only see the outline of tiny matchstick sized folk, so our patron seats were so refreshing.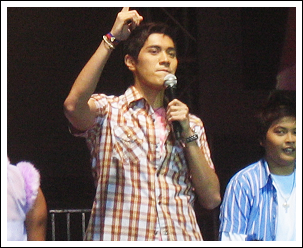 1. Opening Number
The first number was a group thing of a song that I really didn't know. It was peppy and full of life and just as perky as they could get. I wasn't used to seeing all the Idols perform such an upbeat song, complete with "choreographed" steps so it was weird, but entertaining. Everyone looked good in general except for Mau Marcelo who I couldn't bring myself to look at because her clothes were just wow. Different.

From our seat, I could see Gian Magdangal's parents from our seats and other than the show, it was entertaining to see Gian's dad's reactions to the performances. I don't remember each and every reaction, but I think I could tell quite a few. warning: these are probably far from the truth, but it was fun to watch his dad


Mr. Magdangal was: SMUG
I don't blame him. His son didn't get much exposure even in this number. Yes, he was placed in the middle, but it wasn't like he was given a lot of lines. I don't think this is Mr. M's favorite genre of music either.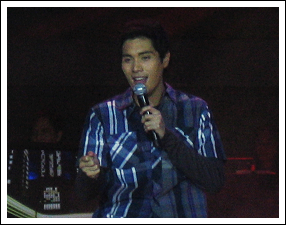 2. Top 3 Medley
Then Mau did her thing and sang Crazy In Love (better this time) and a bit of Jan Nieto's Umagang Kay Ganda. Jan then took over and sang his bit with a little Himala till Gian took over. It was nice to see the top 3, except of course, Gian got the least amount of time again. I don't know if this was just me, but I really felt like he was only able to sing the second part. Still, with his little part, he totally brought the house down. At least, my house.


Mr. Magdangal was: ENTERTAINED?
I think it's safe to say that Mr. M enjoyed his own son's performance, but you really can't tell as his expressions don't change much. Still, I could tell that he wasn't frowning for sure.

His son then proceeded to "joke around" with Jan, as they both did their own nasty rendition of the infamous Itaktak Mo. Entertaining, but I could have scrubbed myself to death from the sheer embarrassment I was feeling for them. I was able to take a really horrible video of it. All 21 seconds of Gian gyrating. Well, that's something I could sleep to.






Mr. Magdangal was: CONFUSED?
I don't know if it's every father's dream to see their son make a fool of himself on stage, but hey, at least he did it in the Araneta. Mr. M looked a little baffled as to why his son was even doing this, and probably also because Jan kept calling Gian, "Gi" as in G Toengi.

3. Boys APO Medley
Then the rest of the boys come out and all 6 of them do a tribute to the APO Hiking Society. With songs like Blue Jeans, Panalangin, Doo Bidoo and Yakap Sa Dilim, I think the boys got most of the girls shrieking. Reymond Sajor looked every bit of Wally from Where's Wally. Pamy wasn't so amused when I told her this little factoid. Since I was seated beside Miguel Mendoza's siblings, I was pretty much deaf from all their screaming. Drae Ybanez looked a little emaciated and it looked like Ken Dingle was missing his feather boa.


Mr. Magdangal was: AMUSED
These songs were probably more familiar to him and so he was able to relate. Also, I thought this was one of the most entertaining parts of the evening. The boys had a nice interaction and it wasn't awkward. In fact, it was fun to watch and I agree with Mr. M.

4. The Unconventional Couple Number
Then Pow Chavez comes out and does her Got To Be Real performance. I've loved Pow since forever, but it seemed like she was losing her voice a bit. She didn't reach the high notes and stuff, but it was still nice to watch her again. it was funny because she really took the meaning of the song to heart. After her performance, she calls Jeli Mateo and they sing love songs to each other. With songs like Loving You, Love Moves in Mysterious Ways and Someday, I think the audience was baffled. Then Jeli does her staple song, Isang Mundo, Isang Awit.


Mr. Magdangal was: INDIFFERENT
I couldn't see any teeth, thus he probably wasn't smiling. I for one, really enjoyed this segment as they blended so freaking well together. I swear, their voices were sounded really really really amazing together.

5. Dream Girls
This season's dream girls did their thing when they opened this segment with One Night Only. Apple Chiu was a revelation. I know she was good, but when she started singing Listen, the hair on my neck stood up. Seriously. She gave me the shivers. She was that good. Arms Cruz then sang I am Changing, and in my head, Lisa Tucker was just blown out of the water. It was that good. And of course, Mau did her thing with And I'm Telling You, and I could see Lakisha being knocked out in a fight.


Mr. Magdangal was: OPTIMISTIC
It would have been crazy not to feel that performance because vocally, it was just amazing. It was a nice concept to add that to the show because of the movie's popularity, but also because it really showcased how great these girls sound.

6. Aussies Unite
Stef Lazaro has lost a lot of weight and it showed when she performed Total Eclipse of the Heart. It wasn't my favorite performance of the night, but she was definitely good. Fellow Aussie Ken then sang his signature Get Here and I liked it. Ken was never my favorite either, but it's obvious how much he's improved and how he didn't falter with the notes.


Mr. Magdangal was: BORED
I can't blame him either. It wasn't exactly the most high energy performance of the evening but definitely something to remember. It was Stef and Ken's only solo (hey, she should should be thankful, because Gian didn't get a single solo all night)

7. Love Teams?
Who knew there were "so many" love teams on this show? I didn't. Drae and Arms totally nailed it with I Finally Found Someone. I swear I thought they were going to kiss. But their voices were just so freaking amazing. Then Reymond did When I Fall in Love, which only happens to be Pamy's favorite song to sing of all time. So she was in squee-heaven. Miguel and Apple sang I Want To Spend My Lifetime Loving You and Jan and Jeli sang Cruisin' which was so anti-climactic. The Promise, I Just Can't Stop Loving You, and The Prayer were also sung. Then Reymond did Ewan McGregor's Come What May and that was when I found Pamy lying on the floor gasping for breath. Seriously. It was just way too good.


Mr. Magdangal was: IN LOVE
I don't know if he shows much affection to the missus, but I could see him leaning in a little closer with the shadow of a smile on his face. How could he not? It would take a stone not to smile with that performance.

8. Here is Bunso
Miguel calls Pow and they do a little duet together with Miguel playing the piano. Miguel moves on to sing his song Here I Am, that was composed with Ryan Cayabyab. This guy is so lucky to have a song written by Mr. C. Seriously. I have to say that he's looking really good and sounds 100 times better than before. If I were still in highschool, I would want to take him to my prom. Ha!


Mr. Magdangal was: INDESCRIBABLE
He's probably just wondering how long it'll take before his son comes and takes the stage again. The medleys tend to be long and since they have no Gian, I'm thisclose to not paying attention. But the rest of the top 12 do a really good job of keeping me entertained. I don't know if it's the same for Mr. M though.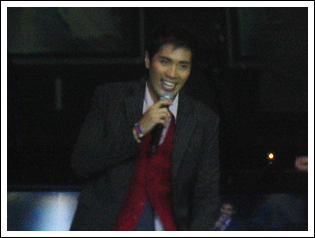 9. Can They Bring SexyBack?
And since it's been slow song after slow song, they get my Gian to do a fast song to spice things up. But of course, Gian somehow, can't be placed on the stage alone. So they get Pow to "duet" with him and they do JT's SexyBack. Now I love Gian, (like that wasn't obvious yet), but no one can do JT. I have to give him props though for actually looking really hot while dancing and singing. Not an easy feat I tell you. He dressed the part too. Dressed a la Justin, this guy could burn a building with his hotness. Again, the song lasted like 2 seconds because before I knew it, it was over.


Mr. Magdangal was: GIGGLY
Well, as giggly as he could get, I guess. It's not every day you see your son paying homage to Mr. SexyBack himself. Plus, there were a lot of half-naked dancers onstage so it wasn't so hard to see why a lot of people were smiling.

10. Martin Nievera Overload
And if you still haven't gotten enough of the boys, they bring out the rest of the boys for a little tribute to Martin. Drae sang Jan's You Are My Song, Jan sang his finale song, Say That You Love Me (100 times better), and Reymond totally made Pamy the happiest person inside Araneta with his Be My Lady (reprise to the rerpise). It was definitely amazing to listen to, but it only made me angry because Gian still hadn't done a medley type of slow ballads that I so loved about him. Damn.


Mr. Magdangal was: LISTLESS
If you still haven't noticed, I'm using the moods of LJ, so they sound familiar. I'm not even sure what these mean, but Mr. M didn't look so pleased to see that his son wasn't included here when he knows the potential of his kid's voice.

11. Disco Divas
Probably the least coordinated number of the night, I got flashbacks of Jasmine Trias struggling with Donna Summer on American Idol 3. Still, it was nice to hear most of the girls do their own take of disco. I only actually recognized Last Dance, because the rest were just a blur. I felt awful for Jeli because her microphone had no audio for the first part of her song. The audio was just horrible in general. We could barely hear the idols.


Mr. Magdangal was: ABSENT
I saw that he took a bathroom break and that isn't exactly the best thing either. He didn't miss much though. So good for him for choosing a great time to go and take a piss. Again, I'm just speculating where he went. I didn't actually follow him. I'm not that pervy.

12. Longest Spiel Ever
Enter the LONGEST SPIEL EVER. They do a little rundown of all the people they have to thank and though these are the people that made the concert possible, it was just annoying to hear all of them being mentioned -- cause they were a lot. Nevertheless, it had to be done. Thank god Gian looked so amazing in his white polo (which I didn't get a picture of, because our camera was low on battery already and I wanted to save it for more vital pictures later on).


Mr. Magdangal was: TIRED
It was getting late and the sponsors names weren't exactly the most exciting thing to hear. I could have gone to the bathroom, but I was afraid I would miss something important. Thankfully, I stayed in my place because up next was...

13. McDonalds Plug
Who cares about McDonalds? Not me. But when I found out that Gian was singing their new song Finally, I suddenly cared so much. Again, they couldn't let Gian at it alone, so they send Jeli in to duet with him. It was short and sweet. I'm happy that Gian is somewhat connected to McDonalds though because endorsements are always good. Even if I won't see him in the advertisement, at least I'll hear him.


Mr. Magdangal was: HUNGRY
Having the advertisement playing in the back was no joke. They kept showing food and people eating food, spliced with Gian recording the jingle. McDonalds + Gian = LOVE, but the hunger could not be taken away. I was famished.

14. Mau Takes it Home
Singing her winning song, Do It On My Own and another feel good song, Mau easily nailed it, but there was a slight problem. I couldn't bring myself to look at her. Her dress was soooooo huge, it looked like she was housing people underneath her skirt. Seriously. Still, looks aside, Mau did well, as always.


Mr. Magdangal was: PERPLEXED
How many children were living underneath her skirt? Mr. M was probably computing how many could fit because that was the BIGGEST skirt ever to grace the Philippine Idol stage. And I'm not even exaggerating here.

15. "Feel Good" Songs
Of all the feel good songs in the world, the boys had to sing Heal the World. The girls sang Reach (yes, Atlanta Olympics song), and I totally knew things were coming to an end. When they all came out together, they sounded fabulous, but it was also a little sad because it was going to be their last time onstage altogether. I now know how they all made it to the top 12, because they're all actually really talented. I was choking up already.


Mr. Magdangal was: NOSTALGIC
I can only imagine what kind of journey the families of the Idols had to go through during the season and it was nice to see how "far" they've all gone. It didn't hurt of course that they all sounded really good together. Although when the boys and girls started singing, I couldn't hear the boys too much, but I'll blame the horrible audio for that.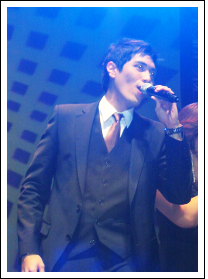 16. Am I watching the wrong show?
As a finale type, they sang Hawak Kamay -- yes, the song from Pinoy Dream Academy (aka the rival show). People were a bit weirded out by that, but I enjoyed their performance. It was nice to hear them sing the rival song and sound really really good. So props to them for pulling it off. I don't know how the original sounds, but they're version was pretty damn good. Lovely to see how there's "no rivalry" between the two shows. Then again, who knows if it's all for show.

Of course, you couldn't end the show without singing their "carrier single." So when the familiar starting of Kaleidoscope World played, the audience had rushed to the front of the stage to get pictures and it was mayhem.

I was taking pictures in front too and when Gian spotted me, I swear he pointed at me and mouthed, "Hi Patty!" I've got Pamy as my witness. I almost died when he did that. Seriously. People were getting pictures with the Idols while they were singing. Pandemonium erupted and there was no order anymore. I guess people just wanted their pictures before this all ended.


Mr. Magdangal was: SURPRISED
The sudden surge of people to the front was a little shocking, but it was definitely nice to know that people were still there supporting them.

Though I thought Gian wasn't given enough stage time, it was definitely a great concert experience. Maybe it's just me, but he wasn't able to sing any slow songs unless he was in a group. And sure, he's on S.O.P. every Sunday, but it's still a Philippine Idol concert and thus he should get equal opportunity with the rest. So is life.

After the show, I spotted Bean and Muppet (my favorite Idol people) and chatted them up a bit. I hadn't seen them in forever, which was weird because we used to see each other every week during the season. Mr. Magdangal comes up to us too and actually says: "Si Lazatin, nandito pala." He remembered my family name?! Then again, how could he not, as I am probably his son's number one stalker fan. It was nice to know he remembered me though, hopefully in a good light.

I wanted a picture with Gian of course, and I knew that the crowds would thin out eventually. But because I was so engrossed in our conversation, I didn't see that Gian had already been escorted out! Oh no! I wanted a picture with him in his suit, as he can obviously rock the dark suit too. But really, the concert was just the beginning, because when Bean and Muppet take us backstage, the excitement just doubled

I didn't think I would get backstage. Much more, get into the boys dressing room. I had only been backstage once before during the INXS concert, but never to the dressing room. Bean and Muppet brought us right in and walking in there was just surreal. It wasn't just the whiteness of it all that made it feel like heaven, but the sight of the male Idols changing.

Okay, so they were all fully dressed, and we didn't see much action, but with Gian greeting me with hugs and kisses on the cheek, I was practically in heaven. Then he chatted me up asking how I was and if I enjoyed the concert. I could barely talk or even breathe, so it was crazy that I was backstage. Gian smelled so good and his cheeks were so smooth, obviously he had just washed his face.

It was just surreal to even be there. Pamy was obviously in heaven too as we chatted with Reymond (who said my hair was pretty)! I don't know how long we stayed exactly inside the dressing room, but it felt so wonderful. So really, my 800 pesos was well worth it. Other than the concert, I got three hugs and two kisses. What more can I ask for? Three kisses. Of course.

I don't know why, but I felt like Gian was even hotter than usual last night. He had lost weight, but somehow he looked healthier. Though he looked tired, that air of confidence and sexiness was just so hard to deny. Who knew that when I first saw him on Philippine Idol, that my fascination with him would come this far. Never in our wildest dreams would we think we would have met all these people and experienced so much.




Saying I had fun would be an understatement. It was a nice close to the Philippine Idol phase in my life. Mau said there would be a season 2, but I don't think it would top the first season. Sure, the next season may have more "talented" folk, but the people we got close to and the contestants who actually know us by name can't be replaced. Thank god for American Idol as it has served as a worthy distraction, but Philippine Idol will always have a super duper special place in my heart and of course, in my blog.