School really sucks. But Idol has kept me going. Ultra late recap thanks to exhaustion and fatigue, but I won't be stopped. Even if I know who's getting the boot.

I'm not Diana Ross's biggest fan so I wasn't so familiar with most of the songs, but it was definitely exciting to watch. Diana Ross looks pretty good for her age, or at least her make-up people are working way over time. I wish she were there to judge, but I won't be choosy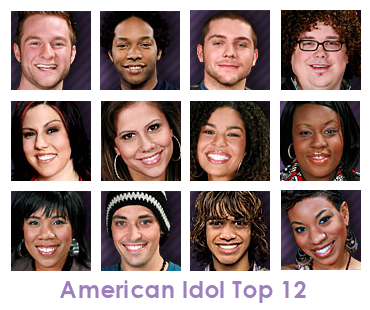 Brandon Rogers "You Can't Hurry Love" (The Supremes) 11
I thought he started the show on a pretty good foot. Brandon wasn't horrible. So he forgot a line in the song, but I if you just listen to it, it's not that obvious. There was that pause in the middle, but I wasn't totally turned off. At least he looked quasi-comfortable on stage and that should count for something. I think when he stopped for the booty shake, the lyrics just flew out of his head. Forgetting your lines is like a HUGE no-no in the Idol world, so I'm going to have to rank him low.



Melinda Doolittle - "Home" (Diana Ross) 1
This girl just keeps getting better and better. And I'm not saying that there's anything to improve because she's just flawless. Her vocals were just spot on. She looked beautiful and comfortable and just downright wonderful. I loved how she totally owned the song and even after her performance, her vocals were still replaying in my mind. I also love the fact that they need not pimp her, because her vocals seal the deal. She needs no sob story and that really impresses me.



Chris Sligh - "Endless Love" (Diana Ross & Lionel Richie) 8
I love the arrangement. I love that he made it his own and made it work. I happen to hate the original of this song because it's downright dragging and annoying, but when Chris sang it (sans the glasses, which was a little hard to get used to), I actually found myself singing along. Lovely. I love how his voice is big and deep and can sustain those long notes without going flat or sharp. He was able to put his own spin to the song without "rock-ify-ing" it. I loved it.



Gina Glocksen - "Love Child" (The Supremes) 9
I'm not Gina's biggest fan. I thought her vocals were okay, but it just didn't do anything for me. I was waiting for the performance to end. I wasn't compelled to watch her. Still, Gina's going to stick around because she's still got some talent in her. I guess her song choice suited her because she looked somewhat comfortable performing it. Still, in the words of Randy Jackson, "it was just aight."



Sanjaya Malakar - "Ain't No Mountain High Enough" (Diana Ross) 12
Oh Sanjaya. I really want to root for you, but with this performance, you're just going to have to come in last. My dad was saying he should have sung Baby Love complete with my dad copying Sanjaya's voice. This song requires a powerful voice and Sanjaya's version was just really tame and his usual walk-in-the-park style of singing. I have to give him props for becoming a little livelier than usual, but it still did nothing for me. The last part was just WTF for me. And the hair. That's another entry.



Haley Scarnato - "Missing You" (Diana Ross) 10
That was just boring with a capital B. Her vocals were just good. Her performance was dull. I thinkSimon was being awfully nice to her to compensate for his awful comments last week -- and that just isn't right, because clearly she needs to hear the real deal. It stank. I hate how she has to cry every single week. I'm just so sick of hearing her cry and cry and cry because really, I just want to kick her out. The tears don't work on me honey. She's got to go.



Phil Stacey - "I'm Gonna Make You Love Me" (The Supremes) 5
Call him whatever you want, but Phil is amazing. His rendition of this song was just so beautiful. I didn't think he was yelling it either, despite what others say. Hearing him was like pouring honey all over me. Yum. And finally, I think he started this one a lot better than his previous performances. He looked comfortable and his eyes weren't as scary anymore. Is Phil improving? Hell yeah! Fantabulous performance. Go Phil!!!


Lakisha Jones - "God Bless the Child" (Diana Ross) 2
I like Lakisha and just like every other week, this girl can do no wrong. Her vocals were amazing. She looked wonderful and she's just so professional. She and Melinda are on a whole different league. That's why I don't get why they have to keep bringing up her baby? I know it's a huge part of her, but this is a singing contest and her voice can do all the winning. She doesn't need a pity party or a sympathy vote. Lakisha can do it on her own. I'm just annoyed they keep bringing that up. But other than that, duh, she was amazing.



Blake Lewis - "You Keep Me Hanging On" (The Supremes) 4
Oh Blakey-boy... I heart you. Pamy hearts you. The whole world hearts you. You don't need to prove anything anymore. His spin on the song wasn't my favorite thing, but I appreciate the effort. It doesn't help that you chose the "cursed" song that had been sung by Vanessa Olivarez in Season 2 and Leah Labelle in season 3, both in the top 12 and guess what, they both got the boot that week. So really, you're already treading on dangerous water.

Still, this song grows on you. When I first heard it, I was like, wow, that's different. But not necessarily the best. So as much as it hurts me to rank you only 6th, think of it as my happy medium between my ultimate fan-girl-ism to you and being "objective" and fair to the rest of the top 12. I'm confident you'll do things fabulously next week. Don't think I'm appalled by you, because I liked it. Let's just keep things a little more "mainstream" so that the votes keep coming in. Let's not get too risky, because as you saw the closed minds of judges seem to want to put you down when there's really no need for it. From your fans who can't vote and just really want you to stay in.



Stephanie Edwards - "Love Hangover" (Diana Ross) 7
This girl is not getting enough props. Every week, Stephanie comes and brings it and yet she's never given the same praise as those in her league. I thought her song choice was good, contrary to what others might think. She was so at ease on stage and her vocals, hello, they were so good. So really, I don't get why they're not praising this woman? Is this yet another case of under-pimping? Because this girl needs more props. Paging Paula Abdul, where is your "beautiful soul" comments when a girl needs it?!?



Chris Richardson - "The Boss" (Diana Ross) 3
Cla, you can kill me now. For some reason, I actually enjoyed Chris's performance. And not just enjoy blah, but enjoy yay. Why am I suddenly finding this guy cute? Is it the stress brought upon by school? I actually really liked it. I was dancing a bit, albeit the shyness in dancing lest my brothers think I'm falling for the enemy. I know I ranked him 8, but it's the least I can do considering his vocals were nowhere near the really great ones. But considering I'm not Chris R's biggest fan, he actually managed to convert me for almost 2 minutes. Great job Chris. Honestly.



Jordin Sparks - "If We Hold On Together" (Diana Ross) 6
What a way to end the evening. I've always liked Jordin and I've always wanted her to do well and tonight, she did. Her vocals were beyond me and I just felt like I dove into one of those infinity pools and came up for air and was faced with a naked Gerard Butler. It was that refreshing. Her performance showed that she's just as good as Stephanie and could be serious competition for the rest of those in her league. Don't belittle the not-so-little girl, because this girl has got some major kick in her. Watch out, Idol world!

My Bottom Three
1. Sanjaya Malakar
2. Brandon Rogers
3. Haley Scarnato

I'm glad Sanjaya made it to the top 12 instead of Sundance, but this isn't going to help his campaign for the win at all. Compared to the rest, it's so obvious that he's the weakest. Still, he's got his fans and we all have to respect that. Still, he's got to go soon.

Thanks to the wonderful DialIdol and my mp3 master, Rickey, OUR Blake is actually in the bottom 3. I really hope he doesn't go because obviously this wasn't his best week, but there are a gajillion more who are worse than him. Seriously. If he goes, I'm going to boycott this show. AS IF