Late update, I know. I really blame school for getting in the way of my American Idol fandom. I wasn't able to listen to any spoilers this morning or read anything either because of school, but when I got home just in time for the showing, it was a show to remember! It was so nice to listen to the recap because the girls were good tonight. I can't wait for the top 12.

My icon is exactly the opposite of how I feel about the girls. Yay Girls (at least most of the girls *cough*antonella*cough*)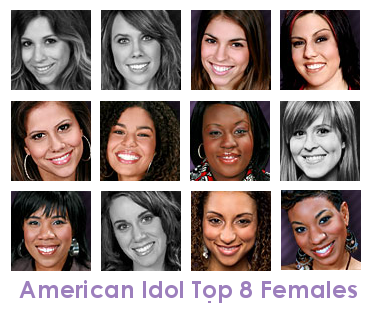 Jordin Sparks - "Heartbreaker" (Pat Benatar) 5
I like Jordin. It wasn't her best for sure, but it was so wonderful to hear her after the boys depressing show (save for a few ones, like Blake, of course). I thought it was her "weakest" performance, but still better than any of Sundance's performances. Point is, this girl is in the danger zone because she's always just good and never really great. The judges like her, but not enough to pimp her. I think she deserves to be in the Top 12, but I wouldn't be surprised if she got the boot. I would be sad though.


Sabrina Sloan - "Don't Let Go" (En Vogue) 4
I don't know why they didn't like her. Sure, it's her "worst" performance, but definitely a million lightyears away from Antonella's best combined with Sundance's best. I hate how they judges had to bring her down when they obviously need her in the Top 12. These are the people they should keep praising because if they keep bringing her down and then realize their mistake, they tend to overcompensate by overpraising (I probably don't make sense, but they did this with Gian Magdangal in Philippine Idol where they kept bringing him down then suddenly in the second to the last episode, they super praise him which was sort of unbelievable cause there was no build up, just an abrupt spurt). I digress. Sabrina was great. She should so stay in. Screw you Randy.


Antonella Barba - "Put Your Records On" (Corinne Bailey Rae) 9
Lord just kill me. Her beauty is undeniable, she could model, or be a porn star starlet, but a singer? I really beg to disagree. I can't seem to find the girl that wowed me at auditions. Really. And for once, Paula actually made sense. Antonella's low notes were bad and she sort of salvaged her song with her high notes. But she can't get into the Top 12. She's just really undeserving. I don't care if her "style" is different because it sucks. Please bow out Antonella. Someone offer her a movie deal -- any kind of movie. Please?


Haley Scarnato - "If My Heart Had Wings" (Faith Hill) 7
Simon's comment was foul, but somehow I'm not shocked he said that. They're obviously trying to kick her and Antonella out, but will the public listen? I don't think so. Her performance wasn't THAT horrible, but there wasn't anything spectacular about it either. And Haley's always been sort of mediocre. I really hope she goes because if she makes it to the Top 12, she'll be taking someone more deserving for sure.


Stephanie Edwards - "Sweet Thing" (Chaka Khan & Rufus) 3
Again, damn you Randy for "trying" to be critical. Stephanie is not someone to bring down once again. She was so pretty and really good vocals. I loved Stephanie since her first performance and I think she super duper deserves to be in the Top 12. I would kill over if she didn't get in because that would just speak volumes of how skewed the voters view of talent is. I don't even know this song, but Stephanie made me want to download the original one too. Fab fab job!


Lakisha Jones - "I Have Nothing" (Whitney Houston) 2
The anointed song. This song has been song by not 1, not 2, but 3 people (including her). From Academy Award Winner and Idol kickout, Jennifer Hudson then Katherine McPhee and now her. I have to admit she did it amazingly. But thing is, I knew she would. There wasn't any surprise there. I would have been shocked if she fumbled. Thank god she didn't. One of the people to beat for sure. Simon was really sweet to her saying she looked really beautiful and she did.


Gina Glocksen - "Call Me When You're Sober" (Evanescence) 6
I'm not used to people yelling all the time. I agree that she was most comfortable here, but it just isn't in the same caliber as the 4 favorites. Maybe she should join a different contest where they cater more to the rockers. I feel like she's the Chris Daughtry because she always manages to "rock it out." It wasn't bad, but definitely NOT my favorite either. Her boyfriend is cute though.


Melinda Doolittle - "I'm A Woman" (Peggy Lee) 1
Yes, Melinda has no neck. But Melinda has a VOICE. And really, in a show that somehow lets those with looks and no talent *cough*antonella*cough* get through, I'm very very scared that somehow she's going to get the boot. However, her vocals were flawless, she owned the song without yelling or doing it over the top. And did I mention she was so freaking humble!?! This girl takes praise so well. Melinda for the win.

My Bottom Three
1. Antonella Barba
2. Haley Scarnato
3. Gina Glocksen

Will any of my bottom 3 go? I really really doubt it. I have to say that this was a a better night than the boys nights because even their worst was at least just in line with Sundance. The girls deserve it much more than the boys, but hey, boys are still cuter.

DialIdol gives really scary predictions. I really hope it's not true because Stephanie and Phil cannot go yet. They need to need to need to make it to the Top 12. Please voters, make it work. Vote the right way. That means bye bye Sundance and Antonella.

EDIT: I made a mistake with the poll, the last two numbers have TWO HALEY's in it. She replaced One Sabrina. If it matters at all, because I don't think Sabrina should go anyway. So if you want to vote Sabrina, just use the FIRST HALEY for Sabrina. Sorry!